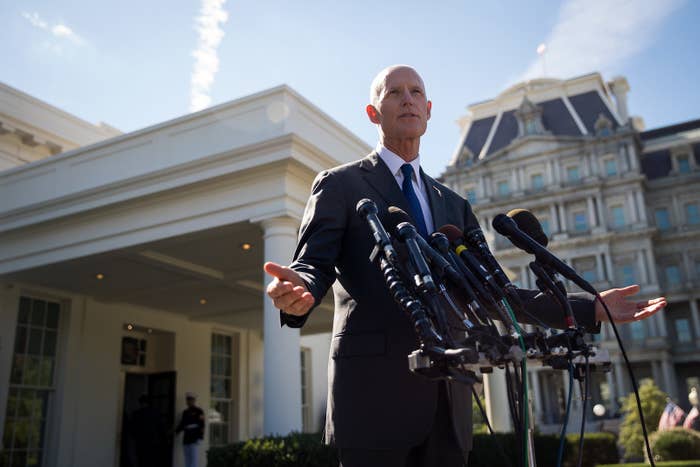 Across the country, more than 6 million people are barred from voting because of laws that bar convicted felons from voting — and nearly a quarter of that population lives in Florida.
The state is home to more than 1.6 million citizens — 10.4% of the state's population — who can't cast a vote in elections unless granted clemency by the state's governor, Rick Scott, according to data from the Sentencing Project.
A group of grassroots organizations lead by Desmond Meade, a convicted felon and chairman of the Florida Rights Restoration Coalition, are proposing a constitutional amendment on the Florida ballot in 2018 that, if approved, would restore voting rights to felons (excluding people convicted of murder and sexual offenses) automatically after they complete their sentences.
If the initiative qualifies it could be one of the most important ballot initiatives in the country ahead of the 2020 election, possibly adding more than one million people to electorate in a swing state that often decides who wins presidential elections by razor thin margins. In 2012, Obama won the state by .9% and in the notorious 2000 election George Bush was elected by 537 votes.
The state's clemency process has undergone a series of changes over the last decade. In 2007, former Florida gov. Charlie Crist streamlined the process of granting clemency ahead of the 2008 presidential election, making 100,000 felons eligible voters in the process. In 2011, Gov. Scott rolled back the policy and implemented a five-year waiting period before ex-felons who've served their time can apply for voting-rights restoration. A class-action lawsuit filed last year cites a backlog of over 10,000 applications for the clemency board that only meets four times a year.
"When you look at this country Florida stands out," Meade said, "because Florida is the worst state in the country for denying people the right to vote and that's more people than the population of many states and territories. Florida sticks out as an outlier, we're only one of four states where people don't have their right to vote reinstated."
The initiative to restore voting rights needs 766,000 certified signatures ahead of its Feb. 1 deadline to be placed on the ballot in the 2018 election cycle. The initiative already has 750,723 certified signatures, according to data from the Florida Department of State, and organizers with Florida Right Restoration Coalition are waiting for the more of the 1 million signatures they collected to be certified.
But actually winning on the issue is a much tougher process: The state requires 60% approval for a successful referendum vote. In 2014, for instance, a referendum on medical marijuana failed — with 57.6% of the vote.
The move follows a series of prominent similar ones in states with recent, prominent elections: Alabama and Virginia. In Virginia, former governor Terry McAuliffe restored voting rights for more than 200,000 people and in Alabama, after the Definition of Moral Turpitude Act cleared the way for thousands of felons to vote, Pastor Kenneth Glasgow and The Ordinary People Society helped register felons there. The latter move, in particular, garnered national attention after Senator Doug Jones' narrow (a 20,000-vote margin) victory last month.
How many convicted felons register and then vote is still unclear though; Alabama officials told BuzzFeed News that they do not have an official tally of how many people registered and voted.
"In a state where the margin of error is 1% I think adding this new cohort of people could have a great effect on future elections," Susan MacManus, a distinguished professor of political science at the University of South Florida told BuzzFeed News.
McManus thinks that if political parties organize get out the vote efforts to mobilize voters similar to efforts in Alabama and Virginia after thousands of felons were given the right to vote in both states that it could potentially swing an election in Florida.
While many experts believe that restoring voting rights to felons benefits the Democratic Party — because of the disproportionate rate of incarceration of black Americans — Meade sees felon disenfranchisement as a "cancer" that's "grown from an effort to disenfranchise recently freed slaves to a problem that affects Floridians across racial and political lines."
Meade believes the initiative will meet the requirements to be placed on the ballot and he thinks its due time for all Floridians to have full citizenship. Meade loves to tell the story of Jesus forgiving a criminal on the cross when talking about restoring voting rights to ex-felons. "When the criminal asked for forgiveness, Jesus didn't make him wait five to seven years. He said, 'This day you enter with me into paradise.'"
"Once a debt is paid, it's paid and one should not be made to continuously be made to pay a debt that's been paid in full," Meade said.
This story has been updated to clarify what percentage of voters must approve a referendum for it to pass.