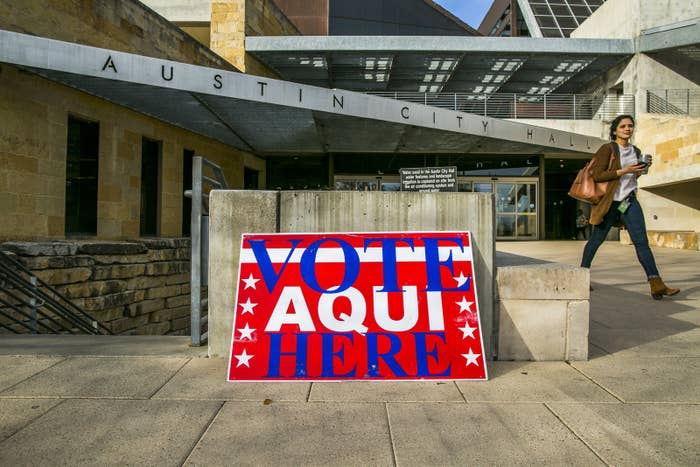 A new strategy for changing policing by going after local district attorneys showed more signs of promise Tuesday, as a heavily funded campaign took down an incumbent in a Texas Democratic primary.
Texas Justice & Public Safety PAC — a political action committee tied to a network of similar state PACs that have received donations from liberal billionaire George Soros — poured nearly $1 million into a small Texas district attorney's race in recent months, helping defense lawyer Joe Gonzales defeat Bexar County District Attorney Nico LaHood Tuesday night.
Progressives have increasingly concluded that local district attorneys — who are often aligned with police departments despite being elected in primaries by liberal Democratic voters — are the key pressure point in changing the power dynamic between police and communities.
Gonzales pitched himself as a reformer during the campaign. "I want to focus on fighting violent crime. I want to focus on reducing those numbers of dismissals in the domestic violence area, and then I want to focus on restorative justice," Gonzales said in his Tuesday-night victory speech. Gonzales specifically campaigned on bail reform, arguing that low-level offenders should be able to negotiate for "reasonable bail" with prosecutors and judges to keep innocent defendants out of jail.
In a February debate, Gonzales suggested that abolishing cash bail altogether is "a good idea in theory." LaHood responded at the time by questioning the need for reform altogether. "When you say you're for reform, that's a tagline and that's fine, but what are you going to do? What's broken about the system?"
LaHood, a Democrat who has called himself "a conservative guy," was against "sanctuary cities" and supported Texas Gov. Greg Abbott's crackdown on local officials who defy federal immigration laws. LaHood also made statements that were taken to be anti-Islam, including saying Islam is "basically a political system wrapped in a religion."
Gonzales called LaHood's behavior and positions "Trump-like," and ads backing Gonzales worked to connect the DA to the president.
LaHood sought to combat Gonzales's criticism by linking him to Soros — who is a bogeyman for the right. LaHood ran one video in which he said Soros had "purchased at least 10 other district attorney's offices around the country" and compared Gonzales to Harvey Weinstein and Larry Nassar. "You have to ask yourself, what does a rapist, a child molester, and a billionaire by the name of George Soros all have in common? They all want Joe Gonzales to be the DA of their county," LaHood said in the video.
The Soros-funded Texas Justice & Safety PAC made 22 in-kind contributions to Gonzales' campaign totaling $958,000. The contributions were made mostly for media-buys and mailers ahead of Tuesday's primary.
"In my opinion, the voters were unfairly influenced by $1 million worth of lies," LaHood said in a concession speech at a campaign watch party in San Antonio Tuesday night.
Texas Justice & Public Safety is the latest iteration of a network of state-level PACs associated with Soros that seek to elect progressive candidates who support forms of criminal justice reform for district attorney roles across the country. The name of each PAC includes some variation of "safety and justice."
The network of PACs have supported candidates in races in Philadelphia, Louisiana, and Texas going as far back as 2015. In Philadelphia, Soros donated $1.45 million to Philadelphia Justice and Public Safety PAC, which was created to support Larry Krasner, a civil rights attorney who opposes the death penalty. Krasner cruised to office in last November's general election.
Gonzales, the new candidate backed by a Justice and Public Safety PAC, will face Republican Tylden Shaffer, a local district attorney, who ran unopposed in the Republican primary.
CORRECTION
Larry Krasner's and Tylden Shaeffer's names were misspelled in an earlier version of this post.