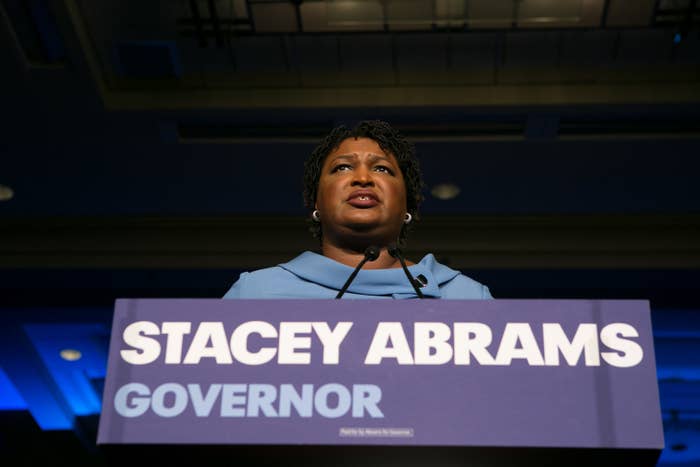 Stacey Abrams, Georgia's Democratic candidate for governor, is refusing to accept Republican Brian Kemp's claim of victory in the race, as her campaign's litigation team plans to file lawsuits throughout the state.
"We are in this race until we are convinced that every vote is counted," Allegra Lawrence-Hardy, Abrams' campaign chair, said at a Thursday press conference. "We're prepared for this fight until every vote is counted."
Under state law, the governor's race would automatically go to a December runoff if no candidate breaks 50% of Tuesday's vote. Kemp declared victory after it appeared he had just barely surpassed that threshold, but Abrams has not conceded, contending that there are more votes to count.
"To put it simply, all the votes haven't been counted. How can anybody claim victory when there are enough votes that have not been counted that could cause a runoff here?" John Chandler, a lawyer for the Abrams campaign, asked at the press conference.
The Abrams campaign cited complaints that they've received from voters in the state over provisional and absentee ballots and early votes not being counted in the state. They said early voting ballots are still pouring in from counties around the state and implored voters to check the status of their absentee and provisional ballots.
Kemp, as Georgia's secretary of state, was in charge of the state's election system throughout the race and faced calls to resign his position throughout the race from a number civil rights groups and former president Jimmy Carter. He resigned that position Thursday, after having declared victory in the race Wednesday night.
"The Stacey Abrams campaign puts this at the feet of Secretary of State Brian Kemp's office," Abrams campaign manager Lauren Groh-Wargo said Wednesday afternoon. "He has fallen down on the job and we put the blame on him."
Kemp's resignation came as a federal judge in Georgia was about to hear arguments in a lawsuit filed on Election Day by a group of Georgia voters seeking to block Kemp from exercising his election-related duties going forward. The plaintiffs, who accused Kemp of abusing his power as secretary of state to benefit his gubernatorial campaign, had asked the judge for an immediate temporary restraining order that would require another official to step in.
Lawyers for the plaintiffs issued a statement claiming victory, although Kemp did not cite the lawsuit in his resignation letter. He wrote that he was resigning to "focus on the transition to my gubernatorial administration."
"This is a huge victory for democracy and the rule of law. It is a basic constitutional principle that a person may not be a judge in their own case and that's what Brian Kemp was attempting to be here. It was manifestly unfair and it is a credit to the voters who stepped forward," Larry Schwartztol, a lawyer with Protect Democracy — one of the groups that filed the lawsuit — said in a statement.
The race for governor has been heated since the start, with voting rights a consistent flashpoint as Kemp and Abrams have battled over the status of 53,000 predominantly black voters whose voter registration statuses were held on a "pending list." Kemp said he made that decision because of the state's exact match system, which requires voters to have government ID that matches names and spellings listed on voter registration forms.
Abrams, who is seeking to become the first black woman to hold the governor's seat in Georgia, told supporters in a speech early Wednesday morning that the race has been made hard by those claims. "This election has tested our faith," Abrams told supporters at her watch party. "I'm not going to name names, but some have worked hard to take our voices away."
CORRECTION
Larry Schwartztol's name was misspelled in an earlier version of this post.