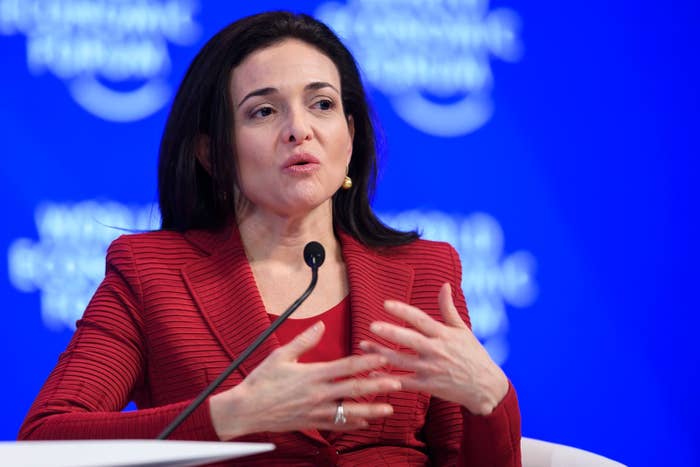 Some top Facebook executives have donated money to lawmakers serving on the two intelligence committees that are investigating Russian interference in the 2016 election.

In February of this year, according to federal election filings, chief operating officer Sheryl Sandberg gave $2,700 to Democratic Sen. Martin Heinrich. In May, she donated $2,700 to Democratic Sen. Mark Warner, the ranking member of the intel committee.
In April of this year, Elliot Schrage, the vice president of communications and public policy, donated $1,000 to Heinrich and $2,700 to Warner.
And in March of this year, chief security officer Alex Stamos donated $2,700 to both Reps. Will Hurd and Eric Swalwell, who are a Republican and Democrat respectively and serve on the House intel committee. He also donated $2,500 to Heinrich in February.
The donations aren't particularly big and are somewhat isolated — there are 41 total lawmakers serving on the committees combined. All three executives have given politically prior to this year and this isn't the first time that the executives have given to some of these lawmakers. (Sandberg last donated $2,600 to Warner in 2014 and Schrage contributed $1,000 to his campaign in both 2014 and 2016. Stamos donated $2,700 to Swalwell in 2015 and $2,700 in 2016.)
But Facebook and other tech giants like Google and Twitter are also dealing with increased scrutiny over the platforms handled political advertising and misinformation during the 2016 campaign.
A spokesperson for Facebook referred BuzzFeed News to the company's political engagement report which says, "Facebook employees may participate in personal political activities, on their own time and with their own funds. Employees must keep such activity separate from work and never represent that such activities are being conducted on behalf of Facebook."
A spokesperson for Rep. Swalwell said that he knew Stamos before he began working for Facebook and noted that he's contributed to Swalwell in the past. Offices for other senators and representatives did not respond immediately for comment.
Just this week, Facebook turned over a cache of ads purchased by a Russian troll farm to congressional investigators. Schrage authored the company's public statement on those ads, and Stamos is heading up the internal investigation into the matter. Both Facebook and Twitter have said they will testify at an upcoming open Senate intelligence committee hearing, though neither CEO Mark Zuckerberg nor Sandberg are expected to participate. Stamos is a likely alternative, according to a report from CNBC.
Sandberg in particular has a long track record of donating to Democrats and publicly supporting candidates like Hillary Clinton. In this cycle, for instance, she has given to four other Democratic candidates who do not serve on intelligence committees (primarily Sen. Claire McCaskill, who faces a difficult re-election bid in 2018). She also wrote a $25,000 check to Women Vote!, a project of EMILY's List, which supports pro-choice Democratic candidates.
Schrage has also given to Democrats in the past, and the DSCC and the DCCC in 2017, as has Stamos, which was noted by the Free Beacon earlier this week.
Warner is not up for re-election until 2020. In a press conference Wednesday, he called for stronger regulations for political ads appearing on social media sites and has joined Sen. Amy Klobuchar sponsoring a bill to disclose more information about political advertisements and their sponsors.
"I was concerned at first that some of these social media platform companies did not take this seriously enough," Warner told reporters at the press conference. "I believe they are recognizing that threat now."