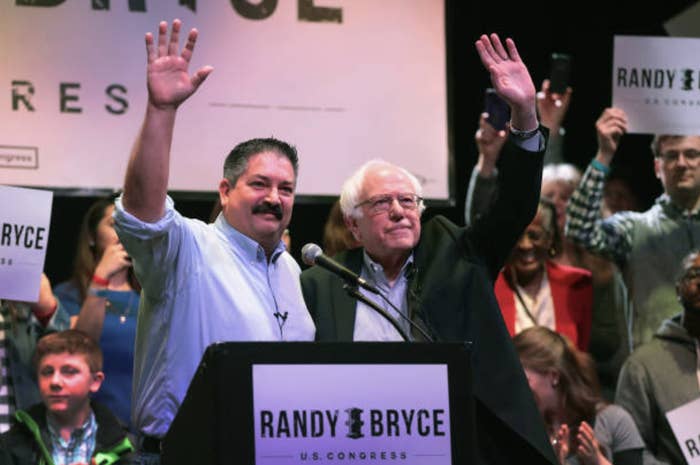 Hundreds of Democratic candidates at different levels are expected to attend a training session next week where they'll be told that running on policies like Medicare for all and debt-free college are strong ways to run in purple and red districts across the country.

"There's lots of energy surrounding the resistance and people have decided to get off the bench to run for office," said Stephanie Taylor, the cofounder of the Progressive Change Campaign Committee, which is holding the program in Washington. "We're helping these people build the infrastructure they need to win."
The training comes at a time when a surge of progressive grassroots energy has helped the Democratic Party make inroads in elections that should have easily been won by Republicans in typical years. But these aren't typical circumstances and the successes the party's celebrating in races in Virginia, Alabama, and Pennsylvania are accompanied by strenuous intra-party fights that have bubbled to the surface over what kinds of candidates and messages Democrats should be pushing to flip the House seats in congressional districts that lean conservative.
PCCC officials point to candidates like the recently successful Conor Lamb, or like Randy Bryce, the Wisconsin ironworker who's running to challenge House Speaker Paul Ryan, as examples that Democrats don't have to shy away from progressive values to gain support or even win in tough districts.
Lamb notably ran as a near cultural conservative, identifying himself as personally against abortion and in favor of gun rights, while emphasizing that he would not vote for Democratic Minority Leader Nancy Pelosi. He did, however, run with the backing of prominent trade unions and opposing the recently passed Republican tax law.
Of the 450 candidates attending the training — which will involve programming about the basics of small-donor fundraising — 70% are running for office in 2018, and 64% running at the state and federal races are running in districts Trump won in 2016, according to PCCC.
The event is the biggest effort taken on by PCCC, a group that has long been active in progressive politics and over the last few years has seen politicians rise on further-left economic messages.
"There's been some debate in the Democratic Party about what candidates to run, with the establishment supporting more centrist Democrats, but economic populist policies are the way to campaign in these districts," said Taylor. "The average American doesn't care about corporate tax credits when they're up and worried about how they're going to pay for their medical treatments at night, and we need to keep pushing the party to represent these everyday Americans."
"That's really what the progressive platform is about; it can resonate with people who are financially stressed," said Kara Eastman, who's attended PCCC trainings in in the past and is running in Nebraska's' 2nd Congressional District against former Democratic Rep. Brad Ashford, who's been endorsed by the Blue Dog Coalition, a small group of conservative Democrats. "When we talk about policies and elections there's a disconnect between the policies some of the establishment supports and what voters actually want and need."