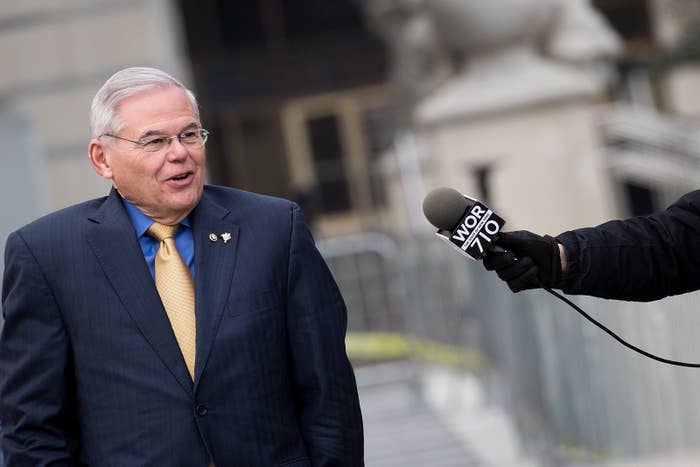 Progressive Democrats have gained momentum this year campaigning for transparency in political campaign funding and railing against corruption in government — but they now find themselves in the odd position of supporting a candidate whose record isn't exactly in step with their narrative.
Sen. Bob Menendez, who has been in the Senate since 2006 and in Congress since 1993, is in an unexpectedly close Senate race in New Jersey against Republican Bob Hugin, after Menendez spent a majority of the last three years fighting corruption charges that were dropped following a mistrial last November.
Progressive activists, hoping to take control of the Senate away from Republicans, are now in the uncomfortable position of contorting to defend a senator whose recent history cuts against their own messaging.
Hugin, a former pharmaceutical executive, has made the senator's corruption trial a centerpiece of his campaign, while progressives working to save Menendez are trying to get beyond that by reminding voters what they believe to be at stake if the senator loses.
"The stakes in this election couldn't be higher. Democrats across New Jersey — progressives and moderates alike — need to unite behind Senator Bob Menendez, a proven fighter, and champion for the values we all cherish," a statement released in July by a litany of grassroots groups including the New Jersey Working Families Alliance, Blue Wave NJ, and Indivisible NJ said.
In conversations with activists across the state, many privately acknowledge that Menendez isn't the strongest or most liked candidate and insist on emphasizing that the corruption charges against the senator had been dropped before lavishing praise on Menendez's record.
"Given his latest legal affairs, it's really tainted the senator's record for some people," said executive director of Action Together New Jersey Winn Khuong, before saying that she was working to remind the 18,000 members of her organization about the senator's record on civil rights and reproductive health.
In the almost solidly blue state, grassroots momentum has largely focused on flipping Republican-held congressional districts. In the competitive 11th district, Democratic candidate Mikie Sherrill raised $1.9 million in second quarter fundraising, compared to Menendez's $1.6 million. But as polls show a narrow margin for Menendez, grassroots activists have started organizing and canvassing to play up the senator's pre-indictment record.
"I think we've been paying attention to the opportunities to flip the House in New Jersey," said New Jersey Working Families Alliance executive director Analilia Mejia. "The more we learned about Bob Hugin and how he would represent us, we realized that while we should be focused on these congressional races, we should also make sure we defend and hold the Garden State's Senate seat."
With the Senate still in session, Menendez has had little time to campaign and define himself outside of Hugin's ads focused on his dropped corruption charges.
Salomon Melgen, a Florida eye doctor, who was mentioned in the charges against Menendez, was sentenced to 17 years in prison over a separate Medicare fraud case for charging Medicare for treatments that patients didn't need. Menendez had been charged with being bribed by Melgen with flights, vacations, and campaign contributions to lobby on his behalf.
In a Hugin ad called "Two Bobs," Hugin's campaign attacks Menendez over the corruption charges. "Bob Menendez chose a life in politics. Serving his donors. Getting indicted. Found guilty of breaking the law by Republicans and Democrats," the ad says.

Menendez, who was not found guilty in an actual court, is now finding his footing to hit back.
Menendez called a last-minute press conference in the waiting room of a Harrison, New Jersey, doctor's office on Tuesday chiefly to tie Hugin to Trump and Republican health care policy. Menendez, standing at the front of tightly packed room of reporters sitting on folding chairs and couches, called Hugin a "fraud," pointing to a lawsuit against Celgene, the pharmaceutical company Hugin led, and pointing to his support for Trump-nominated Supreme Court Justices Brett Kavanaugh and Neil Gorsuch, along with the Republican tax cuts.
The New Jersey Working Families Alliance party affiliate has recruited volunteers to canvass for the senator in progressive, working-class communities like Newark, Plainfield, and Elizabeth to turn out base voters ahead of the election and emphasize Menendez's work on legislation like the Affordable Care Act, defending DREAMers, and his opposition to Kavanaugh.
The Working Families party launched a website — WrongBob.com — highlighting Hugin's stances on key issues to tie him to Trump, who remains relatively unpopular in the state (62% percent of New Jerseyans polled in a recent Quinnipiac poll disapproved of the president's job performance).
"All the money in the world can't overcome that you'd be another vote for Donald Trump," Menendez said of Hugin at this week's press conference. "He supported the previous Justice Gorsuch and now he supports Kavanaugh. He's not a different type of Republican, he's a Trump Republican."
Elizabeth Juviler, the political director for NJ 11th for Change, a non-affiliated grassroots organization that's endorsed Sherrill's campaign, said there's been an uptick in the group's membership looking for ways to support Menendez's campaign while working to flip their district, with a large number of members asking leadership to direct them to ways they can support Menendez.
Activists who've been canvassing for the senator say that while there were some concerns about his record, voters they've spoken with have primarily been concerned about the Supreme Court and the Senate's role in confirming judges.
"At the end of the day, I'm fighting for every vote in New Jersey," Menendez said. "I'm fighting to make sure they have someone in Washington who stands up to Donald Trump."