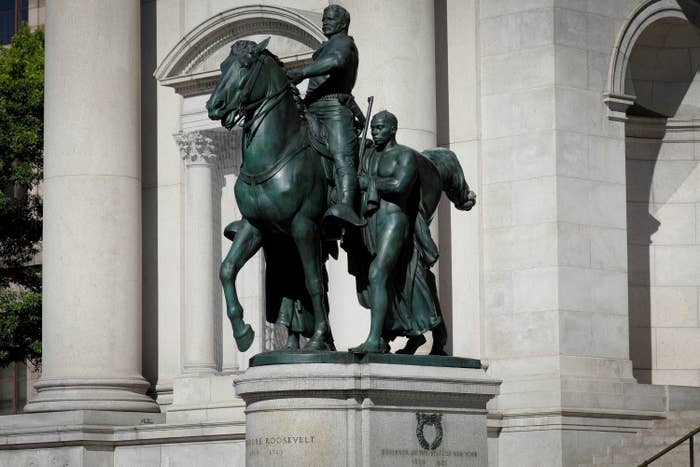 The American Museum of Natural History in New York City announced Sunday that a statue of President Theodore Roosevelt on horseback flanked by a Native American man and an African man will be removed from the steps of the museum following years of objections to the statue's depictions.
As protesters and local governments around the world have taken down statues of racist and white supremacists, museum officials requested permission from New York City, which owns the property and the statue, to do the same.
People who objected to the statue of Roosevelt have said that it depicts a scene that celebrates colonialism and racial hierarchy.
"Over the last few weeks, our Museum community has been profoundly moved by the ever-widening movement for racial justice that has emerged after the killing of George Floyd," Ellen Sutter, the president of the American Museum of Natural History, said in a staff memo. "We also have watched as the attention of the world and the country has increasingly turned to statues and monuments as powerful and hurtful symbols of systemic racism."
"As we strive to advance our institution's, our City's, and our country's passionate quest for racial justice, we believe that removing the Statue will be a symbol of progress and of our commitment to build and sustain an inclusive and equitable Museum community and broader society," Sutter said.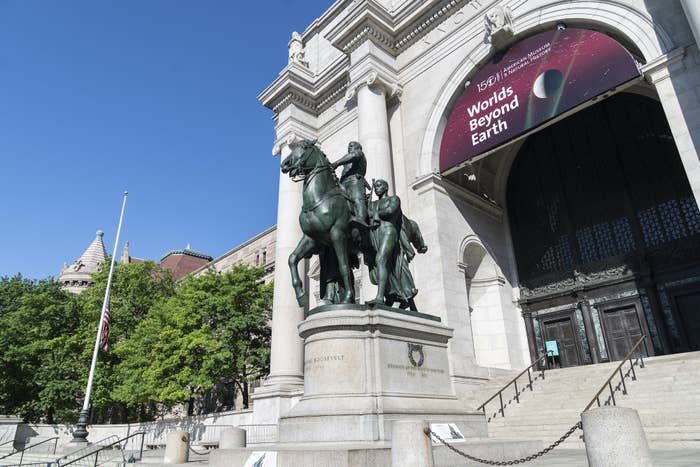 The statue of Roosevelt, erected at the museum in 1939, was commissioned in 1925 to commemorate Roosevelt after his death.
In 2017, New York City Mayor Bill de Blasio established a commission to evaluate the statue and others around the city that were deemed controversial. The 2017 commission determined that the statue should stay up but that the museum should provide more context about its origins and current place in history.
The museum established an exhibit about its history, but in its recent statement about the statue's removal said it was "abundantly clear" that the approach was wrong and requested permission from the city to have it removed.
"The American Museum of Natural History has asked to remove the Theodore Roosevelt statue because it explicitly depicts Black and Indigenous people as subjugated and racially inferior," de Blasio said in a statement. "The City supports the Museum's request. It is the right decision and the right time to remove this problematic statue."
But not everyone is in favor.
Weighing in via Twitter shortly after midnight, President Trump called the statue's removal "ridiculous."