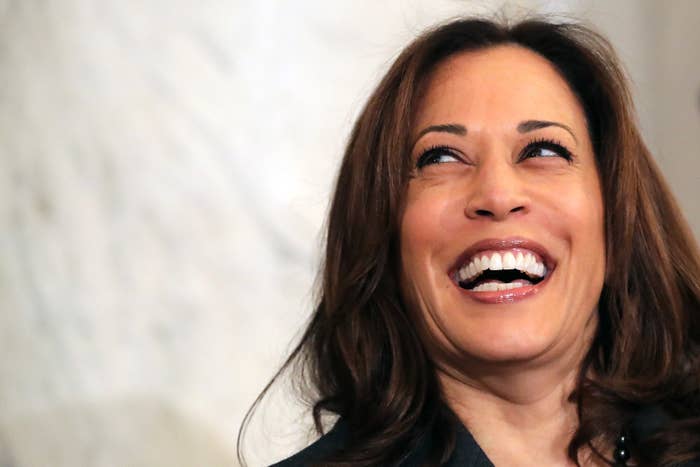 A national survey of women of color political organizers, activists, donors, and party leaders shows Sen. Kamala Harris as an overwhelming early favorite of the group ahead of the 2020 presidential election.
The survey results, provided to BuzzFeed News by She the People, a new network advocating for women of color in politics, show a majority of respondents — 71.1% — includes Harris in their top three choices for president, if she decides to run.
The second most popular candidate was Rep. Beto O'Rourke, whose closer-than-expected Senate race against Ted Cruz in Texas this year has propelled him into the national spotlight. O'Rourke was a top three choice for 38.3% of respondents, followed by Joe Biden for 25%, Sen. Cory Booker for 24.2%, Sen. Elizabeth Warren for 22.3%, Georgia Democrat Stacey Abrams for 15.2%, and Sen. Bernie Sanders for 12.1%.
Women of color are a key voting demographic for the Democratic Party in elections across the country, and consistently turn out to vote at high rates. In Southern primaries, including early states like South Carolina, black women compose a large portion of the electorate and helped secure the nomination for Hillary Clinton over Sanders in 2016.
Nearly a third of the 222 women from She the People's survey who responded to a question asking who they would not consider for president named Sanders in their top three because they don't think he'd be able to reach women of color, a problem he faced in the 2016 election.
Sanders, though, still has signs of support on the left. In a separate straw poll of 94,163 members of Democracy for America released Tuesday morning, Sanders leads the field of prospective candidates with 36.14% of support from the progressive organization's membership.
"I think we're at the end of the time when Democrats can speak to economic injustice and not speak powerfully to racial justice," She the People founder Aimee Allison told BuzzFeed News in an interview.
Allison said that Sanders "has been specifically cultivating" relationships with people of color, to his credit. "I think we saw some moves to fix that, and I think there's still some healthy skepticism there from women of color," Allison added, referring to the poll results. "The real questions moving forward for many of these white candidates is: Are they going to be able to speak directly to the needs and the concerns of women of color?"
The survey also found that immigration policy, criminal justice reform, Medicare for All, and protecting voting rights are among the top priorities for the group as they decide who to support in 2020.
Of the women surveyed, a slim majority said they do not believe the Democratic Party is "headed in the right direction," and 44.3% said that they don't believe the party is prepared to engage women of color in the 2020 presidential election. Many of the respondents said that the party should hire more women of color to leadership positions, support women of color candidates, and create an agenda that embraces their policy priorities.
"Women of color, as a voting bloc, are the backbone of the Democratic Party and we're really leading the way with these issues, and we've shown that we can get behind candidates of different genders and different races and really affect an election," Allison said. "But now we're demanding way more from the candidates. They need to speak directly to us, and anything short just isn't going to cut it."
The survey from She the People questioned 264 women of color across the country. Of the people surveyed, 50% of the women identified as black, 40% as Latinx, 16% as Asian, and 5% as Native American. The survey was conducted from Nov. 29, 2018, through Dec. 13, 2018.