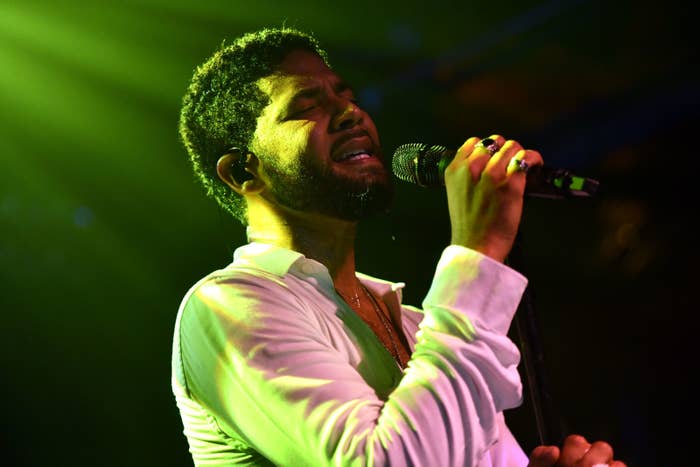 Empire star Jussie Smollett performed at a nightclub in West Hollywood Saturday night and talked about his reported attack in Chicago last week.
"I was bruised, but my ribs were not cracked, they were not broken," Smollett said onstage at the Troubadour, his first performance since the incident.
He said that a friend drove him to the doctor, but he was not hospitalized. "Both my doctors in LA and Chicago cleared me to perform, but said to take care, obviously," Smollett told the crowd.
"And above all, I fought the fuck back," Smollett added as the crowd erupted in cheers and applause. "I'm the gay Tupac! So now, we can do our encore."
Smollett's family joined him onstage, and he was introduced by his brother.

"After much debating, some arguing, and many tears, my family and I have realized that tonight is an important part of Jussie's healing," Smollett's brother said.

"He's been a fighter since he was a baby — he fought his attackers that night and he continues to fight," he added, as a person in the crowd yelled back, "He's a champion!"

Smollett's statements at his concert come after he said he was assaulted by two masked men on Tuesday night in what police are treating as a potential hate crime.

Smollett was approached on the street by two people who yelled racial and anti-gay slurs, and then hit him in the face and poured "an unknown chemical substance" on him, according to police. The attackers yelled that Smollett was in "MAGA country" and put a noose around the actor's neck, according to authorities.
On Wednesday, Chicago police released surveillance footage of two possible suspects.

In a statement provided to BuzzFeed News on Friday, Smollett addressed fans to tell them he was OK.
"My body is strong but my soul is stronger," Smollett wrote, adding that he had been "100% factual and consistent on every level" about the incident.