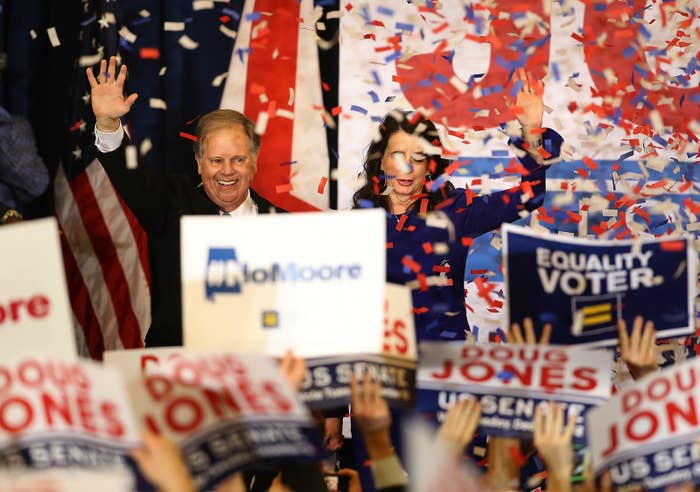 Doug Jones couldn't have won in Alabama without black voters. National and local Democratic groups knew that — and spent millions trying to turn those voters out.

And even though the Alabama race may be an outlier, some of those groups now hope that the victory is a blueprint for the party in the South — where a few thousand votes could make a huge difference — as they try to pick up more House seats and governor's mansions.
In the weeks before Jones' victory, there were preemptive concerns that Democrats had not done enough to turn out black voters, some of whom were, at best, unenthused about Jones. Those worries proved unfounded: While some white rural and suburban voters stayed home with the infamous Roy Moore on the ballot, black people in Alabama punched above their weight — comprising 29% of voters in the election despite only accounting for around 27% of the state's population, according to exit poll data. Black women, in particular, voted for Jones in near solidarity at 98%.
An array of Democratic groups poured money and time into Alabama: the NAACP, the Democratic National Committee, Priorities USA Action, and newer groups like BlackPAC (which, along with its coordinated arm, spent more than $2.1 million in the state). BlackPAC also knocked on nearly 500,000 doors and spoke with more than 120,000 people about issues surrounding the election, Executive Director Adrianne Shropshire told BuzzFeed News.
The organization also partnered with groups organizing in black churches and engaging millennial black voters.
Shropshire believes that to win in the South, Democrats need to up their game of engaging black voters. "We know that there are real opportunities for progressives to win in the south and we know that there are opportunities coming up. Whether it's Stacey Abrams in Georgia or Andrew Gillum in Florida there are opportunities to support progressive candidates," Shropshire said, referring to the competitive governors' races in Georgia and Florida.
Next year, there could also potentially be a competitive Senate race in Tennessee and — more promising — House races across the South.
Although BlackPAC isn't quite ready to say where they'll be focusing their efforts next, Priorities USA said they're looking to support candidates in Florida, Pennsylvania, Ohio, Wisconsin, Nevada, Michigan, and Arizona, and they're eyeing gubernatorial races in the South.
Priorities USA, the best-known Democratic super PAC and which backed Hillary Clinton in 2016, spent $1.5 million dollars alongside Senate Majority PAC during the Alabama special election. The majority of that ($1 million) was specifically spent on mobilizing black voters, the chairman of Priorities USA, Guy Cecil, told BuzzFeed News.
Priorities USA emphasized traditional voter mobilization — education efforts about the date of the election and polling places. They also crafted an education effort that catered to younger voters online about the "extremist and racist" statements previously made by Moore.
Cecil told BuzzFeed News that Priorities USA learned lessons that Democrats should embrace ahead of the 2018 elections. "Democrats need to expand key demographics that they want to mobilize in black groups and other communities of color if they want to increase turnout," he said.
The overall question of black turnout continues to loom large for Democrats' national ambitions. Voter participation was down somewhat in 2016, which people have attributed to everything from President Obama no longer being on the ballot to voting rules making it more difficult for black communities to vote, to Hillary Clinton not holding the same kind of appeal as Obama and Democratic failures to motivate and focus on issues important to black voters.
This year, Democratic turnout has exploded, especially in states where Republicans have a significant edge, like Alabama. National Democratic groups have also invested: Earlier this fall in Virginia, liberal billionaire Tom Steyer financed a narrow effort that targeted students at black colleges and universities in the state. In the final week of his campaign, Jones campaigned heavily with prominent black Democrats, including Sen. Cory Booker and former governor Deval Patrick. The DNC also played a more reserved role in Alabama, quietly spending $1 million on the race and dispatching over 30 aides.
Meanwhile, in addition to the efforts from national progressive groups, the Alabama NAACP also put together an initiative to mobilize voters by educating them about the special election and the proper IDs required to vote. The group says members called every voter who hadn't participated in an election since former president Obama was on a ballot to encourage them to participate in the election.
"We had a lot at stake here in Alabama from health care and education to voter suppression which is crippling a lot of people here so we had to get people informed early," Jerry Burnet, Alabama NAACP state political action chair, told BuzzFeed News.
Shropshire believes there's a shift happening in how the Democratic Party courts black voters and that the model could work in other southern states if the party engages with black voters early and invests in the infrastructure to assist local black and progressive organizations. It's particularly important to fund groups already organizing voters in those communities and to continue educating voters about the obstacles they might face at the polls.
"I think the degree to which we can address the voter suppression tactics we'll see greater participation and part of the reason [Tuesday] was so amazing was that 29% of the electorate did all of that in spite of that, and Alabama voters really did win both for themselves and for the country," Shropshire said.