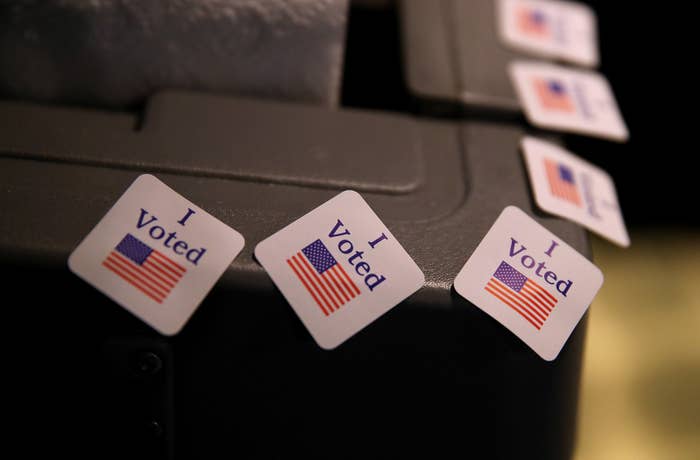 Texas' 21st District is gerrymandered to look a bit like a whale, and to include just the right parts of San Antonio and Austin to guarantee that a Republican gets elected, as retiring Rep. Lamar Smith has every two years for the last three decades.
But this year, this conservative bit of Texas is shaping up as one of the many laboratories in which the Democratic Party is testing its new identity — and figuring out how to win. And the bitter dispute among the three leading Democratic candidates here echoes the national argument: Should the party lean into the progressive movement or entice disaffected Republicans and independent voters to cross party lines by recruiting centrist candidates they'd feel comfortable supporting?
"When you have a turnout problem, you don't solve it by running corporate-backed centrism, you solve it by running progressive candidates that give progressives something to believe in on that ballot," said Derrick Crowe, a Democratic Socialists of America member and candidate for the seat who's been endorsed by national progressive groups aligned with Vermont Sen. Bernie Sanders, including Justice Democrats and Our Revolution, and supports policies like Medicare for all and a $15 minimum wage.
The main target for Crowe and the other progressive in the primary, nonprofit CEO Elliott McFadden, is Joseph Kopser, an Austin-based tech entrepreneur and Iraq War veteran who is following the traditional strategy for Democrats in conservative districts by running a campaign centered on being willing to reach compromises with Republicans and that won't trigger a Republican backlash at the polls. Kopser describes himself as a problem solver and says he wants to "build new Democratic coalitions to make things work again" if he's elected.
"They believe that they can win this alone," Kopser told BuzzFeed News of his opponents. "But the math isn't there, there aren't enough Democrats in this district to only be reaching out to people in the party."
Kopser's willingness to compromise with Republicans on issues like border security funding and a clean DREAM Act has made him a frequent target for Crowe and McFadden, who've labeled him as an "establishment candidate" and "Republican-lite."
"We've been in the doghouse in this district for over two decades. The only way to win this race is to motivate our base, and you don't motivate your base by running as Republican-lite," McFadden said.
Kopser reflects the national Democratic Party's strategy for flipping conservative districts: a candidate who can bring out Democrats and some independents without upsetting Republicans, similar to Alabama Sen. Doug Jones' campaign last fall. He's raised far more money ($727,025, according to FEC reports) than any of the other Democratic candidates and out-raised Smith for two quarters before the Republican announced his plans to retire. He's also been endorsed by Massachusetts Rep. Seth Moulton and US House Minority Whip Steny Hoyer.
Crowe and McFadden see this as a sign of the national party putting its finger on the scale in the primary, which has become a flashpoint in another Texas race.
McFadden told BuzzFeed News that national Democrats should "butt out" of the campaign. "We have four qualified candidates, and I think it's up to the people of the district to decide."
"I think the national Democratic Party should be taking its cues from the base and not try to tamp down movements for change nationwide," said Crowe. "If progressives see us trying to sell them out to gain Republican votes, they're going to stay home and we're going to waste this national energy that's been building."
The Democrat who ultimately comes out on top will be an underdog against whoever wins the 18-person Republican primary. But Texas suburbs were a rare bright spot for Hillary Clinton in 2016: While Mitt Romney won the district by 22 points in 2012, Trump carried it by just 10 points.
In a potential wave election year, this is the sort of red district that could flash blue — and vindicate one side's theory on the new way to win.
CORRECTION
Joseph Kopser is the Austin-based tech entrepreneur running for the Democratic nomination in the district. An earlier version of this story misidentified his first name.