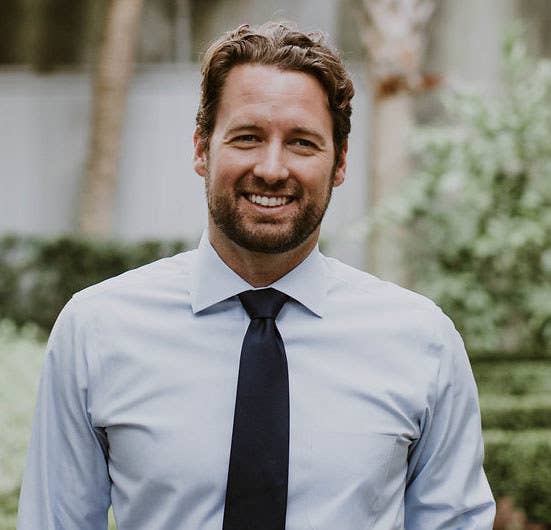 National and South Carolina Democrats think they have a new shot at a Republican-held House seat following Rep. Mark Sanford's upset loss to Republican Katie Arrington in a heated primary race last week.

"This is the fastest blue-trending district in South Carolina and one of our best pick-up opportunities in the state and maybe in the South," DNC vice chair and former South Carolina state party chair Jaime Harrison told BuzzFeed News.
President Donald Trump endorsed Arrington in the primary, and she's closely aligned herself with his White House. Democrats see that relationship and Arrington's strongly conservative positions, coupled with her staggeringly small campaign war chest compared to Sanford, as an opportunity for Democrat Joe Cunningham to compete.
Democratic strategists also see the district's changing demographics as slowly pushing the electorate in the Democratic party's favor. Party strategists point to Trump only winning the district with 53% — a 13 point lead over Hillary — in 2016 as a sign that they might have a shot getting a moderate Democrat elected to the seat.
"Republicans moving into that part of the state from Ohio and New York may be Republicans, but they'll realize that they're not South Carolina–style Republicans," Harrison said.
Democrats have had similar hopes dashed before. They tried flipping the district in the deeply conservative state in 2013, when Elizabeth Colbert Busch, the sister of Stephen Colbert, ran as a moderate Democrat against Sanford just four years after he resigned as governor in scandal after disappearing to Argentina for an affair. Polls kept the race close in the lead-up to the election as national support from Democrats poured into the district, but Busch still lost to Sanford, 54% to 45.2%.
Cunningham is running as a Democrat in the same vein as Rep. Conor Lamb, who pulled off an upset in a Pennsylvania special election earlier this year. A source close to Cunningham's campaign said they had raised more in the week since Sanford's loss than they had in the previous month. The campaign has also been meeting with the DCCC over the past week. One DCCC official told BuzzFeed News that it's likely that the district will be added to its list of battleground districts, but couldn't provide an exact time frame.

Cunningham has pointed to Arrington's steadfast support for Trump as a weak point in the general election. "We've got enough blind partisanship in Washington. I'll work with Donald Trump if what he's doing helps the folks back home and I'll fight him tooth and nail if it doesn't," Cunningham says in an ad released Wednesday morning that features clips of Arrington speaking about Trump and her stance on oil fracking off South Carolina's shore.
South Carolina's 1st Congressional District stretches narrowly through the state's coastal communities in the Lowcountry — an area where the economy is largely focused on tourism and where offshore drilling is a flashpoint for political candidates. During a forum, Arrington had previously said she supported Trump's lifting the ban on offshore drilling in the United States, which was enough for two Republican mayors to cross party lines and endorse Cunningham. Following the election, Cunningham received endorsements from two Republican-identifying mayors from Folly Beach and Isle of Palms — beach communities in Charleston county — who both pointed to Arrington's support of offshore drilling as the reason they wouldn't support her.

"He has endorsements from two Republicans — in South Carolina. That doesn't ever happen," a DCCC official told BuzzFeed News.
"Nothing is more important in 2018 than electing a congressman who will fight Washington's efforts to open our shores to drilling for oil and gas," said Isle of Palms Mayor Jimmy Carroll in a statement. "As a former Mark Sanford supporter and lifelong Republican, I am endorsing Joe Cunningham because he understands that our coastline is our lifeblood and he will use his experience as an ocean engineer to work across party lines to protect the Lowcountry from offshore drilling. Katie Arrington's support for offshore drilling is simply a deal breaker for me."
Following the endorsements for Cunningham, Arrington broke with the Trump administration. "I support the repeal of Barack Obama's arbitrary restrictions on domestic energy exploration. I do not support drilling for oil off of South Carolina's coast. While there are those who are using scare tactics to politicize this issue, the Trump administration simply reversed the Obama administration's national policy," Arrington told the Post and Courier on Tuesday.
"It's pathetic but not surprising that Joe Cunningham has to lie to people to get their endorsements. It's also sad that Mayor [Tim] Goodwin and Mayor Carroll simply listened to Joe's lies instead of contacting Representative Arrington directly on her position," Arrington's political consultant, Michael Mulé, told BuzzFeed News.