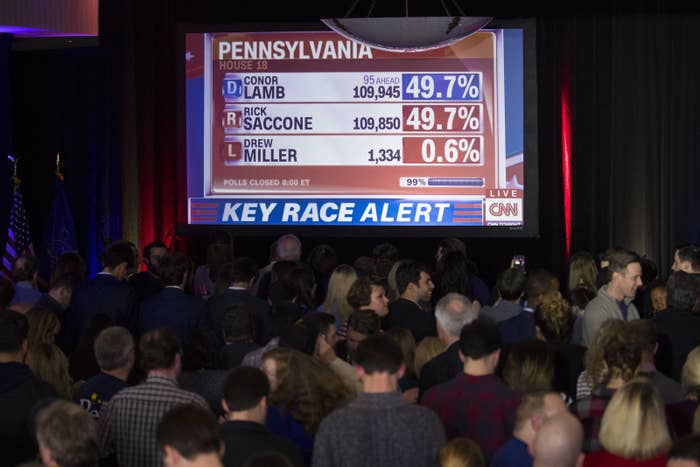 Millions of Americans routinely receive desperate emails from campaigns, perpetually on the edge of catastrophe and asking for just one more dollar to help bring the campaign back from complete ruin before an ominous midnight fundraising deadline.
And nobody does it like the Democratic Congressional Campaign Committee, the true artists of the dire email fundraiser.
"If we let Trump and his Republicans bury us, our chance of winning this election is absolutely gone. Will you help us close the gap before midnight?" the DCCC pleaded in an email titled "URGENT" before the presidential election.
Increasingly, though, Democratic strategists argue that there is a cost to the "churn-and-burn" fundraising strategy that outweighs the extra dollars it brings in. The cost of the spammy, fear-based communications, they say, is depressed and alienated voters and the public impression of the Democratic Party as just another arm of a cynical, dishonest establishment.
"Constantly screaming about doom, we're going to lose — it may raise money for them. Clearly they do it because it raises money for them," said Markos Moulitsas, the founder of Daily Kos, "but it does not create an environment where Democrats are eager to fight and win, because nobody wants to fight for a team they know is going to lose."
"The approach they've used with alarmist language in their fundraising emails has become pervasive," said Matthew McGregor, a former Democratic digital strategist, who worked for the Obama campaign. "What does this say about us about our values and how we value our supporters?"
For voters who probably don't often interact with the national party, the strategy can be disorienting. In the days leading up to to Pennsylvania's special election, for instance, the DCCC piled on an array of mixed messages on the state of the race:
"Conor Lamb DEFEATED?!"
"Conor Lamb WINS?!"
"Gut-wrenching loss"
"CONOR. LAMB. WINS!!!"
Fundraising has massively changed during the last several presidential cycles, especially in the wake of Barack Obama's campaigns' success in raising money through small-dollar email blasts. Over the last five years, especially, the national party committees — everyone from the Republican National Committee to the DCCC — have emphasized a never-ending series of impending monthly or quarterly fundraising deadlines.
That's long frustrated some Democrats, but especially now, when anti-Trump fervor has fueled new candidates in newly competitive districts, and when many Democrats have become reenergized around a variety of issues, from gun control to representation for people of color and women.
"I think the DCCC's email strategy is a wasted opportunity for Democrats. They have this expansive email list that they could be using to cultivate and motivate voters to flip congressional seats in 2018," said Laura Olin, a Democratic digital strategist who's worked with a host of progressives including Barack Obama's digital team.
"The thing is that fundraising campaigns from Obama, Warren, and Bernie showed us that we don't need to use those scare tactics to raise money, and those tactics don't make us lose our values by being inclusive, engaging, and honest rather than being alarmist and misleading," said McGregor.
The current energy has helped drive a number of online-based national efforts outside of the traditional party apparatus, like Swing Left (which raises money for Democratic nominees) or any number of massively viral fundraising drives for nominees in special elections.
Party committees have a wider set of spending demands, and no one can say the strategy hasn't been effective in pure fundraising terms. Just last week the DCCC said they had raised more than $50 million online. "Small dollar, grassroots donations have propelled the DCCC to record-breaking online fundraising this cycle. It's clear that the base of our party is unified around the goal of taking back the House," said DCCC spokesman Tyler Law.
That, people agree on.
"Does it raise a bunch of money for candidates? Hell yeah, [Jon] Ossoff raised a shit ton of money. But at what cost?" asked one operative. "It's run in the model of the DCCC created back in 2013 and its exhausting our voters. There's not an infinite pool of people to pull from and their strategy is going to turn people off from supporting Democratic causes."
But party strategists want to see the DCCC treat Democratic voters like "actual adults" who don't need to be tricked into supporting the party with misleading headlines.
"They have this relentless fucking strategy that seems to overwhelm and deceive their supporters," one former Democratic digital strategist told BuzzFeed News. "The desperation and outright lies placed in these emails are going to be bad for the party. The DCCC is so prevalent that it sets itself up as the de facto face of the party by the sheer force and volume [of its emails] that can't be distinguished from the rest of the party."