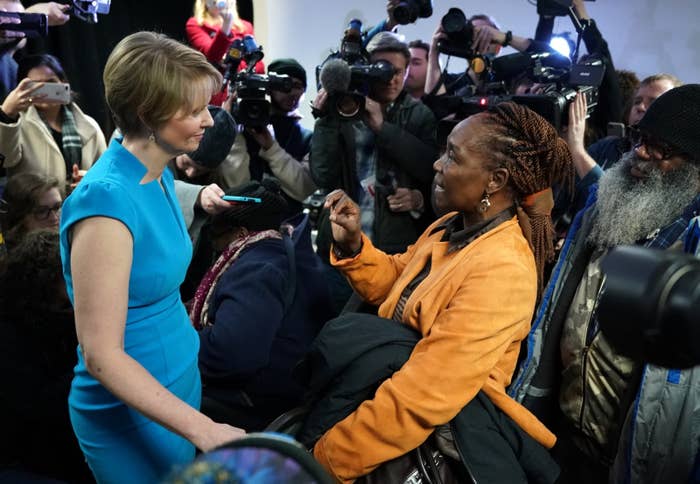 The last time someone challenged Gov. Andrew Cuomo, his progressive opponent struggled mightily to attract black voters in New York City.

And so she lost, big time.
The city plays an enormous role in Democratic primaries. That's why Cynthia Nixon — running as a Bernie-esque progressive against the more centrist Cuomo — is trying to overcome the historic resistance black voters have to white economic progressives, and truly engage black voters.
Democratic insiders say Nixon's chances are still slim, but especially so if she doesn't make inroads with crucial black voters, a bloc from which Cuomo has enjoyed healthy support in recent years and with whom progressives like Bernie Sanders failed to garner support with their more class-focused economic populist messages.
"Miranda — I mean Cynthia — ain't gonna win without the black vote, and the average New York voter is who? A black woman," said Hank Sheinkopf, a longtime Democratic consultant and former Cuomo campaign adviser. "Right now, Nixon's riding a wave of name recognition from her time on a show about rich white women galavanting around the Upper West Side, but that's not going to cut it when it comes to turning out support from black women."
It's a problem that Democratic strategists and New York progressives think Nixon's campaign seems to understand. Strategists nod to her recent appointment of L. Joy Williams, the president of the Brooklyn NAACP and board chair of Higher Heights, as a senior adviser, and Nixon's campaign launch in Brownsville, Brooklyn, a majority black neighborhood that encapsulates many of the flashpoints in the Democratic primary: It's the poorest neighborhood in Brooklyn and among the poorest in New York City, it's at the center of the affordable housing crisis, and residents are prepping for the 15-month L train shutdown in early 2019, a symptom of New York City's dilapidated subway system that Nixon's branded "#CuomosMTA."
"From the start her campaign has been centering racial justice. In this day and age, you can't just talk about economic justice without talking about racial justice — they're not mutually exclusive," said Renata Pumarol, the deputy director of New York Communities for Change.
"Cynthia has been going after the black vote aggressively since the start of her campaign," said George Arzt, who was the communications director for former New York City mayor Ed Koch. "In 2014, Cuomo didn't really take Zephyr Teachout's campaign seriously and didn't put in much effort into campaigning, and I think he learned his lesson this time around."
Running on a host of progressive issues popular among the party's left wing, like marijuana legalization, significant changes to the criminal justice system, and single-payer health care, alongside a Bernie-esque emphasis on small-dollar donations, Nixon has endorsements from progressive groups like Our Revolution, the Working Families Party, and Democracy for America. Despite the high-profile endorsements, Nixon's challenge to Cuomo is still a long shot. She trails the governor in almost every category of New Yorkers. Cuomo leads Nixon 50% to 28% in the latest poll of 1,076 New York state voters, from Quinnipiac University. That margin is nearly the same for non-white voters in the poll.
But progressives, like Our Revolution's Nina Turner, see value in the way Nixon is campaigning and approaching black voters in particular. "Cynthia is bold and she's speaking like a candidate that has nothing to lose, and it's refreshing to see someone who wants to be a politician engage our community this way," Turner told BuzzFeed News over a phone call. "She's shaking things up in New York, and her campaign is going to be one of the catalysts that changes how candidates engage with the black community."
Her campaign comes as economic-focused progressives try to build a larger coalition of voters within the party, and as black party activists demand that black voters not be take for granted by the Democratic party. Traditionally, the kind of progressive movement that's lining up behind Nixon has been critiqued for not giving black voters — a voting bloc vital to winning elections — a seat at the table, and for putting racial justice issues second to those of economic justice.
So far, Nixon seems to have employed a two-fold approach to correcting that perception: an aggressive media strategy focused on black-oriented outlets (like the Root) and shows (see: her interview with Wendy Williams where she declares that black women are the "backbone" of the Democratic Party), and framing the progressive issue set through the lens of structural inequality, particularly on the issue of marijuana.
"In my hometown of New York, people of color are ten times more likely to be arrested for marijuana than white people, despite using it at the same rates," Nixon told a crowd of hundreds of progressive candidates last month at a Progressive Change Campaign Committee event. "The reality is that for white people, marijuana has effectively been legal for a long time. It is time to legalize it for everybody else."
This hasn't gone without complication. Nixon caught flack for the way she's framed some issues. Last week, after speaking at the NYC Cannabis Parade, Nixon told Forbes that marijuana legalization could be a "form of reparations," which earned her the ire of some prominent black political figures. "I'm for legalizing marijuana and I like Cynthia Nixon but putting pot shops in our communities is not reparations," Rev. Al Sharpton tweeted following Nixon's comments.
"People took her statements out of context on that one," said Turner, explaining that Nixon had meant that communities of color have been disproportionately arrested for marijuana possession and should be the first to benefit from its legalization.

Turner thinks that these are the conversations that progressive politicians shouldn't be afraid to have with voters and that Nixon's engagement of black voters is something others should model.
"The narrative about the progressive movement is that it's majority white, but it's not; we're a rainbow coalition. We have to meet people where they are," said Turner. "That's exactly what Cynthia is doing."