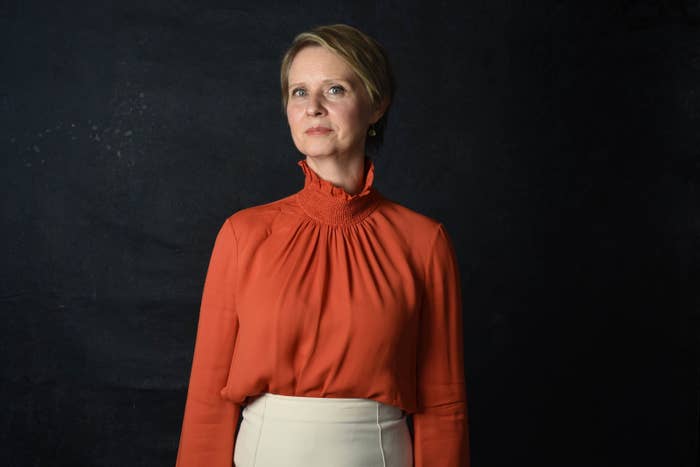 Cynthia Nixon, the insurgent progressive candidate for governor in New York, said Monday that she is "appalled" by a mailer to primary voters paid for by the New York State Democratic Party accusing her of being soft on anti-Semitism, and that she does not believe that Gov. Andrew Cuomo should be able to escape blame.
"I'm the mother of Jewish children whose grandparents narrowly survived the Jewish holocaust and had a lot of family who didn't survive. The idea that they would accuse me of being soft on anti-Semitism is an outrage," Nixon said on BuzzFeed News' AM to DM Monday morning.

Asked later in the interview why she believes New York City Mayor Bill de Blasio has chosen not to publicly endorse her or Cuomo, Nixon said, "I make of that that Andrew Cuomo is notoriously vindictive, and Bill de Blasio has to think of the people of New York City first and foremost, and I completely understand his decision."

Over the weekend, progressive activists and reporters raised concerns about the mailer, which said that "with anti-Semitism and bigotry on the rise, we can't take a chance with inexperienced Cynthia Nixon, who won't stand strong for our Jewish communities." The mailer was sent just days before Thursday's primary.
In the immediate backlash, Cuomo's campaign spokesperson Lis Smith tried to distance the governor from the mailer.
Cuomo also told reporters Sunday that he did not know about the mailer and called it a "mistake," and state Democratic Party Executive Director Geoff Berman tweeted that the mailer was "inappropriate" and "will not happen again."

Nixon didn't accept that response. "Yes, the New York State Democratic Committee has a lot to answer for," she said Monday. "This was not a mistake; a lot of people had to approve of this and get it together and sign off on it, create it, and mail it out. But I think the idea that Andrew Cuomo didn't know that it was happening is completely bogus."
Nixon stopped short of calling for Berman to resign but said whoever is responsible should face consequences.