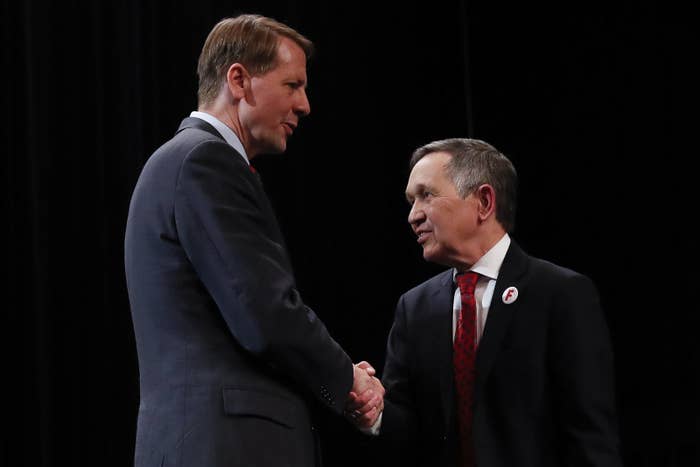 Under the dim venue lights of the Newport Music Theater just across the street from Ohio State University, college students stood in the pit talking about purchasing caps and gowns for graduation, Democratic socialists on campus, and their admiration of progressive star Senator Elizabeth Warren just before she took the stage to stump for Richard Cordray — who's running in the tighter-than-expected Democratic primary for governor.

"Let's face it, Rich is not flashy. He's a nerd. Just like me," Warren said to a crowd peppered with nearly the same amount of "nevertheless she persisted" gear as Cordray-Sutton signs. "He's quiet, he's unassuming, he's humble, but deep down there is a fighter and not just any kind of fighter. Rich is the kind of fighter I love. He is a fearless fighter. My kind of man."
Cordray's speech wasn't, in fact, flashy — nor was the response from the college students for much of the speech — but later Friday night when the former head of the Consumer Financial Protection Bureau stood before the Ohio Democratic Party's Legacy Dinner, the crowd of party officials and insiders greeted him with a raucous welcome.
It's the hope for some of them that Cordray will prevail in the early May primary and — leveraging liberal enthusiasm, the chaos of the Trump administration, and the recent resignation of the Republican state speaker of the house — then go onto win in November, giving Democrats the upper hand in Ohio's redistricting.
But another candidate — Dennis Kucinich — has potentially disrupted the plans of many national and state Democrats. The primary has put the two progressive heavy hitters at odds over who's best fit to be at the top of the ticket, splitting key endorsements, attracting national attention, and offering maybe the highest profile midterm example of Democrats wrestling with just how progressive their candidates should be.
"I think a lot of people were surprised by the polling and it goes to show that you can't count Dennis out in this election," said Herb Asher, a professor emeritus of political science at Ohio State University.
"I'm sick of the Democratic Party picking the wrong candidate and eventually losing because of it."
How close it is depends on the poll you look at, but numbers generally shows a close race between Cordray and Kucinich, the well-known populist and two-time presidential candidate, who has long supported legalizing marijuana and Medicare-for-all, and has been endorsed by the Bernie Sanders-aligned group Our Revolution (despite Sanders himself deciding to stay out of the race). Last week, one poll of likely voters gave Cordray 27% of the vote and Kucinich 13%. In an earlier SurveyUSA effort, each pulled 21% of support from likely Democratic voters with 46% still undecided.
After Republican waves in 2010 and 2014, Democrats badly want to win back governors' seats, especially in notoriously gerrymandered places like Ohio where Trump won big. Though they are not endorsing in the race, for instance, former attorney general Eric Holder's redistricting project is keeping a close eye on the race, too, targeting an array of races: governor, secretary of state, attorney general, and state legislature seats.
"I really think Democrats have a good shot to win in the general election if we can put the right candidate on the ballot," said one Democratic operative working in Ohio in a phone call with BuzzFeed News. "I'm sick of the Democratic Party picking the wrong candidate and eventually losing because of it and if the party goes with Kucinich then that's absolutely what we're going to be doing."
Kucinich has been a prolific name in Ohio politics for nearly 50 years, where he rose from the ranks of the Cleveland city council to his notorious stint as the wunderkind mayor of the city, when a standoff over selling an electric utility (Kucinich refused, a move later praised) resulted in the first municipal default in the US since the Great Depression (a move that earned Kucinich the awe or ire of many locals who lived through it).
"I'm the same age as Kucinich and I'm from Cleveland, and older Ohioans like me remember Dennis's fiasco when he was mayor and lots of us just don't want someone with that kind of temperament in office," offered one Ohio voter outside the Cordray event on Friday.
But it was during those early campaigns where he honed his populist message, survived a recall election, and clashed with big banks before serving in the Ohio state senate and U.S. representative and running two message campaigns for president in 2004 and 2008, in which he was considered something of a fringe candidate akin to Ron Paul, but also carried the banner for many of the same populist policies and politics that Sanders rode to much wider support a decade later (single-payer health care, free college, and a more restrictionist approach to trade).
In his bid for the party's nomination, Kucinich has touted that his brand of progressive populism can win over enough moderate Democrats and Trump voters in the state to reclaim the governor's office for the party.
"The one thing I can do that I don't know if there is another Democrat in Ohio who could run for office and do, is that I can reach out to people who voted for President Trump."
"The one thing I can do that I don't know if there is another Democrat in Ohio who could run for office and do, is that I can reach out to people who voted for President Trump," Kucinich said in a pitch to Ohio voters on Fox News, the conservative network where he's appeared as a Democratic pundit — and at times, as a defender of Trump's populist economic message — after losing a congressional election to Rep. Marcy Kaptur following a redistricting plan that consolidated their districts.
On the one hand, how to reach Obama-to-Trump voters in places like Ohio or Wisconsin has been an open question for Democrats in the wake of the 2016 election.
On the other, Kucinich's defenses of Trump (earlier this year, for instance, he affirmed the idea that the "deep state" existed and had tried to undermine the president), and his calls for a primary challenger to Barack Obama, have frustrated more mainstream Democrats. "Kucinich has been able to duck a lot of these arguments because Ohio Democrats weren't watching Fox News when he was on," said one longtime Ohio Democrat.
His two meetings with Syria's Bashar al-Assad — including a trip to Syria with Rep. Tulsi Gabbard last year — are a seen as a potential major liability in a general election, however. While Kucinich has long been an anti-interventionist and a critic of the US wars in the Middle East, his willingness to meet with Assad is highly unusual for an American politician, against the backdrop of chemical weapon usage and the brutal conventional campaign waged by Assad in Syria's civil conflict.
In other words, some Ohio Democrats are skeptical that if he were the party's nominee that he could turn out the voters the party depends on in November, even if he might pick up some crossover voters.
Without Kucinich, Cordray possibly could have served a bit as a bridge between some of the economic populism and the more Obama-aligned Democrats: He's won statewide twice — treasurer and attorney general — and headed the Warren-inspired CFPB in the wake of the 2008 financial crisis, working under Obama. He's backed by the AFL-CIO and he has enough of an establishment backing for general election fundraising.
"If you're seeing him [Obama] on TV a little more these days," Cordray said to the crowd of students before leading them in a "yes, we can" chant. "It's because we're putting him on TV more these days. Last week, Cordray released his first television ad featuring clips of Obama supporting him as the first director of CFPB.
But Kucinich has also prodded Cordray to be more vocal about his stances on issues like gun control. Kucinich has used his F rating from the NRA and Cordray's A rating the last time he ran for statewide office as attorney general as kindling to light a fire under Cordray. It's the kind of thing that party insiders in Ohio think is working to Kucinich's advantage to keep the race as contentious as he can leading up to the primary.
But despite Kucinich's progressive appeal, some Ohio Democrats are still nervous that he doesn't have the fundraising prowess or statewide appeal to win. "I just think we need someone with a clean slate to help us win," said an Ohio Democrat.
What Democrats want to avoid is a repeat of 2014, when the nominee, Ed FitzGerald, netted a dismal 33% of the vote and dragged down a slate of down-ballot races. (It's not a perfect comparison as FitzGerald's campaign was plagued by personal scandals.)
"The question for some Democrats is going to boil down to who can win the general election," said Asher. "Is Kucinich our Donald Trump or our Ed FitzGerald?"