Protests after the death of Keith Lamont Scott, a black man killed by a police officer last year in North Carolina, were fresh on the minds of activists eager to change their community — so another rally didn't seem unusual.
"All the details are right here," read the message from a group called BlackMatters — with a link to a Facebook event page. "It should start at 2 PM on Saturday."
In private Facebook messages that a source said they received from BlackMatters, the group sent a speaking schedule, the names and phone numbers of the coordinators, and a poster ("BROTHERS AND SISTERS! JOIN THE NATIONAL DAY OF PROTEST").
The group only had one request.
"Thank you for attending! It's an honor to work together with you," reads a private message sent hours after the protest on Oct. 22, 2016. "If you have any pictures, please share with us."
In reality, there wasn't anything normal about the protest: A Russian troll farm is believed to be behind BlackMatters, according to a major investigation published by Russian outlet RBC.
The Facebook page for the event is no longer online (though the source was able to access private messages they said the group had sent). Facebook suspended the BlackMatters account, which RBC reported was part of a sweeping crackdown on foreign accounts, something a Facebook spokesman said he "was not able to confirm." The RBC investigation, based on interviews with current and former employees of the troll farm as well as a source close to its leadership and internal documents, found that BlackMattersUS was linked to the Internet Research Agency, and that Russians spent thousands of dollars before and after the 2016 election — including on the Charlotte protest — in order to show the United States in disarray.
People who attended the rally were stunned by the reports.
It's "sickening" to think that anyone would use the social justice movement for their personal or political gain, said Percy Fleming, one of the activists who spoke at the October rally last year.
Attendees were told that anyone who had something to say could speak, said Fleming, a member of JustUs LEAGUE, a local advocacy group. He said he didn't know any details about who had invited JustUs LEAGUE to the event.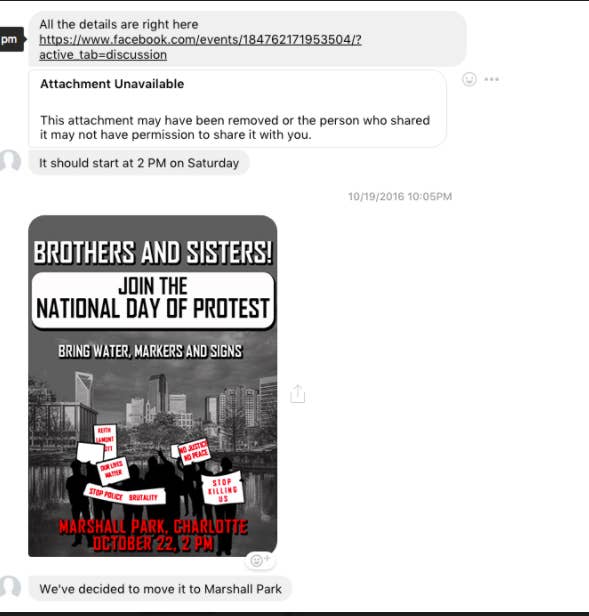 Raven Solomon, another speaker at the rally in Charlotte, said she was invited to speak at the event by the BlackMatters group Facebook page. She said the invite she received didn't include any of the awkwardly-worded English found on some BlackMatters pages.

Solomon was shocked when she learned that Russians appeared to be behind the event.
"For any group to collude to take advantage of the pain & anguish that African Americans — or any group — are experiencing in this country in order to sow further discord is disappointing & revolting," Solomon told BuzzFeed News in a Facebook message. "As an American who was simply seeking to inspire a better America for all citizens through shedding light on that pain, I feel taken advantage of and deceived by this fake group."
Another activist told BuzzFeed News earlier this week that the group had contacted him through a Facebook message. Conrad James, the activist, told BuzzFeed News he had (unaware of the group's reported origins) helped organize the Oct. 22, 2016, rally in Charlotte, which was held in concert with protests all over the country, in addition to an earlier rally in September.
The Russian efforts, first uncovered by RBC, also included recruiting and paying people to teach self-defense classes in black communities. Instructors were asked to take photos and videos, one person told BuzzFeed News.

Some prominent activists reached by BuzzFeed News weren't stunned by the reports this week.
"Many people dismissed the allegations of Russian interference as a distraction or conspiracy theory," said DeRay Mckesson, a leading organizer and activist of the group Campaign Zero, "whereas we are now uncovering new instances every week where the Russians clearly worked to influence the election."
Ash Williams, the young activist who confronted Hillary Clinton in South Carolina over her past use of the racially charged and debunked term "super predators," said that while they were skeptical over some of the circumstances of apparent Russian involvement in movement activity, that Williams, too had been approached by an individual who wanted to get involved.
"I remember being reached out to by someone wanting to have a protest here but they didn't live here," said the Charlotte-based Williams, who simply ignored the correspondence. "I wasn't alarmed. I thought it was strange."
But others reached by BuzzFeed News were surprised enough by the idea that Russians tried to exploit the larger black activist movements that they didn't know what to say.
So taken aback about Russian interference was Rashad Robinson, the executive director of Color of Change, the nation's largest online civil rights group, he told BuzzFeed News he was sending its report around to his staff as "mandatory reading."