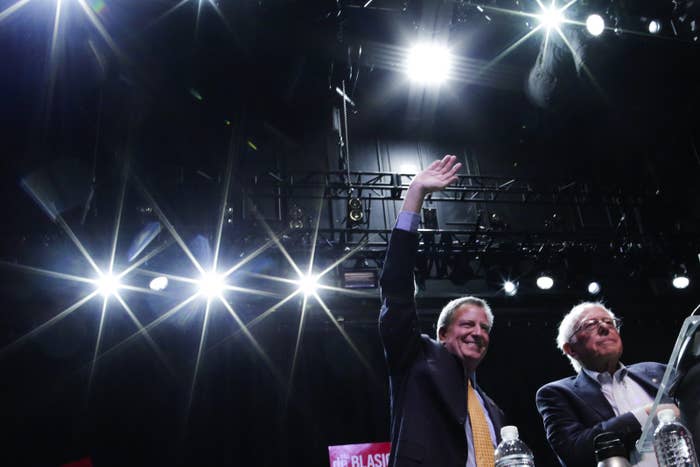 New York City Mayor Bill de Blasio gushed over Sen. Bernie Sanders' progressive movement in the latest episode of the senator's podcast, effusively praising a presidential campaign he did not endorse.
"Everything you did in your campaign changed the politics of America," de Blasio told Sanders. "From the bottom of my heart, the American political process will never be the same because of what you created. And that means not only people of the grassroots now understand their power, and you can approach a political campaign for elective office differently."
This is the third time in the past four months de Blasio has appeared with Sanders, the de facto face of the national progressive movement. For the mayor, just a month into his second term, there's more at stake in the relationship than just trading compliments with a senator — Sanders offers de Blasio a possible route back to the top of the progressive movement, after he stumbled trying to become a leading voice in the movement in 2016.
In 2015, de Blasio founded the (now defunct) Progressive Agenda Committee to pursue his goal of pushing the Democratic Party further left. The committee's plans fell flat after it failed to get a single presidential candidate to commit to speaking at its forum on income inequality. De Blasio's efforts to become a progressive kingmaker also failed following his lackluster endorsement of his former boss, Hillary Clinton, after dragging his feet for months.
At the Democratic National Convention, where the mayor addressed delegates well before prime time, de Blasio told Politico that he had never considered endorsing Sanders' presidential campaign. And a month before the election, he claimed responsibility for pushing the Clinton campaign further left and said the Democratic Party's platform was the most progressive it'd been in decades.
But almost immediately after President Donald Trump won the election, de Blasio said the party's lack of a "progressive economic message" cost Democrats and Sanders' message "would have won the election."
De Blasio now appears to be trying to tie himself to that message, and its messenger.
Representatives for de Blasio and Sanders did not immediately respond to request for comment about their relationship, but it has taken a central focus in recent months. De Blasio appeared with Sanders at a campaign event for his re-election bid last fall, where Sanders praised the populist policies de Blasio implemented in New York City and endorsed the mayor's proposed "millionaire's tax" to fix the city's subways — a flashpoint for New Yorkers frustrated with the unpredictability of the decrepit subway system.
Following his re-election, de Blasio took that message to Iowa, sparking speculation that he may have his own presidential aspirations, despite telling reporters that he's not running for president. And at the start of this month, he invited Sanders to swear him into office at his inauguration, a role that former President Bill Clinton took at the mayor's first inauguration.
In his inauguration speech, de Blasio touted progressives who've had an influence on national politics.
"From Jacob Riis to Eleanor Roosevelt to Harry Belafonte — who we are so honored to have with us here today — it was New Yorkers who challenged the status quo, who blazed a trail of progressive reform and political action, who took on the elite, who stood up to say that social and economic justice will start here and will start now," de Blasio said.
De Blasio may just want to be the next New York icon in that movement.