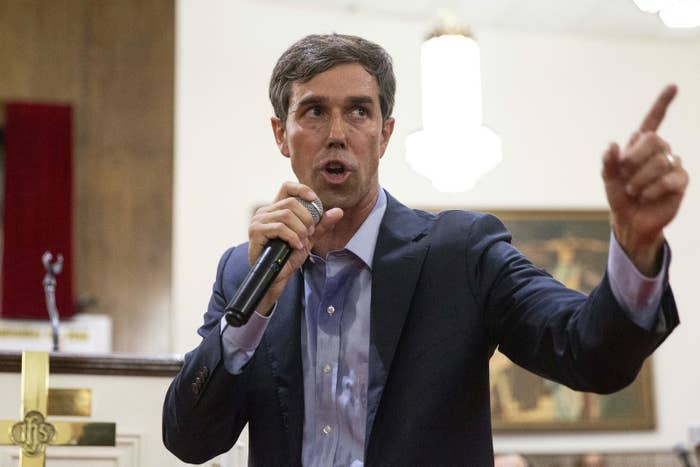 Sen. Ted Cruz and and his Democratic challenger Rep. Beto O'Rourke, who are facing off in one of this year's most closely watched Senate races, met in a contentious debate Friday night, touching on everything from the shooting death of Botham Jean to the arduous relationship between the senator and President Donald Trump during 2016's presidential primary.
Cruz, a former presidential candidate who's seeking a second term in the Senate, defended his decision to work with the president after a primary that saw Trump insult the senator's wife, Heidi Cruz, and suggest his father was somehow tied to the assassination of John F. Kennedy.
"Quite frankly, there's so many insults between the two of you it'd take the rest of this show to go through them all," a debate host quipped while asking Cruz about his relationship with Trump.
"There is no doubt 2016 was an election unlike any others, and there were some hard shots thrown," Cruz said, explaining that he had faced a choice after the election and had decided to work with the president. "I could've chosen to be selfish and make it about myself and say, 'My feelings have been hurt so I'm going to take my marbles and go home,' but I think that would've been not doing the job I was elected to do."
O'Rourke, a formerly little-known representative from El Paso, Texas, whose campaign against Cruz has drawn in millions of dollars from donors across the country, hit back, telling Cruz that he should be standing up to the president on issues like the Russia investigation.
"If the president attacks you personally, your wife, your father, how you respond is your business. But when the president attacks our institutions and allows a foreign power to invade our democracy, that is our business," O'Rourke told Cruz on the debate stage at Southern Methodist University. "We need a US senator who will stand up to this president where we must and work with him where we can." O'Rourke told Cruz on the debate stage at Southern Methodist University.
The race between O'Rourke and Cruz, while largely focused on issues in Texas, has also been a proxy battle for national debates that have played out along partisan lines around Colin Kaepernick, NFL protests, and police shootings like that of Jean, who was killed by an off-duty Dallas police officer in his own apartment, which has captured the nation's attention over the past month.
"What happened to Mr. Jean was horrific," Cruz told the audience, adding that no one should be shot and killed in their own home, before going on to suggest that calling now for the officer to be fired was premature and a mistake.
Cruz added that there's a troubling rhetoric that's surrounded police-involved shootings like Jean's around the country, and suggested that O'Rourke has contributed to that rhetoric by describing police and police officers as "modern-day Jim Crow."
O'Rourke denied that he'd called police a modern-day version of Jim Crow, and made explicit points throughout the debate to call out racial inequity in policing and sentencing — at one point, pivoting an answer about his past DUI to talk about black Americans not receiving second chances at life like he did after the incident.
Cruz, asked about police shootings against black people in America, pivoted to say that he'd been to too many police funerals, citing in particular the Dallas mass shooting in 2016.
Throughout the debate, Cruz tried to tie O'Rourke to Hillary Clinton on issues including the Second Amendment and Supreme Court Justice picks, while at other points he accused him of taking positions far to the left of progressive members of the Senate, like Bernie Sanders and Elizabeth Warren.
"We have a real race in the state of Texas. The hard left is energized, they're angry, and many of them are filled with hatred for President Trump, and we are seeing tens of millions of dollars flow in from all over the country for Congressman O'Rourke's campaign," Cruz said, before accusing O'Rourke of being out of step with Texans on issues like wanting to abolish ICE or impeach the president.
"Only one of us has been to each county in Texas and would have an idea of what Texas values and interests are," O'Rourke hit back, saying that after Cruz won his seat, he visited every county in Iowa and other presidential primary states. "In 2016, he missed one-half of the votes in the United States Senate — you tell me who can miss half the days at work and be rehired for the same job going forward."
The debate hosts, trying to end an hour-long debate on a positive note for both campaigns, asked the candidates what they admired about each other to audible laughs from the audience.
"He wants to serve this country and he's trying to do his best. We may have differences of opinion on what our destination might be and how we're going to get there, but I have no question that Sen. Cruz wants to do the best for America," O'Rourke answered.
"I'd like to agree with those sentiments and I'd express the very same sentiments back at Congressman O'Rourke," Cruz said, before pointing out that he had debated Sanders three times last year. "You are absolutely sincere, like Bernie, that you believe in expanding government and higher taxes, and I commend you for what you believe in."
Texans have two more chances to watch O'Rourke and Cruz on the debate stage before the midterm elections. They'll debate domestic policy in Houston on Sept. 30, and a mix of foreign policy and domestic policy in Dallas on Oct. 16.