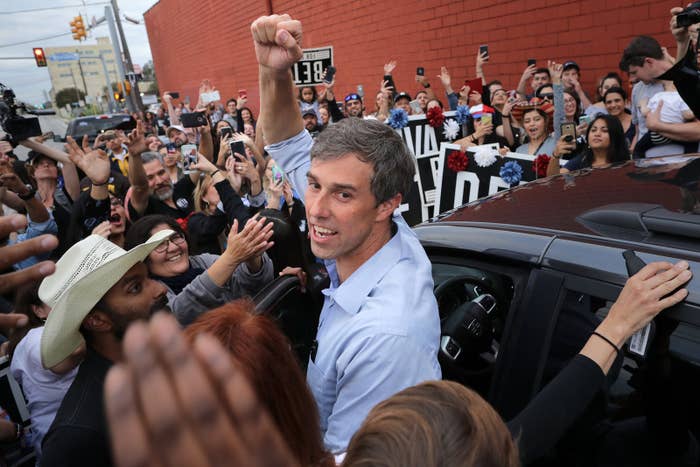 The new organizers trying to raise money to convince Beto O'Rourke to run for president aren't sure just yet if Beto O'Rourke wants anything to do with them.
O'Rourke, who lost his Texas Senate race in November, is already publicly considering a 2020 campaign. Organizers with the Draft Beto PAC, which launched this week, haven't actually talked with O'Rourke, or people close to him. They don't even know if O'Rourke, who has already proven himself to be a uniquely skilled fundraiser who pledged not to take PAC money during his Senate campaign, would accept whatever money they raise in their draft effort, should he decide to run.

Draft Beto PAC — a patchwork group of social media influencers, activists, and campaign aides — is raising money set-aside for O'Rourke if he runs, and holding that money in an escrow account. The group's goal is to build a grassroots network and raise $1 million to prove to O'Rourke — who raised nearly 80 times that amount for his Senate campaign — that he has national support.
"We wanted to launch two weeks ago but we wanted to make sure everything was in place," PAC co-founder Nate Lerner told BuzzFeed News. "The way it's set up is that we're earmarking the funds for Beto, and we're not touching the money at all. It's the donors that decide what to do with it."
Lerner told BuzzFeed News that PAC members were working as unpaid volunteers to prove that there's grassroots energy for an O'Rourke campaign.
The new PAC hasn't been in touch with O'Rourke but plans to contact his Senate campaign's finance director to discuss the PACs ability to raise funds for a potential campaign.
"Draft PACs are just notoriously scammy and we wanted to make this as transparent as possible. That's why anything raised is going into this escrow account," Lerner added. "Beto rejects PAC money, he's very extreme in that, and we wanted to make it as likely as possible that he'd take the money. We're just acting as a conduit and money donated would show up as individual contributions."
In 2006 and 2015, the FEC ruled that non-connected committees could raise earmarked contributions from the public to forward to Federal candidates. An FEC spokesperson said they believe that these rules would apply to Draft Beto's fundraising efforts through their ActBlue escrow account.

"What we saw in his campaign was a candidate who wasn't trapped in party infighting, who could bring centrists to the table and progressives to the table," said Pam Keith, a former congressional candidate from Florida who joined the Draft Beto PAC Tuesday morning.
The group has also promised to turn over its social media accounts and volunteer team to O'Rourke's campaign if he runs.
"We're organizing to show people that it's not exclusively the pundit class and politicians who are calling for Beto to run," Keith said. "We want to show that there are grassroots, rank-and-file Democrats who are excited about his candidacy."
The PAC is currently planning on recruiting organizers to host events around the country in support of O'Rourke in early voting states and plans on focusing on Texas. "You have this massive Beto network waiting to see what he's going to do, and we want to get them active and give them something to work on and to harness that energy," Lerner said.
The group is the second "draft Beto" effort to launch in the weeks after the midterm elections, but some of its members didn't actually know the first group, Draft Beto 2020, existed prior to interviews with BuzzFeed News.
"I just found out about that," said Tzatzil LeMair, a former O'Rourke campaign events council member who's now volunteering with the Draft Beto PAC. "The more the better. I'm already familiar with Beto after working on the campaign for a year, but it's not the same throughout the rest of the country. He's fairly new on the national stage and I welcome other groups to push him to run."
Draft Beto 2020 says it held an organizing call for hundreds of O'Rourke supporters across the country in early December and provided BuzzFeed News with an organizing guide it distributed to participants, asking them to host house parties and phone bank supporters to get them to join the draft movement with a list of donors to O'Rourke's Senate campaign from their states.
Organizers with Draft Beto 2020 says it's already launched its campaign to an email list of thousands of Democratic activists and has signed people up to volunteer in over 40 states. An organizer with the Massachusetts-based group said they hadn't heard from the Draft Beto PAC before they launched but that they were, "happy to hear" that others were organizing to push O'Rourke to run.
"Now that we've launched, we're going to reach out and maybe propose merging," Lerner said of Draft Beto 2020 on a brief call. "I don't see why not."
CORRECTION
Nate Lerner's name was misspelled in an earlier version of this post.