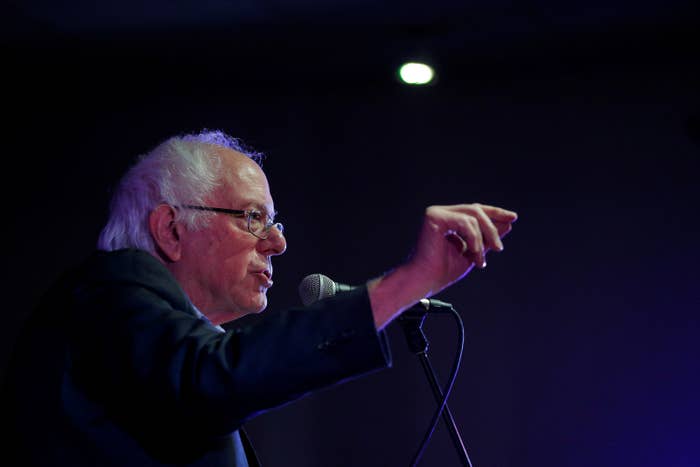 Calls to abolish cash bail have become a central issue on the campaign trail for candidates running on the left like Cynthia Nixon, who's staging an insurgent primary challenge against Andrew Cuomo, and Alexandria Ocasio-Cortez, the Democratic Socialists of America–backed candidate who unseated Rep. Joe Crowley.

Now, Bernie Sanders is further emphasizing the idea, introducing legislation to end the use of secured bonds in federal criminal proceedings and to incentivize states to end their secured bond systems.
"There's a growing awareness of the cash bail system," Sanders told BuzzFeed News. Sanders says he thinks there's some interest in the Senate in backing legislation to end cash bail.
The movement to abolish cash bail has gained support from an array of political figures over the years from the conservative mega donors the Koch brothers to democratic socialists like Sanders and Ocasio-Cortez. Last year, Sen. Kamala Harris and Sen. Rand Paul also introduced bipartisan legislation to push states to change or replace their cash bail systems.
In the recent past, Sanders' support for a given issue — like single-payer health care — has moved conversation around that within the Democratic Party, especially for prospective presidential candidates.
The No Money Bail Act, introduced by Sanders on Wednesday, would effectively end the use of cash bail as a condition for release before trial and amends the Omnibus Crime Control and Safe Streets Act of 1968 to create a grant system to incentivize states to end their cash bail systems and create alternatives to cash bail.
Calls for changes to the cash bail system reached a crescendo in recent years after the death of Kalief Browder, who had been accused of stealing a book bag and spent three years in jail on Rikers Island because he couldn't afford his $3,000 bail. Browder's death offered a poignant example of the criticism of the cash bail system. Criminal justice advocates have long pointed to the cash bail system as disproportionately affecting working-class Americans who can't afford bail.
"We have a broken criminal justice system," Sanders told BuzzFeed News. Sanders added that in the midst of that, the country has a cash bail system that's essentially "criminalizing poverty."