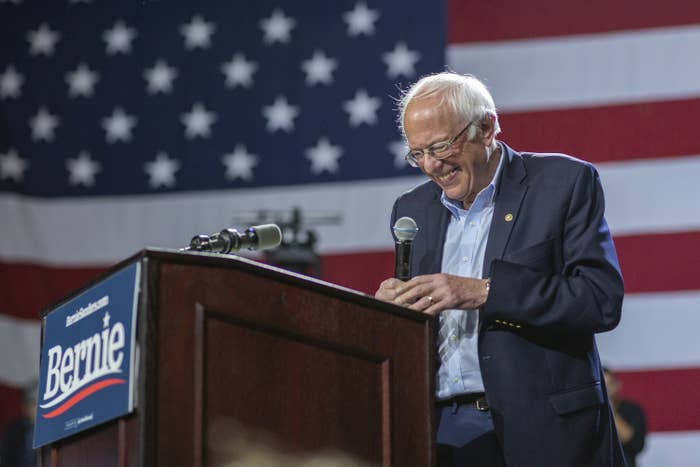 Democracy for America, one of the final major progressive organizations to offer an endorsement to a presidential candidate, has voted to endorse Sen. Bernie Sanders' campaign.
"With today's endorsement, DFA members are joining Bernie's 'political revolution' and working to take it both to the White House and up-and-down the ballot, in races coast to coast," DFA's executive director Charles Chamberlain said in a statement.
Of the 38,383 people who voted in the organization's endorsement poll, 79.3% voted to support Sanders while 13.2% voted to support Warren. Turnout for the poll dropped significantly from the over 271,000 votes that were cast during the 2015 endorsement process.
"I'm proud to have the support of Democracy for America and its grassroots members who know that real change never comes from the top on down but from the bottom on up," Sanders said in a statement. "They've led the fight to guarantee health care as a human right, protect and expand Social Security, and end our nation's endless wars."
DFA launched its endorsement poll to members on Feb. 20, just a day after Warren's sharp performance at the Nevada debate. Members had the opportunity to vote for one candidate or "no endorsement." The poll ran through March 1 and to receive the group's endorsement, a supermajority of at least 66.67% of members had to support a particular candidate.
This is only the second time the group has endorsed a presidential candidate after its 87.9% of its members overwhelmingly voted to endorse Sanders over Hillary Clinton during the 2016 Democratic primary after its failed attempt to draft Warren to run that year.
During the 2016 primary, DFA raised over $2 million for Sanders and deployed volunteers across the country for 119,000 volunteer shifts and knocked on over 5 million doors.
The endorsement comes during a critical moment for progressives as an earlier rift between Sanders and Warren polarized their supporters and as Warren's campaign has sharpened its criticism of Sanders after receiving only eight delegates in the first four presidential primaries.
DFA added that while it's supporting Sanders for the remainder of the primary, it is committed to the Progressives Unite pledge that it helped launch in January and will specifically be "focusing its fire in the fight for the Democratic nomination on 'candidates supported by the corporate wing.'"