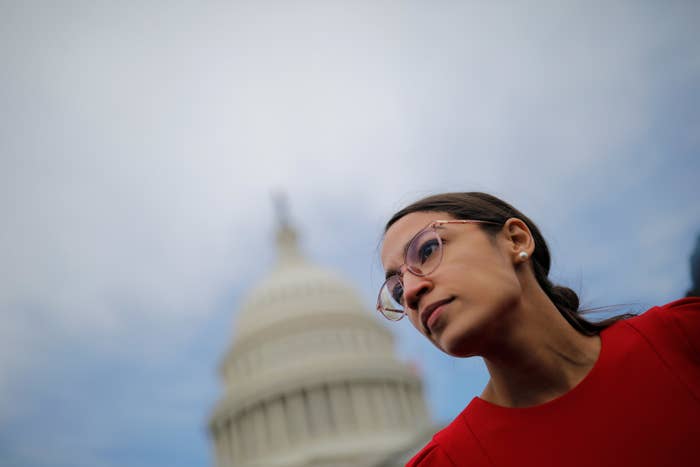 Alexandria Ocasio-Cortez and the new left soon to enter the Capitol have decided on their first big fight with establishment Democrats in Congress: new climate change policy.
A coalition of progressive organizations, activists, and newly elected representatives are pushing the Democratic Party to embrace a "Green New Deal," an environmental protection and jobs guarantee plan intended to minimize the United States's impact on climate change. The plan is deeply unlikely to go anywhere with Republicans in control of the Senate and Donald Trump in the White House. But its high-profile backers — including incoming Congress members Ocasio-Cortez, Ayanna Pressley, Ilhan Omar, Rashida Tlaib, and Deb Haaland — are trying to make it the basis for Democrats' climate agenda going into 2020.
Earlier this month, 200 young environmental activists with the Sunrise Movement and Justice Democrats, the progressive organization closely aligned with Ocasio-Cortez, coordinated a protest with Ocasio-Cortez at House Democratic leader Nancy Pelosi's office in support of the formation of a select committee on climate change, which would be empowered to draft legislation and hold hearings in hopes of enacting the plan by 2020.
That protest, which built up attention for the proposal through Ocasio-Cortez's active social media, won't be the last. Activists have signed on to a subsequent protest in DC on Dec. 10, Sunrise Movement leaders announced on a strategy call.
Ocasio-Cortez, Justice Democrats, and the Sunrise Movement's proposed draft resolution would give the select committee authority to create a "detailed national, industrial, economic mobilization plan" to drastically address the United States's role in climate change.
The resolution has quickly built up support among Congress's current and newly elected progressives — 18 Democrats, including Reps. John Lewis, Tulsi Gabbard, and Jackie Speier, now back the idea.
Progressive Democrats who challenged incumbents in the midterms made environmental protection policies a centerpiece of their campaigns. Ocasio-Cortez routinely addressed climate change on the campaign trail and other progressive candidates — like Randy Bryce, who won his House primary in Wisconsin before losing in November, and Abdul El-Sayed, who lost his Michigan gubernatorial primary — pushed for comprehensive policy to deal with global warming in their campaigns.
"When I ran, I talked about how our government and our elected officials need to drink our water and breathe our air because our lives are on the line," Ocasio-Cortez said at a Friday morning press conference with the Sunrise Movement. "This isn't just about a Green New Deal. This is about a new deal for the United States of America."
Activists pushing for the proposal, which is still only loosely defined, acknowledge that it's unlikely to move forward now, but that they want to lay the groundwork for enacting legislation after the next presidential election.
"One of the issues we had and would like to really see and push for is that we as a party, whether it's through the committee or otherwise, have a mandate to have legislation ready by 2020 so that should we work as hard as we can to win back the presidency, and the Senate, as well as keeping the House, we can have legislation ready to go," Ocasio-Cortez said Friday.
"The Green New Deal fits into this larger ethos of putting progressive legislation out there and putting a bright north star in the sky of what we can accomplish with more Democrats in power for voters to look toward in 2020," Adam Green, the director of the Progressive Change Campaign Committee, said in an interview. "Progressives like Alexandria are asking House leadership to help put that north star in the sky."
Progressive climate policy already has some powerful likely opponents in Congress. Sen. Joe Manchin, who is set to be the most powerful Democrat on the Senate's energy committee, is a pro-coal senator from West Virginia who has opposed past attempts at broad climate legislation. Even if Democrats do manage to take the Senate in 2020, progressives would still have to deal with Manchin, who won reelection this year.
"I have concerns," Ocasio-Cortez said Friday of Manchin's position on the committee. "That's why I say that our issues aren't just left and right, but they're top and down. I have concerns over the senator's chairmanship just because I just do not believe that we should be financed by the industries that we are supposed to be legislating and regulating and touching with our legislation."
"It just means that we have to work harder and maybe it means we have to go to his district and wake up some people," Representative-elect Rashida Tlaib said at Friday's press conference. "So just know as a community organizer, as someone that's an extension of this movement, that's just a challenge and we're going to be able to knock down many of these barriers and many of these walls and we're going to be able to tell these stories very effectively."
Justice Democrats executive director Alexandra Rojas told BuzzFeed News that the organization plans on making support for a Green New Deal a litmus test for Democrats looking for support from progressives.
"One of the great things about having organizers like Ilhan Omar, Rashida Tlaib, and Alexandria in Congress is that they're going to be bold in pushing progressive policies and we're happy to have them doing that," incoming chief executive of Democracy for America Yvette Simpson told BuzzFeed News. "We love that in pushing forward, they understand that it's on them to open Washington up."