Networks of far-right Twitter accounts backing President Donald Trump have spent the weeks after the announcement of an impeachment inquiry attacking and spreading conspiracy theories about Rep. Adam Schiff, the House Intelligence Committee chair who is helping lead the impeachment effort.
The accounts both amplify Trump's own condemnation of Schiff and go substantially further, with some suggesting the high-ranking Democrat be executed for treason.
"Rep. Adam Schiff illegally made up a FAKE & terrible statement, pretended it to be mine as the most important part of my call to the Ukrainian President, and read it aloud to Congress," Trump tweeted in late September, after Schiff explicitly paraphrased the non-verbatim transcript of the call during a committee meeting. "Arrest for Treason?"
Schiff said later in the hearing that his summary of Trump's call was "meant to be at least part in parody."
The Twitter networks reviewed by BuzzFeed News began to pop up in 2015 to support Trump's campaign in the lead-up to Republican primaries and organized over private group message rooms, Politico reported in 2017. The accounts amplify each other's tweets and some have gained over 25,000 followers and tweet and retweet hundreds of times per day. They share messages that promote the Trump campaign's language and attack his enemies with memes and other posts — giving the president a free and large rapid response apparatus during the impeachment process.
Since the impeachment inquiry began, the accounts have adopted language from the president and other congressional Republicans to characterize key members and events that are relevant to the impeachment inquiry. Many have tweeted multiple times per day with similar language to Trump's tweets about the impeachment, with some tweets garnering less than 100 retweets and others garnering retweets and likes in the thousands, and have spread their messages to thousands of followers.
"Adam Schiff now doesn't seem to want the Whistleblower to testify," Trump tweeted last week. "Must testify to explain why he got my Ukraine conversation sooo wrong, not even close. Did Schiff tell him to do that?"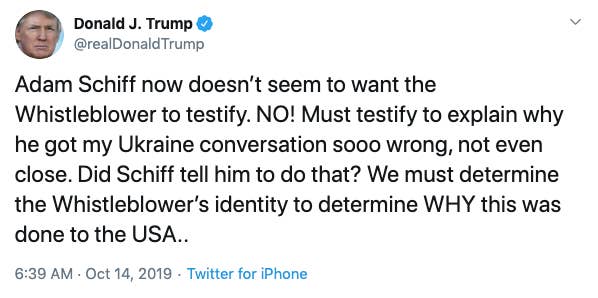 Exactly a week later, a pro-Trump account wrote, "Adam Schiff does NOT want his fake 'whistleblower' to testify now because it will expose his own part in this attempted coup. FINE." The tweet would gain almost 2,000 retweets and 4,000 likes.
In the weeks since Trump tweeted about Schiff paraphrasing the call, Trump and House Republicans have ratcheted up support for Schiff to be censured for reading the dramatized version of the call. The House killed the censure effort Monday night. Pro-Trump accounts have followed Republicans' lead, spreading false conspiracy theories across Twitter claiming that Schiff made up the whistleblower complaint and coerced witnesses to lie in their testimonies about their interactions with the president, and they have accused him of treason.

In less-engaged replies to more viral tweets, some users have suggested the death penalty for Schiff. Scrolling through the replies on the more popular posts could lead viewers to see those messages even if they weren't retweeted or liked on a large scale.

"This lieing piece of crsp needs to be put in jail for lieing for the past three years about everything. PENCIL NECK SCHIFF IS A TRAITOR TO THIS COUNTRY," one Twitter account tweeted alongside a photo of Schiff, using the president's nickname for the lawmaker.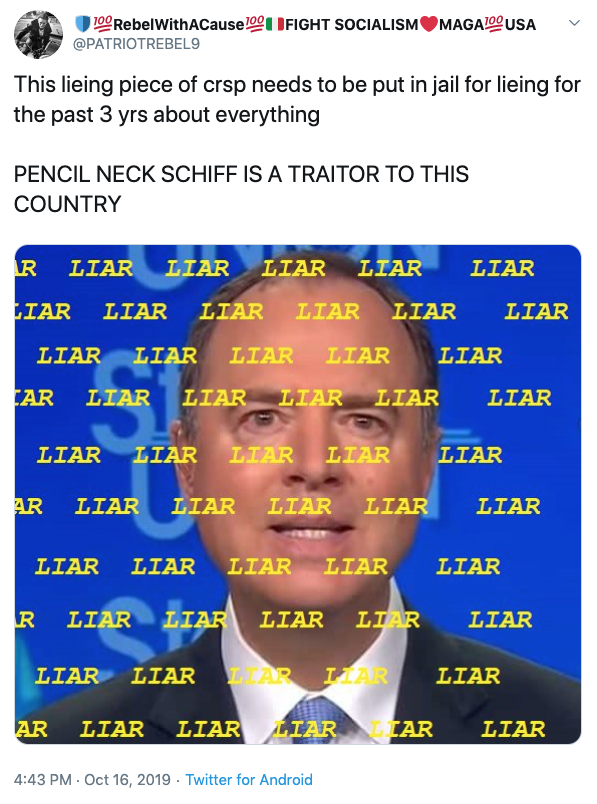 "Yes, and even worse than That!" another account replied. "This Lying Piece Of Garbage Should Be Tried Under The UCMJ, For Treason Against Our Wonderful Sitting President."
"He Should Immediately Be Given The Ol' Fashioned DEATH PENALTY Carried Out Immediately By The Original Sentencing FIRING SQUAD," the tweet reads alongside a GIF of the Trump captioned: "THE PENALTY IS DEATH."
Other accounts were more subtle. "If Adam Schiff was working with the 'whistleblower' team to leak to the media--he should be expelled from congress and charged with sedition," one tweeted. "Conspiring against the President of the United States should be a career ending exercise for any 'public servant...at minimum."
Another replied with a GIF of a swinging noose, "I'm thinking this instead."

In tweets from multiple accounts that have been retweeted and liked thousands of times, Schiff has been accused of covering up testimonies and leading a coup against the president, echoing language from Republican House members who were blocked from reading closed testimony from Kurt Volker, the former United States special representative for Ukraine negotiations, because they weren't members of the committees with jurisdiction over the testimony. In a widely shared story among the accounts, the Washington Examiner claimed that it obtained a transcript of the testimony and that Schiff "pushed" Volker into saying he felt pressured by Trump in a "secret meeting."
Accounts in the pro-Trump network pointed to the story as an example of Schiff and congressional Democrats making the impeachment process unfair to the president and inaccessible to Republican members of the House, fueling their anger toward Schiff. The story, which was picked up by many other right-wing sites, has not been corroborated elsewhere.
A spokesperson for Schiff did not immediately respond for comment.