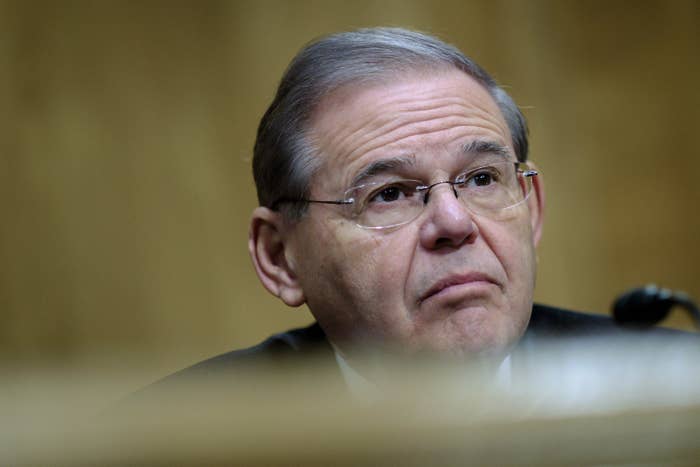 Last month, federal prosecutors decided not to retry Democratic Sen. Bob Menendez after a lengthy corruption case against him ended in mistrial.
Menendez is a free man, but is still facing a renewed Senate Ethics Committee investigation and is somewhat at odds with more left-leaning Democrats. It's the kind of situation that could lead to a contentious primary with a number of challengers, especially with an energized grassroots base motivated to run for office in the age of Trump.
But Menendez has drawn just one primary challenger: activist and pundit Michael Starr Hopkins.
Hopkins said the speed with which the New Jersey Democratic establishment endorsed the senator following the mistrial drove him to challenge the senator's reelection bid — as well as Menendez's post-mistrial statement. ("To those who were digging my political grave so they could jump into my seat, I know who you are and I won't forget you," Menendez said in front of the federal courthouse.)
Menendez had faced legal scrutiny over his relationship with a major donor, a Florida ophthalmologist. During the trial, former US senator Robert Torricelli (who faced his own scrutiny over a donor) worked behind the scenes to position himself as the successor of Menendez's seat if he was forced to resign from office. But little momentum for a challenge — primarily against New Jersey's Democratic machine — has materialized.
John Wisniewski, a former progressive candidate for governor and NJ assemblyman, said there's a slim chance of success for anyone looking to challenge Menendez, who's already shored up support from Democratic power players including current governor Phil Murphy and popular New Jersey junior senator Cory Booker. The senator also has a hefty amount of cash ($4.1 million) on hand ahead of the April filing deadline.
"Fundraising is going to be tough. We're not going to go dollar for dollar with Menendez," said Hopkins, whose campaign has raised $26,268 according to Federal Election Commission data, but he hopes that New Jerseyans will connect with someone running for office "who isn't a party insider."
Despite the quick lineup behind Menendez, a poll, conducted by the Rutgers-Eagleton Poll, found that 51% of New Jersey voters thought that Menendez didn't deserve reelection and 49% thought that he should resign. The poll surveyed 600 New Jersey adults after the mistrial was declared last November.
The poll also found that New Jerseyans who were informed about the senator's corruption trial first were more likely to say he didn't deserve reelection, and Hopkins doesn't shy away from mentioning the corruption charges. Hopkins says that he's running partly because he wants to protect the Senate seat for Democrats. "Losing this one seat, this one vote" could have a major impact on policies (like health care) that protect lots of Americans, Hopkins said.
He's also running on the heels of Murphy's 2017 campaign, in which he ran on a litany of liberal goals, from a $15 minimum wage to legalized marijuana. Foreign policy progressives have already complained that Menendez — who holds somewhat more hawkish views on Cuba and Iran than some Democrats — has regained his position as the ranking member of the Senate Foreign Relations Committee.
Menendez's campaign didn't immediately respond for comment.