Women's Group Dismisses Obama Endorsement In Key Senate Primary
"I wasn't expecting it," says EMILY's List president Stephanie Schriock. "This is all part of the D.C. campaign. The real campaign is in Hawaii."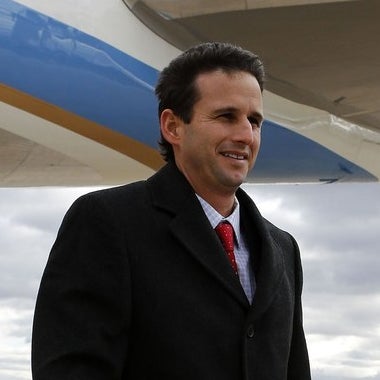 When President Obama endorsed Brian Schatz in the Hawaii Senate primary earlier this week over the female candidate challenging him, the head of the high-powered women's group EMILY's List was surprised but not worried.
"I wasn't expecting it," said Stephanie Schriock, the president of the group, which works to recruit and elect Democratic, pro-choice female candidates.
In a Wednesday afternoon interview, Schriock said she didn't anticipate the Obama endorsement would move votes in the primary race. "I feel like this is all part of the D.C. campaign," she said. "The real campaign is in Hawaii."
Obama's rare primary endorsement, first reported by the Huffington Post on Monday morning, was an unanticipated boon to Schatz, the senator appointed to office in December of 2012 after the death of Sen. Daniel Inouye.
Rep. Colleen Hanabusa, a two-term Democratic congressman, is challenging Schatz for the Senate seat in a competitive special election this fall. Just before Inouye died, he left Hawaii's governor, Neil Abercrombie, a letter outlining his "last wish": that Hanabusa be appointed to replace him. Abercrombie, who is up for reelection himself this year, picked his lieutenant governor, Schatz, instead.
Hanabusa has the backing of EMILY's List. The organization, one of the Democratic party's biggest, endorsed Hanabusa as early as last summer.
Schriock's comments build on the statement the group released following Obama's endorsement. "We've always known this campaign is about Hawaii, not Washington, and that's where it will be decided," the statement read in part. "Only one person, Gov. Abercrombie, made the decision to appoint Brian Schatz to this seat — Hawaii voters will finally have a chance to vote on who represents them in the Senate on Aug. 9."
Obama was born and raised in Hawaii, where he still enjoys higher-than-average approval ratings. Despite his endorsement for Schatz, he has supported Hanabusa in the past. In 2012, Obama recorded an ad for her House reelection campaign.
"You've got two candidates who are slightly different on the issues, but you have two candidates who are very different in experience," Schriock said.
"Brian was a lieutenant governor, but for a split second."