Kirsten Gillibrand Kicks Off Ambitious 2014 Fundraising Campaign In NY
The Democratic powerhouse is in New York City Thursday for Off the Sideline's kick-off funder. Gillibrand wants to double her 2012 haul for women candidates.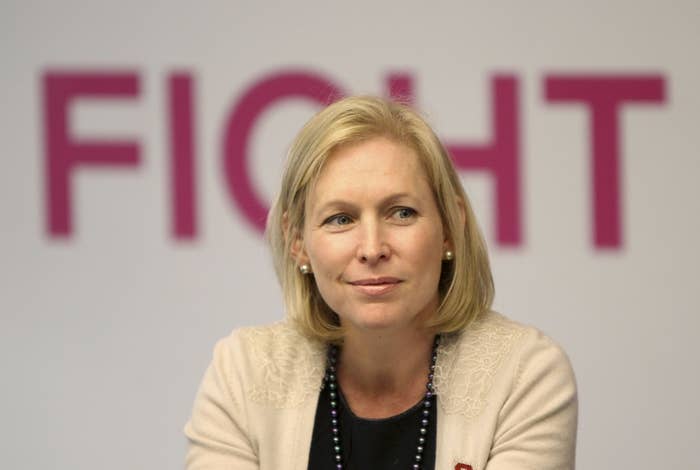 Sen. Kirsten Gillibrand, whose work on behalf of women candidates during last year's election cycle helped elevate the New York Democrat to the national stage, will host a kick-off fundraising event for her political action committee Thursday in New York City, according to her office.
Gillibrand's PAC, called Off the Sidelines, aims to recruit and help elect more women to higher office.
Last year, while she was running her own reelection campaign, Gillibrand also managed to raise $1 million for female candidates like Sens. Tammy Baldwin, Heidi Heitkamp, and Claire McCaskill, who received the largest share of funds — over $200,000 — for her tight reelection race in Missouri against former Republican Rep. Todd Akin.
For the 2014 midterms, Gillibrand hopes to double her haul, raising $2 million for the Off the Sidelines PAC, said the senator's spokesman, Glen Caplin.
Gillibrand has already been raking in cash for Elizabeth Colbert-Busch, the Democratic candidate running in the South Carolina special election — scheduled for Tuesday, May 7 — against former governor Mark Sanford. Through just three messages to her email list — which is said to be considerable in size — Gillibrand raised over $100,000 for Colbert-Busch, said Caplin.
Her fundraiser in New York City Thursday, held at the Rubin Museum of Art, will include a panel discussion with Gillibrand, actress Connie Britton, designer Diane von Furstenberg, Voto Latino head Maria Teresa Kumar, and Women's National Basketball Association president Laurel Richie. Tickets, according to a invitation for the event, run from $1,000 to $10,000 a head.
A glossy video focusing on female representation in Congress — an issue that Gillibrand has made her own since launching the Off the Sidelines group last sumer — will air at the start of the fundraiser.
"We can and will have at least half of the seats in Congress," Gillibrand is quoted in the video, embedded below. "We can and will have at least 25 governorships. we can and will have as many women executives as assistants. And we can and will make sure that a woman can earn a dollar for a dollar for the same work as men."
This is the PAC's first major fundraiser — billed by Gillibrand's office as a "launch event" — and is signal enough that the senator, widely thought to have national ambitions, plans on growing her Democratic power base.