Will Eliot Spitzer Even Get On The Ballot?
A disjointed campaign operation and tight deadline means collecting 3,750 signatures by Thursday could be a challenge. "I can't give you specifics, but believe that it is well in hand."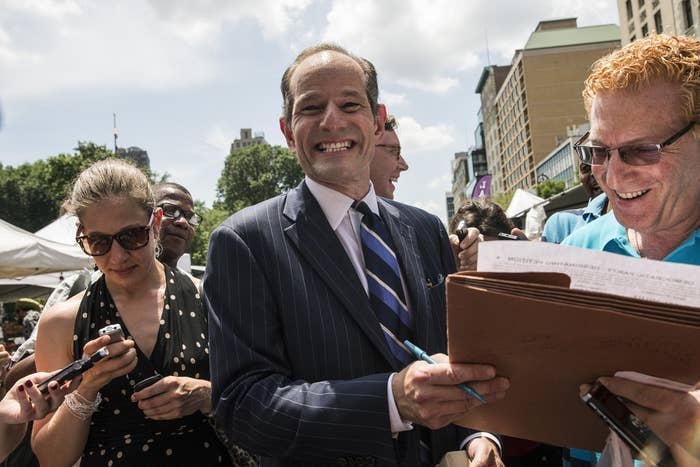 In the past 48 hours, Eliot Spitzer has appeared on just about every local television and radio show to promote his eleventh-hour bid for New York City comptroller, but the comeback candidate may have a problem that publicity alone can't fix: getting on the ballot.
After Spitzer appeared Monday afternoon at his petition drive with no staffers in tow — and few volunteers canvassing the area — questions remain about whether his hurried campaign will be able to collect the 3,750 signatures from registered Democrats required to qualify for the ballot by the midnight deadline this Thursday.
Although Spitzer's first public appearance Monday was billed as a signature drive, that was not at all the focus of the hour-long event: Only two volunteers appeared to be collecting signatures near the candidate's press gaggle, though a campaign spokesperson later called BuzzFeed to say that eight had in fact been at the event. Spitzer himself spent the afternoon talking to reporters, speaking individually to only seven or so voters — and leaving in a taxi with about that many signatures on his own petition sheet.
When asked how many signatures the campaign had managed to collect so far, campaign spokeswoman Lisa Linden declined to give specifics.
"The petitioning process is a sprint not a marathon, and is always a challenge," Linden told BuzzFeed. "I can't give you specifics, but believe that it is well in hand."
Linden also did not identify who on Spitzer's campaign is running the petition drive operation. "There is a team," she said. "I don't have the details, though."
Spitzer told The New York Times Sunday evening that he expected to have some 100 signature gatherers starting Monday. But a source close the campaign Tuesday called the estimate "wishful thinking" and "a high number." Linden, for her part, said she wasn't sure of "the exact number," but said the campaign had "people out there gathering signatures, for sure."
A candidate like Spitzer — whose name is known throughout the city because of the prostitution scandal that ousted him from office five years ago — would typically have no trouble gathering signatures. He is also self-financing his campaign, and can compensate volunteers handily. But Spitzer's tight timeframe and disjointed campaign operation, thrown together in the last 72 hours, has made the task more challenging.
Spitzer brought on Metropolitan Public Strategies — a consulting firm led by Neal Kwatra, former chief of staff to Attorney General Eric Schneiderman — to manage Monday's roll-out. Kwatra's team never agreed to a longer-term commitment, and is now off the campaign.
Before leaving, Kwatra did not set up a paid signature-gathering operation, a source close to the campaign said, because Kwatra was tasked solely with handling day-one media, and did not at any point have a hand in the petition drive. It remains unclear who on the campaign is managing that operation and its volunteers.
Spitzer's campaign did host a training session Monday morning for canvassers, the source said.
When asked at his event Monday where his petitioners were, Spitzer said, "You know, I think they may have been chased away by all you guys. I'll find them. Trust me, we're gonna have a whole crowd out here. Yeah." Questioned further about the size of his campaign staff, Spitzer said only, "Uh, I don't know where they are. Right now it looks like none."
Although Spitzer continued to suggest throughout the afternoon that he had staff on-site, they never appeared, and the candidate left alone by taxi.
Even if Spitzer collects the necessary 3,750 signatures by the Thursday deadline, he can likely expect his primary opponent, Manhattan Borough President Scott Stringer, to challenge the validity of the signatures — all of which must be from registered New York City Democrats. Candidates typically collect double or triple the required amount to avoid a legitimate challenge.
"I'm gathering petitions and will probably have my petitions challenged by every organization out there," Spitzer told Politico Monday night, "and Scott will stand up with every institutional endorsement will drive that home."
"It's possible, but he's got the money to hire an army of signature gatherers," said Baruch College's Doug Muzzio, a longtime observer of the city's politics. "But they need to be trained in New York City's byzantine petition rules. If I'm Stringer, I'm likely to challenge."
When approached by BuzzFeed at the roll-out, one volunteer, who had collected seven signatures on his petition form, assured that they would get the job done. "It's what we do, so it's nothing to worry about," he said.
Appearing Tuesday on the Albany radio show, "Capitol Pressroom," Spitzer was similarly confident, saying he had "many, many people" collecting signatures. "I feel comfortable we will get there."
This article has been updated.