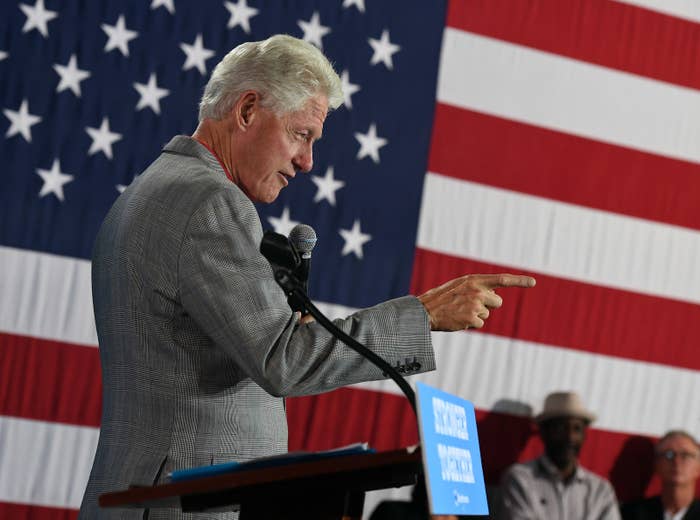 Logan, West Virginia. Prestonsburg, Kentucky. Fargo, North Dakota.

These are the places Bill Clinton spent the final weeks of the Democratic primary campaigning for his wife. They were mostly white, sometimes small, often forgotten towns — tucked away in coal country or some other part of the country not often visited by candidates or former presidents. Many of the voters in these places support Donald Trump now. Two decades ago, they were Bill Clinton people.
On Wednesday afternoon in North Las Vegas, the 42nd president laid out his theory on why they wouldn't vote for him now, drawing a line from Hillary Clinton's email "hullabaloo" to what he described as Republican efforts to distract people ("Please don't think!") and fuel the "road rage" felt by white working-class and blue-collar communities — people Trump treats, he said, like a "pawn in a game."
"They voted for me," Clinton said of the places he visited in the late spring — "small-town and rural areas," he told the crowd, "that have been too poor too long."
"They wouldn't today, though. Because they're into their anger now."
With a laugh and a shake of the head, Clinton contended that some "won't even admit" that President Obama's Affordable Care Act has helped them get coverage.
Wednesday's speech — a long and winding version of Clinton's usual campaign trail pitch — came as a stand-in for what was supposed to be a Hillary Clinton rally. The former secretary of state cancelled three days of events this week after a medical episode on Sunday and revealing a recent pneumonia diagnosis.
Instead, voters in Nevada heard Bill Clinton make the case that the email controversy has been a key piece of Republican efforts to create a "constant state of feeding the anxiety and anger that is out there," he said. "We don't need to feed our road rage. We need to slow the car down and think about our common future."

As he has at other events, Clinton pointed to endorsements from national security officials as proof his wife did not endanger the country by setting up a personal email server. ("Would they have endorsed? No.") The email "hullabaloo," in his telling, has been settled: "We were told this was the biggest problem since World War II," he said. "Now we know that essentially what happened was what happened."
But for many of the country's frustrated voters, Clinton said, "if you make it about all this stuff... it saves them the trouble of thinking and it taps into the road rage."
"How many of you were raised as children with your momma telling you do not ever make a decision when you're mad, you'll make a mistake. Right?" Clinton added. "This is about road rage: 'Please don't think, choose anger not answers, choose resentment not responsibility and empowerment, chose walls not bridges.' Well that's the choice you got. When you cut right to the chase, that's the choice you got."
His summary of the GOP: "Just attack, attack. Because we can't let people think!"
Flanked by two posts showing the campaign's slogan, "Stronger Together," Clinton noted that his wife had even worked in many of the communities that form the heart of Trump's base, including to provide legal services in the Arkansas Ozarks.
Still, Clinton said, the anger in America's depressed economies is deserved.
"We understand why they're mad. None of us have done enough to help coal country build a new economy. They oughta be mad at everybody," he said.
"They've sacrificed a long time."
During the primary, Clinton kept up a heavy schedule of campaign travel, holding more than 150 public events through the end of May. Many were in places like West Virginia and Kentucky, where the former president spent most of his time making the case that Hillary Clinton was the only candidate in the race who had put forward a comprehensive plan to put billions into revitalizing areas like coal country.
"So I went down there, I said, look — Hillary sent me here to tell you, if you want to vote to make America great like it was 50 years ago, have at it. Do it. But if she wins, she's coming back for you," Clinton said, describing the campaign's efforts there as something of note. "I really can't remember a time when a candidate for president made that kind of outreach to people who were so violently opposed to her."
"I'm just trying to talk to people," he said. "I'm not a very good speechmaker anymore."
The comment drew laughs across the crowd. But Clinton, putting on a gravely serious voice, urged them, "No, listen."
"Go talk to people and tell them that 'Stronger Together' beats the living daylights out of driving a stake through the heart of our common future and our common humanity," Clinton said. "Tell people that."