White House Meetings Aim To Keep Outsiders In The Loop — And Friendly
Obama's chief of staff convenes a rotation of policy experts, pundits, and advisers from the Obama and Clinton camps on big issues. "It makes them feel good."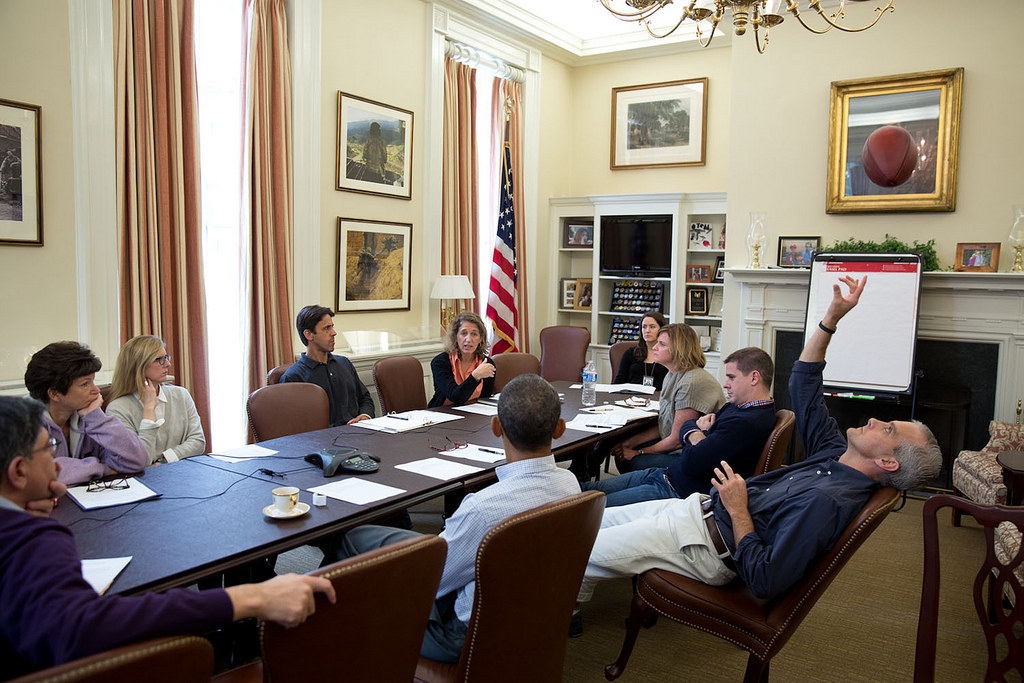 Since last year, President Obama's chief of staff has convened regular meetings in his West Wing office with a rotating cast of domestic and foreign policy experts, pundits, and former officials from the Obama and Clinton administrations.
In a White House known for a trademark insularity, Denis McDonough has made it a point to bring more people into the White House fold.
It's not uncommon for officials from any administration to engage new voices. And other senior White House aides hold similar gatherings with stakeholders. But the McDonough meetings provide a glimpse at an approach that has set Obama's 44-year-old chief of staff apart from his three predecessors in the role.
The meetings don't have a name. Their objective, according to more than five people who attended in the last year, is part outreach, part team-building: McDonough explains strategy and solicits feedback, and contacts from the outside feel included. Public shots at the administration, which have nagged the president during his second term, don't fly as frequently from inside the Obama tent.
"When people aren't engaged enough, they're much more willing to attack," said one Democrat who has taken part in the McDonough meetings.
A second attendee put it this way: "You want to get invited back."
The meetings, most held at the massive table inside McDonough's office, have not been held at a certain time each week or month. Instead, McDonough has assembled a group whenever a pressing domestic or foreign policy story dominates the news and the president's time. Last month, he called a meeting to discuss the fast rise of ISIS, the militant outfit that controls parts of Syria and Iraq.
Many of the gatherings cater in large part to "talkers," or communicators — the former staffers and pundits who are on television or in touch with reporters. But McDonough has also called meetings with a more senior group: a conclave of foreign policy-focused experts and former high-level officials like Tom Donilon, who served for three years as the president's national security advisor.
Philippe Reines, a longtime adviser to Hillary Clinton, has attended a number of the McDonough meetings, according to three participants. Jeremy Bash, the former chief of staff to Leon Panetta at the CIA and the Pentagon, has also attended meetings, those sources said. (Last year, Bash and Reines founded a consulting firm together called Beacon Global Strategies.)
Both Clinton and Panetta have splintered from the administration at points in the last year. A new book by Panetta, the former CIA director and defense secretary, is biting at points about Obama. And in an interview with the Atlantic this summer, Clinton criticized the expression White House officials used to describe Obama's foreign policy doctrine, "Don't do stupid stuff." The tagline was not an "organizing principle," she said in the interview, causing a spate of negative headlines about the crack between the Obama and Clinton camps.
But since Clinton left the State Department, she and her small staff have stayed more in lockstep than not with the administration, even as she has appeared on the campaign trail this month in states where the president is disliked by Democratic voters.
The meetings typically work the same way each time, sources said.
McDonough's office will send an invitation to selected guests a few days before each meeting — sometimes the day before — with a brief, general summary of a topic. The guest list, curated with the agenda in mind, has been about as short as eight people and as long as 20. Other White House officials also attend.
It's McDonough who begins each conversation. "He usually has something that he's decided he wants to say," said the first Democrat. Then he turns the meeting over to his guests. "Denis is always humble," said the second attendee. "He'll say, 'But you guys are really the smart ones — you tell us what's going on.'" From there, others are encouraged to offer advice or ask questions.
Before he was chief of staff, McDonough was a high-level National Security Council staffer and Obama's deputy national security advisor. The discussions on foreign policy, where McDonough has spent his career in government, are "more of a formal sounding board," said a third official who has attended.
"But the effect is still the same," the person said. "It makes them feel good."
Other top Obama officials — including Jennifer Palmieri, the White House communications director, and Valerie Jarrett, one of the president's senior advisors — host their own versions of the McDonough meetings, according to the administration.
In a statement, Palmieri said, "Denis and other senior staff find these engagements very useful. They always sharpen our thinking and give us good ideas and perspective. It is also helpful for our friends to have a window into our thinking. Our hope is that they are beneficial all around."
The meetings are in particular keeping with McDonough's approach to the top executive office job. "Outreach" has become one of his hallmarks.
As a deputy national security advisor, McDonough hosted similar engagement meetings, one source said. And when he became chief of staff, he very publicly made the rounds in Congress, trying to broker a budget deal — an effort reporters christened the McDonough "charm offensive" and the "outreach offensive."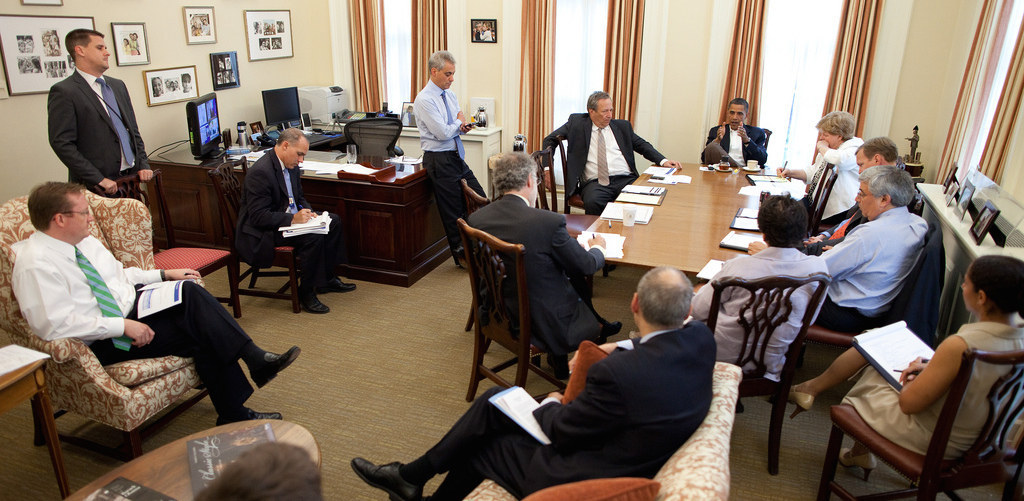 Ask about McDonough's style as chief of staff, and more than one person will surely tell the story about his conference table.
When he moved into the large corner office reserved for the chief of staff, McDonough arranged for the removal of the table. The simple but elegant wooden table, which served the three chiefs of staff before him, hardly fit 10 people. McDonough sent it away, along with a couch and coffee table, to make space for a longer utilitarian replacement that took up half the room. The new table did not exactly resemble natural wood — but it did seat more than double the guests.
One former official recalled that Rahm Emanuel, Obama's first chief of staff, kept the space like "a classic Washington office." The wooden table was there, the couch. The fireplace would be burning. "Now It's like the table is getting bigger and bigger," the former aide joked, to fit more and more people in the room.
But the obvious question about the meetings, and McDonough's efforts to reach out beyond the White House walls, is whether any of it's working.
In the last year, Obama's sixth as president, a number of his former top aides, many of whom now have gigs on television as political commentators, have found faults in public with their old boss. And two tell-all books by former cabinet officials precipitated an unpleasant string of headlines for the White House.
In his memoir earlier this year, Robert Gates, the former defense secretary under Obama, wrote an unkind account of his time in the administration. And the book by Panetta, published earlier this month, was just as harsh. Obama, he wrote in one section, often "avoids the battle, complains, and misses opportunity."
Dan Pfeiffer, a White House senior advisor, has brushed the books off as "fleeting."
But a fourth attendee of the McDonough meetings had a different take: "Clearly they should have just invited Leon Panetta."
This article has been updated.