While Foundation Draws Attention, Clinton Goes Progressive, Partisan In Women's Speech
As the Clinton Foundation draws scrutiny on multiple fronts, Clinton avoided the obvious. But she took her signature issue, women's participation, and turned it into a notably all-encompassing, political speech — touching on everything from Loretta Lynch to transgender discrimination.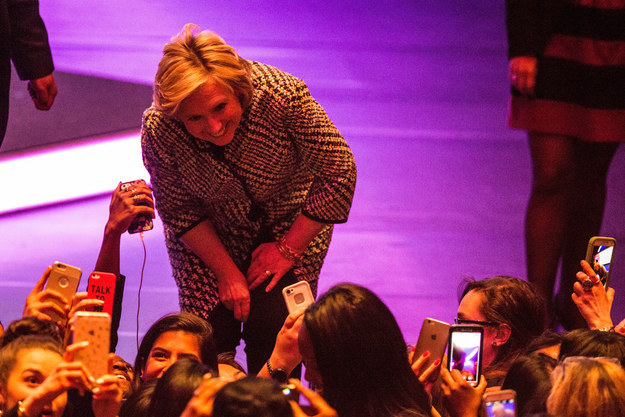 Hillary Clinton has appeared at every "Women in the World" summit — the star-studded conference in Manhattan, founded six years ago by former Daily Beast editor Tina Brown, where a mix of celebrities, entrepreneurs, politicians, and media moguls trade terms like the "innovation economy" and "evidence-based optimism."
For Clinton, these speeches were never too political, drawing on decades-long work for the "advancement of the full participation of women and girls" — and delivering little news. (Last year's highlight was a high-five, shared between Clinton and Christine Lagarde. The year before, Clinton vaguely promised she looked forward to "fighting for opportunity and dignity.")
On Thursday, an entirely different Clinton took the lectern.
She transformed her standard approach to the subject — a globally oriented, data-driven framework, and staid, measured delivery — into a fiery, partisan address. The David. H. Koch Theatre at Lincoln Center was, at least in effect, the site of Clinton's first campaign rally.
The issue looming over her two-week old candidacy went unmentioned. She did not address the critical stories about her family's foundation, published in such outlets this week as the New York Times, Washington Post, Reuters, and Politico, some of which drew reporting directly from Clinton Cash, a hotly anticipated book by the conservative author Peter Schweizer.
In comments to the press earlier this week, Clinton dismissed the book but did not respond to its allegations, which concern the influence of foundation donations and speech payments to Bill Clinton, particularly on his wife's State Department.
Instead, Clinton outlined a starkly progressive vision rooted in women's issues across just about every economic and social line.
She called for a stronger commitment to equal pay; for expanded paid-leave for new mothers; for more accountability in the "scourge of sexual assault" cases; for an immigration policy that allows a path to citizenship; for guarantees that women retain "choice" in health care decisions; and for more aggressive efforts against the discrimination of gay, transgender, black, and Hispanic women, and women who apply for Social Security.
The highly partisan, aspirational rhetoric showed Clinton, her voice rising and falling with every line, in the full-fledged mode of a candidate — and one who, this time around, will not downplay her would-be status as first woman president.
In 2008, during her presidential campaign, Clinton often told voters, "I'm not running because I'm a woman. I'm running because I'm the most qualified candidate."
The speech on Thursday was not technically a campaign event. But the remarks were her most politically charged yet. Clinton, who announced she would run on April 12, has so far held "roundtable" discussions with small handfuls of voters in Iowa and New Hampshire. The events focus largely on nuts-and-bolts policy.
"Our mothers and sisters and daughters are on the front lines of all these battles," Clinton said at the Koch Theatre. "But these are not just women's fights. These have to be America's fights and the world's fights. We have to take them on. We have to win them together."
"Women's progress is human progress."
Clinton also cast Republicans as "leaders" only in name, she said, who "see nothing wrong" with denying women their rights — and would rather, she said, "deport mothers" than "risk the ire of talk radio."
She also put the blame solely on Republicans in Washington for delaying for months, until Thursday afternoon, the confirmation of Loretta Lynch as the next U.S. attorney general. Those lawmakers "even play politics with the nomination of our nation's chief enforcement officer," Clinton said. "Finally, finally, Loretta Lynch will be able to assume the position she has trained her whole lifetime for."
At points, Clinton sounded notes of indignation as she cited the facts and figures in her speech. "It is outrageous that America is the only country in the developed world that doesn't guarantee paid leave to mothers of newborns," Clinton said.
She also pointed to an equal pay study that ranks the United States at 65 out of 146 other countries and territories.
"Imagine that," Clinton said. "We should be number one."
The country moves forward, Clinton said in one of the most well-received lines of her speech, when gay and transgender women "are embraced as our colleagues and friends, not fired from good jobs because of who they love or who they are."
Clinton finished to a standing ovation. She has, since the first summit in 2010, found a friendly crowd at "Women in the World." But this time — as she left the podium and fans in the audience swarmed the stage — she stuck around to reciprocate, shaking hands and taking pictures until the crowd thinned.