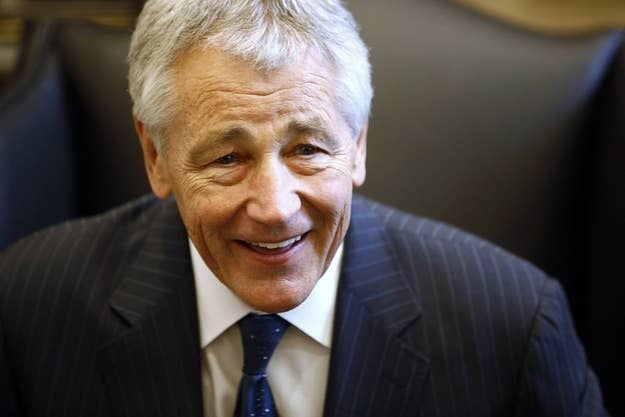 April 6, 2010, 2000 hours. A memo headlined "BREAKING NEWS" goes out to students in the Georgetown University classroom of Professor Chuck Hagel.
"An unknown entity has conducted a cyber attack on Bank of America and Wells Fargo, affecting several parts of the nation's financial infrastructure over the course of the past two weeks," the alert says.
Credit cards had been hacked, ATMs were failing, and pension and mutual companies were experiencing computer malfunctions "so severe" that they'd be down and out of operation for more than a week, with $1.3 billion in deposits at stake.
It's a scenario that Hagel — the former Senator and current nominee for Secretary of Defense, who has taught geopolitics for the last three years at Georgetown's School of Foreign Service — outlined in a series of memos to the 25 or so students in his undergraduate course "Redefining Geopolitical Relationships." There was, of course, no cyber attack on Bank of America or Wells Fargo — it was a simulation exercise — but Hagel provided detail granular enough that the story may as well have been real.
"Analysts believe these attacks will shatter faith in the stability of the financial system," Hagel wrote in a memo shared with BuzzFeed by his teaching assistant. "Citizens are loosing [sic] trust in all parts of the U.S. financial system and foreign speculators are making a run on the dollar. Although it is unclear who is behind this attack, initial reports indicate this was several years in the making."
For two weeks, students played the role of government official — instructed by Hagel to read the alert, draft a public statement ("You may choose not to make a statement," Hagel was careful to add), write a one-page strategy memo, and prep for three "in-person meetings," to be acted out in the classroom in real time: a principals committee meeting at 1615 hours; a U.N. Security Council meeting at 1650 hours; and a briefing to the president at 1745 hours. Hagel not only outlined the simulation schedule by the minute — and always in military time — but went so far as to identify the theoretical participants of each meeting.
The only country mentioned in the scenario description is China, although the memo doesn't specifically suggest the cyberattack comes from the Chinese.
The cybersecurity simulation project — a central feature of Hagel's course in spring 2010 — was one of the more serious strands of a classroom that could just as easily be relaxed and playful, according to the senator's former students and his teaching assistant, who spoke on the condition of anonymity.
Those who knew him at Georgetown remember Professor Hagel, whose confirmation hearing before the Senate Armed Services Committee begins early Thursday morning, as resolute in his own views on foreign policy and dedicated to his classroom at a level unusual for most lawmakers who take on stints as visiting professors. Hagel's three years at the university — where, his teaching assistant said, "he came to it really naturally" — offer an unfamiliar look at the worldview, and personality, of the man who might soon be in charge of the world's most powerful military operation.
Hagel, for one, had a bevy of classroom pastimes, many of which involved costumes or betting. He and his teaching assistant would dress up for Christmas — he in a Santa hat, and she in antlers. Hagel would also come to class on Halloween in costume — a tradition he kept during his years in the Senate. (In 2007, he wore a Joe Biden mask and a "Joseph Biden for President" T-shirt to a Senate Foreign Relations Committee meeting that Biden was chairing.)
During basketball season, Hagel set up a March Madness bracket for the class, and when the 2010 midterm elections were underway, Hagel challenged his graduate students to predict the outcome of the House and Senate races, promising the winning student a reward. One member of the class, according to an article in Georgetown's student newspaper, asked that the prize be a special visit from President Barack Obama. What the class got instead was Hagel's former aide, T.J. Birkel, dressed as Obama, and bottles of Federalist Zinfandel wine.
"He had a lot of humor," said his teaching assistant, who remains close to Hagel. (He still calls on her birthday, she noted.) "You're talking about 25 students each semester. He didn't have to mentor them, but he always made time."
Hagel, his students said, made himself available for individual meetings during office hours, and he graded every paper himself by hand.
"He never had his [teaching assistant] do it," said Natalia Saraeva, a grad student who took Hagel's class during her final year at Georgetown. "And he always provided comments. I was impressed by his level of dedication."
Hagel, a Republican from Nebraska, retired from the Senate in 2008 after serving two consecutive terms. He landed the Georgetown gig in February 2009, and started work on crafting one course for grad students in the fall, and another for undergrads in the spring. Hagel chose geopolitical relationships as his focus, and with the help of his teaching assistant, wrote a syllabus aimed at examining the 21st century as a period of transition that is "shifting geopolitical centers of gravity and is recasting geopolitical influences as the world experiences an unprecedented diffusion," as stated in the syllabus for Hagel's first-ever course in the fall of 2009.
The texts included the senator's own book, America: Our Next Chapter, as well work by mainstream figures like Fareed Zakaria and Thomas Friedman, and by more esoteric ones, including the founder of the private intelligence service Stratfor, George Friedman.
Hagel's course material spanned an incredibly wide range of topics — from poverty and health; to climate change; to oil and gas; to the wars in Iraq and Afghanistan; and to whether the "perceived division," as Hagel's syllabus put it, between East and West is even "real."
"We were very interested in looking at the ways that government service and military service and the private sector were all coming together and shaping geopolitical relations," said Hagel's teaching assistant. "He believes that to see things clearly you have to understand a multitude of factors."
The syllabus may offer a few hints as to Hagel's worldview, and it is composed largely of critics of the neoconservatives and hawks with whom Hagel broke bitterly during the George W. Bush administration. Along with Zakaria and Friedman, who have generally backed what they view as Obama's pragmatism and efforts at engagement, Hagel had his students last fall read Joseph Nye's Soft Power, a book that makes the case that neoconservatives rely too heavily on military power in diplomacy.
Also on the 2012 reading list was "Environmental Alarmism, Then and Now," an essay by Bjorn Lomborg, who is best known for arguing that the risks of global warming are overstated and for highlighting the potential economic damage from attempting to combat it.
One even clearer clue to Hagel's views — and one reason he meets some of his most intense opposition from those who fear cuts to America's massive defense spending — is the figure who permeated both the undergraduate and graduate courses: former President and five-star General Dwight D. Eisenhower. Hagel, who fought in Vietnam, would be the first Secretary of Defense to have seen combat as an enlisted soldier. The senator even kept a large portrait of the former president, painted for him by his brother, in his office at Georgetown. In his book, Hagel wrote that Eisenhower is the man he'd "put up on my Rushmore."
And in his class, the Senator assigned his students Eisenhower's 1961 farewell address, in which the president first named — and denounced — "the military-industrial complex."
When Hagel taught his first semester, Obama was just settling into his first year in office. "We had a lot of robust conversations about the Afghanistan war," the teaching assistant remembered. "He had us think about what we would be doing in the president's shoes. He seemed very plugged into what was going on in the administration."
Hagel, though, was careful not to force his views on his students. "He would usually try to present things evenhandedly, and then present his opinion at the end of class if he did at all," said Michael Karno, one of Hagel's former undergraduate students. "But he didn't talk about the hot-button issues that everyone's focusing on now," he said, adding that Israel and Iran were not topics discussed frequently in class.
(The conservative Washingon Free Beacon attacked Hagel Wednesday for including readings from center-left figures including Peter Beinart and Zbigniew Brzezinski, whom it described as "anti-Israel.")
Hagel was less reticent, however, to reminisce in class about trips he had taken as senator, recalled his assistant. "He told me stories about meeting people like Hosni Mubarak and Moammar Gadhafi, and how personalities shape policy," she said. "He would say that if we're taking about what we're going to do in Libya, then you have to understand the personality on the other side of the table."
When Hagel did express his views to the class, it was clear they didn't "fall in line with one party or another," remembered Will Magioncalda, another undergraduate student.
"He's not a guy who's playing the political game," he said. "He would never express his thought on things in terms of a political party, just in terms of what was right."
Magioncalda, though, does remember times when the senator would openly criticize the Bush administration's handling of the Iraq War, an issue on which the senator has long been outspoken. "I went into the class knowing he was a moderate Republican senator," said Magioncalda, "but I didn't realize he'd actually criticize someone who has been the leader of his party for eight years."
When it came to his students' essays — there were four each semester, together totaling about 7,000 words in length — Hagel would tell his class, "I don't care if you agree or disagree with me. You just need to back up your statements."
But Karno describes the first essay he wrote for Hagel as just short of disaster. In the five-page paper, which asked students to "reflect" on the class material, Karno made the argument that America's economic spectrum should be what he called "the right mix of socialism and capitalism." Hagel, said Karno, bristled at the idea. "Using the word 'socialism' was something he seemed very uncomfortable with, which is probably true of most people who have served in office," he said.
Karno got a C+ on the paper. "There were parts of the paper that were questionable, and it wasn't my best work," said Karno, "but I got a little hot and bothered about the grade. Like, who is this guy giving me a C+ on a paper with such a broad topic to begin with?"
Karno went to Hagel's office hours and debated the paper with him point by point. After they'd gone through the last paragraph on the last page, Hagel turned to his student and said, "You know, not everyone would have the guts to come in here and debate this, so I'm gonna raise your grade to a B."
Hagel's teaching assistant remembers that same willingness to engage with students when he didn't agree with them. "He'll sit there and debate you," she said.
Asked what they thought of the controversy surrounding Hagel's confirmation, his former students voiced surprise and disappointment. "I'm a little disgusted by how politicized it all is," said Magioncalda. "I'm Jewish and a big supporter of Israel. I don't remember us talking about that issue in class, but there's no indication that he is anything but a strong supporter of Israel."
Hagel's teaching assistant added that Hagel was "the farthest thing from an anti-Semite," she said. "I think it's really a shame that somebody with such a record of service to their country is being called names that."
"He brings civility back into politics," his assistant added. "And he just has a fierce fire in his belly about doing the right thing for America. That's the bottom line."
Documents from Senator Hagel's classes at Georgetown University