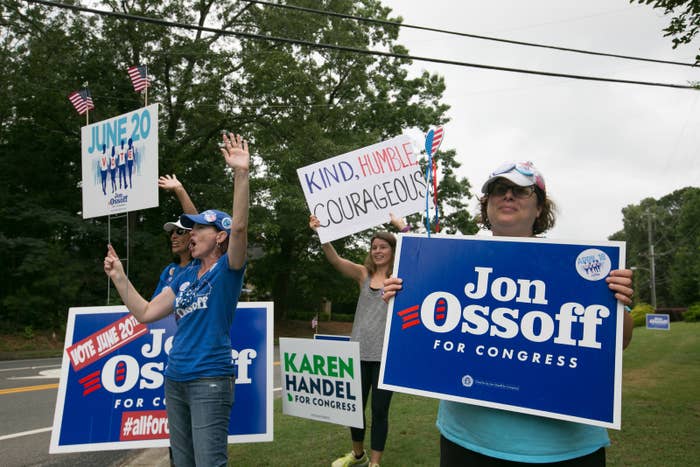 He didn't support universal health care. He campaigned in a right-leaning district, Georgia's sixth, as a self-described "pragmatic moderate." And yet it was Jon Ossoff, the Democratic candidate in Tuesday's special congressional election, who became the face of the progressive movement known as the "resistance," transforming one race in a heavily Republican district into a national rallying cry buoyed by millions of dollars in donations — the vast majority of which came from outside the state.
Democrats now face a new and uncertain question ahead of statewide and local races in 2018: which candidates get to be Jon Ossoffs — with the same national attention and money — and who gets to decide?
Under President Donald Trump, outside voices can wield influence in funneling grassroots money and support: websites like Daily Kos, groups like Indivisible, podcasts, MSNBC hosts, celebrity activists. If there are powerbrokers of the energy and activism on the left, they are not the institutional structures churning away in Washington such as the Democratic Congressional Campaign Committee. Nor are they contained alone to party leaders, liberal icons like Sen. Bernie Sanders.
Sanders' progressive "political revolution" is seen by some as a precursor to the grassroots movement to oppose Trump, but so far, candidates like Ossoff, largely a centrist on non-social issues whom Sanders refused to call a "progressive," have been embraced by the grassroots without widespread pressure to shift left.
In Tuesday's other special election, South Carolina Democrat Archie Parnell, formerly of both Goldman Sachs and ExxonMobile, came closer to victory than Ossoff. And in Virginia's gubernatorial primary last week, one of this year's first statewide races, Tom Perriello positioned himself as the progressive candidate of choice, pairing an aggressive anti-Trump message with an endorsement from Sanders, but that alone wasn't enough to make him a national grassroots cause like Ossoff.

The attention and money may be powered less by ideology than a desire for concrete opportunities, however small, to reverse Republican electoral gains and deliver rebukes to Trump and his party in traditionally deep-red territories.

Daily Kos, the liberal site that rose to prominence in the George W. Bush years and saw a revitalization after Trump's election, became a central early force in highlighting Ossoff as a priority, raising $1.7 million from more than 127,000 total donations, according to Daily Kos's senior editor and adviser Carolyn Fiddler.
Asked what candidates they will prop up in the future, Fiddler said Daily Kos is "committed to electing more and better Democrats." But what attracted people to Ossoff, she said, was the pick-up opportunity in a Republican-leaning district. (The strategy has proved powerful for the Daily Kos, helping the site raise more money for Democrats already this year than they did in all of 2016. )
"Other districts that similarly are or have become more competitive over the past couple of cycles are literally and figuratively all over the map," said Fiddler.
The party may be moving in a "decidedly progressive direction," said Brian Fallon, a senior official at the Democratic super PAC, Priorities USA, "but I do not think candidates running in red districts need to pass a progressive litmus test in their campaign stump speech to attract donors and grassroots excitement."

"The stakes are too high for us to be concerned with, 'Are you progressive enough or not,' when the fight is not there," said Eric Holder, the U.S. attorney general under Barack Obama's administration. "The fight is against all that Trump wants to do."
Holder, now leading a project with Obama to fight Republican gerrymandering, attributed growing interest in redistricting, a highly technical and legally intricate subject, to a desire among Democrats for "concrete ways to channel that resistance to Trump." (He said he is partway to his goal of making redistricting a "sexy" issue. "We've moved from nerdy to attractive and sexy is within range.")
"The party is a big tent and I do see an appetite to win," said Randi Weingarten, the head of American Federation of Teachers and a Democratic Party mainstay.
Some on the left have signaled a different view.
Rev. Al Sharpton, the longtime Democratic activist, argued that as soon as the party takes an "'anybody that can win' position," it becomes a party "that doesn't stand for something or against something," comparing the posture to "Clinton triangulation."
And earlier this month, in a speech to a conference of activists, Sanders himself delivered a blistering critique on the party's strategy as an "absolute failure."
He followed that up in an interview with liberal writer David Sirota: "We cannot succeed in winning the issues or winning elections simply by criticizing Trump."
— Additional reporting by Ben Smith