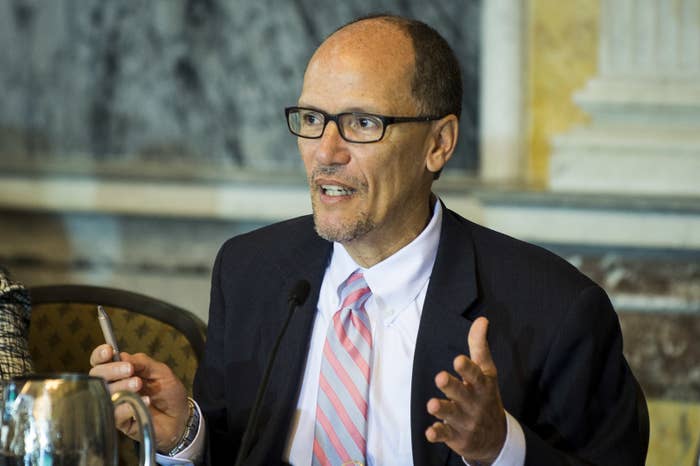 Two candidates for chair of the Democratic National Committee cast scrutiny and doubt Thursday on the claim from one leading rival, Tom Perez, that he has secured 180 votes in the race.

It's a rare flash of discord in a race where criticism and debate have been sparse, despite the opportunity to use the DNC platform to potentially alter the direction of the Democratic Party in the Trump era.

Perez, the former labor secretary and civil rights lawyer, announced the pledges on Tuesday in a letter to DNC members, the rank-and-file Democrats and state leaders who will vote next weekend on a new chair. To clinch the race, candidates need a 224-vote majority. Perez did not name the 180 members, but the decision to reveal the whip count in the final days of the race came as a striking assertion of confidence in a crowded 10-candidate field.
On Thursday, two of those candidates, Rep. Keith Ellison and Mayor Pete Buttigieg, each pushed back on Perez, describing the 180-commitment figure as questionable.
Ellison, the Minnesota congressman also vying for the lead in the race, went so far as to suggest that Perez had released his whip count to deliberately mislead.

Referring to Perez only as "one of the other great candidates," Ellison told DNC members in a letter that the whip count was "unverifiable" and meant to "exert pressure on you" — "tactics," he said, to "make the race sound like it is over" and put a "finger on the scale."
On Thursday night, in an interview, Buttigieg said he found Perez's 180-pledge count "a little unlikely," asking why the campaign hadn't release names with the number. "If hard counts or hard numbers were used there — if it's actually hard, you can put out the names. But by definition it's not a hard count," Buttigieg said, speaking by phone in Indiana, where he is a two-term mayor of South Bend.
Buttigieg conceded that Perez likely has "a substantial number" of backers. "But you don't generally do that [publicize a whip count] if you're at or near the majority," he said.
"I'd be surprised if they were at 180."
Perez's team has spent eight weeks aggressively courting, and tracking, the 447-person voting pool. (David Huynh and Matt Berg, two strategists who built the massive and intricately organized whip operation at the Democratic convention last summer, are now running Perez's whip count.)
The pledges would put Perez just 44 members south of victory. If no candidate immediately receives a majority of the 447 votes — a scenario most in the race consider likely on the first ballot — DNC members will vote again on a new ballot, and then another, until someone reaches 224 votes.
Buttigieg said his success depends on multiple rounds of voting, where members may abandon their first choice: "It's a very specific lane for us, but the lane is there."
Neither Ellison nor Buttigieg has released his own whip count.
Ellison told DNC members he is "very confident in our whip count" — "in an excellent position to win," he said, dismissing Perez's claim to a definitive lead.

The responses from Ellison and Buttigieg on Thursday, mild as they are compared to any exchange from 2016, amount in this particular race to a pointed moment.
The DNC chair candidates agree on many of the issues. The forums where they face off are cordial and subdued, less like debates than lengthy Q&As where all 10 candidates, from Perez to 29-year-old Sam Ronan of Ohio, are given fair time.
After one recent forum in Washington, the night before Ellison wrote to DNC members about Perez, the two rivals sat down to a private dinner together.
"We're friends. It's ok," Ellison tweeted.
Perez added: "What Keith said."