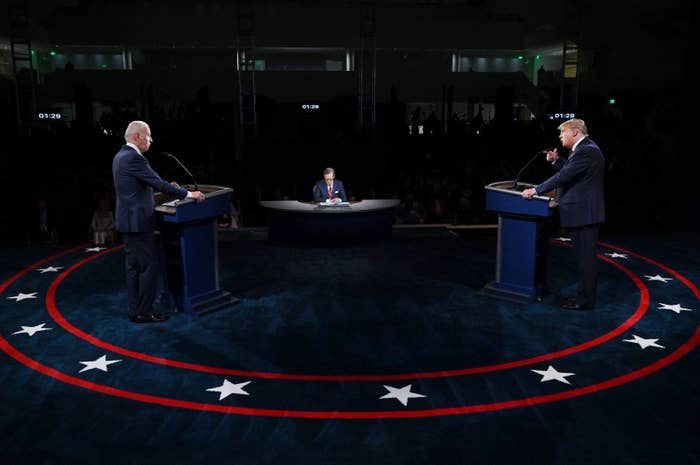 Guests of President Donald Trump refused to wear masks. Coronavirus testing was left up entirely to the individual campaigns. And three men in their seventies gathered in the same room and spoke — and frequently yelled — for 90 minutes straight.
Less than 72 hours after Trump shared the debate stage with Joe Biden this week in Cleveland, the news that the president had tested positive for the coronavirus, after months of downplaying the threat of the pandemic, has upended the normal rhythms of an already upended campaign just 32 days before the election.
Trump's diagnosis, rendered on Thursday and made public in a tweet early Friday morning, has left the future of the three remaining debates in serious doubt, raised questions about health and safety protocols in Cleveland, and cast sudden concern on remaining campaign travel just as Biden was beginning to pick up the pace of his presidential bid and reinstitute aspects of a traditional field program.
The former vice president tested negative for the coronavirus Friday, though tests in subsequent days may produce different results. A ventilation expert told BuzzFeed News that, given the space between the two candidates and the apparent timeline of Trump's illness, transmission of the virus between the candidates was unlikely.
On Friday afternoon, Biden traveled to Grand Rapids, Michigan, as previously planned for a campaign trip.
The Cleveland Clinic, which cohosted Tuesday's debate between Trump and Biden and serves as the health adviser to the Commission on Presidential Debates, said its health and safety requirements aligned with guidelines from the Centers for Disease Control and Prevention, including temperature checks, hand sanitizing, social distancing, and "masking," the clinic said in an emailed statement.

In response to questions about why members of Trump's family and traveling party were allowed to sit maskless in the debate hall, the Clinic issued a separate statement: "Individuals entering the debate hall were masked and in some cases removed their masks once seated. A Cleveland Clinic physician did offer audience members masks, but some did not adhere to the requirement."
The clinic did not provide specifics about the ventilation protocols employed inside this week's debate or clarify if it had any role in overseeing or verifying tests conducted by the campaigns. The clinic said everyone permitted inside the debate hall had tested negative for COVID-19, but that individuals traveling with both candidates, including the candidates, were tested "by their respective campaigns" before the debate.
White House spokesperson Judd Deere said Friday that everyone who traveled on Air Force One to Tuesday's debate was tested that day, but did not provide further details about the testing and did not answer a question about how that was communicated to the clinic. Biden campaign officials did not immediately respond to questions about their pre-debate testing.
Asked about the process on Fox News Friday, Wallace said, logistically, the candidates would not have had time to be tested by the Clinic on arrival, agreeing with an interviewer's categorization of an "honor system."
"Yeah, there was an honor system when it came to the people that came into the hall from the two campaigns," Wallace said.
The Commission on Presidential Debates, the nonpartisan organization that hosts the presidential and vice presidential debates every four years, declined to answer questions on Friday about its health and safety protocols or its plans for the remaining debates.
The next debate, between Vice President Mike Pence and Biden's vice presidential nominee, Sen. Kamala Harris, is still scheduled to take place at the University of Utah on Wednesday. On Friday, Pence and Harris both said they had tested negative for COVID-19, and Harris is set to travel as planned to Las Vegas on Friday afternoon to hold multiple events, a Biden aide said.
Shawn Wood, a spokesperson for the University of Utah, said the vice presidential debate will implement the same health and safety guidelines established by the Commission on Presidential Debates in partnership with the Cleveland Clinic. Wood said they will ensure a requirement that everyone inside the debate hall wear masks "at all times," save for Pence, Harris, and the debate moderator, Susan Page. He also said that the university has upgraded the ventilation system in the debate venue, Kingsbury Hall, to a "hospital-grade filter," MERV 13.
Wood would not say if the University of Utah will be overseeing testing for Pence, Harris, and their respective staffs. "We are requiring a negative test to enter the perimeter. That's all I can say," he said on Friday.
Asked about enforcing the mask rule throughout the debate, Wood referred the question to the Commission on Presidential Debates, which did not respond.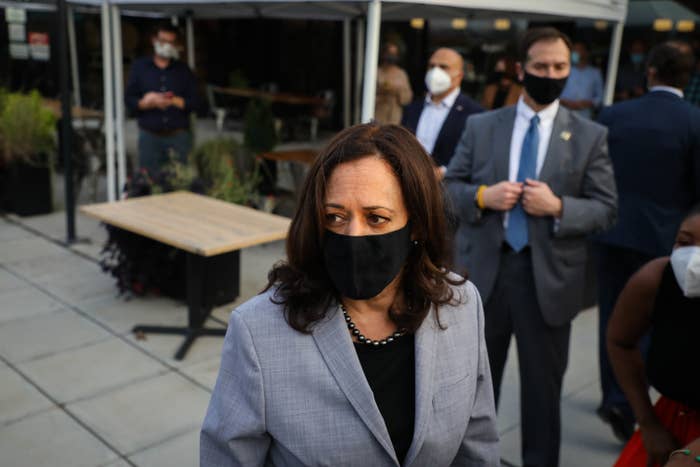 Trump and Biden are scheduled to appear at two more debates later this month, one at Miami's Adrienne Arsht Center on Oct. 15 and the other at Nashville's Belmont University on Oct. 22. Spokespeople for both venues did not return requests for comment on Friday.
Tuesday's protocols in Cleveland raised flags before the debate even officially began. Journalists at the venue reported that a number of Trump's guests were not wearing masks as they sat in the audience, having removed them once they entered the debate hall.
The moderator of Tuesday's debate, Fox News' Chris Wallace, said Friday morning that he observed members of the Trump family sit through the debate without masks. "On the Trump side of the hall, Mrs. Trump came in wearing a mask, but took it off once she sat down," he said in an interview on Fox and Friends. "All the other members of the first family that I saw there — including Ivanka, Tiffany — when they sat down, they weren't wearing masks."
Jose-Luis Jimenez, a professor of chemistry at the University of Colorado at Boulder and an expert on the effects of ventilation on virus transmission, said he believed that transmission between Trump and Biden during the debate itself was of "low probability," given the distance between the two candidates and the presence of ventilation systems customary in auditoriums.
Auditoriums are typically well ventilated, he said, and sustained airflow between Trump and Biden at such a distance would have been unlikely.
Chances of transmission between the two candidates also depend on when Trump was infected, Jimenez said, a fact that is currently unknown. "It could be too early in his infection — if he was infected that morning, he wouldn't have been exhaling the virus."
There was no contact between the Trump and Biden campaign staffs at the event, and the campaign's guests sat on separate sides of the auditorium. Jimenez said that in the debate hall itself, transmission from one side of the audience to another would have been unlikely, given that attendees were mostly not speaking.
But for people who spent time in poorly ventilated back rooms, debate prep rooms, and on planes — where Trump campaign staffers were speaking often to one another — Jimenez said, "Those would be the people where I would get tested."
Only Biden and his wife, Jill Biden, came up to the moderator table, both wearing masks, to greet Wallace after the debate had ended. "Basically to say, 'I bet you didn't know you had signed up for this,'" Wallace said on Fox News on Friday morning, later noting that all three men onstage were in their seventies, and considered high risk.
In its initial statement Friday, the clinic indicated it planned to offer new COVID-19 tests to those who were in the debate hall Tuesday. A spokesperson later clarified that officials don't believe retesting is necessary but that the clinic can offer it to anyone concerned.
"Based on what we know about the virus and the safety measures we had in place, we believe there is low risk of exposure to our guests," the clinic said. "Out of an abundance of caution we are reaching out to our guests to address any questions and concerns. We will continue to monitor the information being released by the White House."
After campaign staffers woke to the news of Trump's positive test on Friday, Biden's campaign manager, Jen O'Malley Dillon, urged her staff to "refrain from posting about the situation on social media" as senior staff monitored developing events, according to a copy of an all-staff email obtained by BuzzFeed News.
"First, rest assured that our campaign staff, in consultation with health experts have continued to take every precaution to protect Vice President Biden, Sen. Harris, their spouses and our staff. The health and safety of the entire team has been, and will remain, our number one priority.

"P.S. We will continue to do hard things," she added.
The postscript, an aide said on Friday, is a frequent tagline from O'Malley Dillon in her communications with staff during what has been a volatile and tumultuous election year: "Because we can do hard things, we will make our way forward."
Biden's campaign has been extra cautious during the pandemic, and early on received ridicule from Republicans — who mocked Biden's frequent livestreams from his Delaware basement — and later criticism from Democrats nervous he wasn't doing enough. The emphasis on safety governed Biden's campaign appearances: small, preselected crowds of local people and journalists and mandatory masks.
The caution extended to field organizing. For months there was no door-to-door canvassing, a contrast to how Trump and the Republican National Committee were operating. The campaign contained its field program to phone calls, text messages, and other digital organizing tools, casting Trump's approach as dangerous. On Thursday, though, the campaign changed course and announced that some door-to-door campaigning would begin for the final weeks of the election.
"I certainly don't wish this for anybody — we wish the president and first lady a full recovery, and any staff who may have gotten it," Ohio Democratic Party Chair David Pepper told BuzzFeed News in a telephone interview Friday. "But I also have spent months respecting how careful the Biden campaign has been through this."
"The idea that the recklessness of the Trump campaign and the Trump family put any people at risk in the Biden campaign and Biden family and Biden himself is really unforgivable."
At different points since this spring, Trump and his campaign have flouted COVID-19 guidelines, holding large rallies — sometimes indoors — where masks were optional. During Tuesday's debate in Cleveland, the president mocked Biden for consistently wearing a mask and holding smaller events.
"I don't wear a mask like him," Trump said. "Every time you see him, he's got a mask. He could be speaking 200 feet away from him and he shows up with the biggest mask I've ever seen."
Kadia Goba and Stephanie M. Lee contributed reporting to this story.