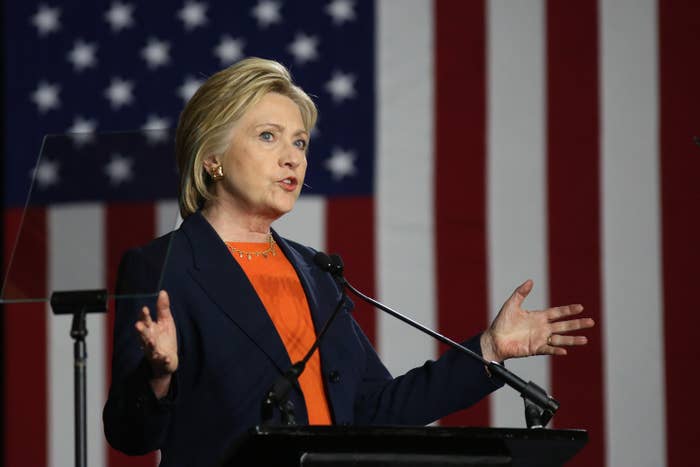 CULVER CITY, Calif. — Samantha Ronson, celebrity DJ, was picking the music. Actresses Sally Field, Elizabeth Banks, and Debra Messing were hanging out backstage. But the most noteworthy speaker here at Hillary Clinton's star-studded women's rally may have been Theresa Sparks, the transgender activist.
Until Friday's event, Clinton, often introduced by a familiar staple of elected officials, had never prominently featured a transgender person at a campaign rally.
Sparks, the executive director of the San Francisco Human Rights Commission, told the crowd of 500 gathered in the gymnasium of West Los Angeles College that much of the trans community supports Clinton. "I support Hillary. Many of my community support Hillary," she said. "And I'm here to prove that."
"I am a proud transgender woman," Sparks said. "I'm here to tell you trans women are women. This means that trans issues are women's issues, and women's issues are trans issues."

Earlier this spring, Bernie Sanders was praised for becoming the first ever presidential candidate to be introduced at a rally by a transgender person. He featured two transgender activists, Andrea Zekis and Jenny Seibert, at events in Oregon and Washington.
Angelica Ross, a black transgender woman and activist, spoke at a New York fundraiser for Clinton in March at the invitation of the campaign.
Clinton, however, drew criticism last month for not responding to a questionnaire sent to presidential candidates by a transgender rights group, Trans United Fund. Sanders completed the survey, promising to expand federal transgender protections should he become president.
The Vermont senator is campaigning aggressively in California this weekend ahead of Tuesday's primaries, hoping to secure a win that would help him forge on in the race in spite of Clinton's lead in votes, pledged delegates, and superdelegates.
After Clinton did not respond to the Trans United Fund survey, the chair of the group's organizing committee, Hayden Mora, said he and other leaders felt "feel disappointed and perplexed" by Clinton's silence.
At the Culver City rally — one stop in a packed schedule of events across California featuring Clinton and her husband — Sparks said she supports the former secretary of state because she "proudly plays the woman's card," a reference to Donald Trump's frequent quip that Clinton's only appeal is that she is a woman.
Once having been a "proud and privileged white man," Sparks said, she has a "unique perspective" on women's issues. "After I began living my truth," she said, she became aware of discrimination against women, in the workplace and at home, "to a degree I had no idea existed."
"In my former self, I had no idea," Sparks said. "Hillary's on the right side of this. She will prove that she's on the right side of history."
This story has been updated with fuller quotes from the event.
CORRECTION
Sparks is the first transgender person to be featured at a public campaign rally. Angelica Ross, a black transgender woman and activist, spoke at a New York fundraiser for Clinton in March. A previous version of this story did not include Ross. Additionally, Hayden Mora was misgendered in a previous version of this story.