Trade Deal Opponent Martin O'Malley Suggested General Support For TPP In 2013
"It seems to me to the extent that we can be proactive in concluding agreements with strategic partners, geographically, philosophically, that that is a benefit to us," he noted when asked about TPP. An aide says O'Malley's approach to trade hasn't changed — but the deal's been negotiated in private and the details aren't good.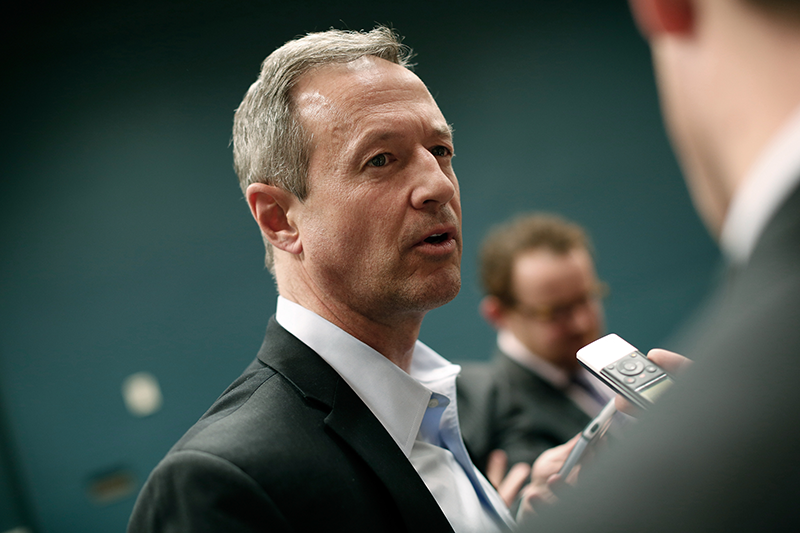 He rarely refers to her by name — but Martin O'Malley, the former governor now poised to run for president, is more and more willing to take on Hillary Clinton.
He has suggested that, on same-sex marriage and immigration, she has acted "according to the polls," not principle. He has said the presidency is not "some crown to be passed between two families." And he has drawn the sharpest contrast yet with his emphatic opposition to the Trans-Pacific Partnership — a proposed trade deal that has exposed a deepening fissure among Democrats.
In an email to supporters last week, headlined "Hard choice?" after the title of Clinton's memoir, O'Malley said that workers "are owed more than lip service" and "deserve to know where leaders stand."
Clinton, for now, has largely sat out the intra-party fight, which has pitted progressives and labor leaders against the White House.
She once called the 12-nation Pacific accord, known as TPP, the "gold standard in trade agreements." But she has since backed away from that endorsement, without staking a clear position on the deal — or on whether Congress should grant President Obama the "fast track" authority to negotiate it. Her campaign said last Friday that Clinton "will be watching closely" to determine whether TPP sufficiently protects U.S. workers and wages. (The details of the trade deal — negotiated behind closed doors — have yet to be released.)
O'Malley, now one of TPP's leading critics, also once suggested loose support for the deal.
In 2013, when asked specifically about Obama's trade agenda and TPP at the conference of the Council of the Americas, the former governor of Maryland responded that he believed a majority of governors believed that "free trade, provided it's fair — and that's always the rub right? — is a net benefit for us."
"I believe, I think at the risk of stating the painfully obvious, we're all part of a global economy that's not a matter of choice," O'Malley continued.
"I mean that's a reality and you can't exempt yourself from it. So it seems to me to the extent that we can be proactive in concluding agreements with strategic partners, geographically, philosophically, that that is a benefit to us."
O'Malley, who was then finishing his second and last term as governor of Maryland, added his own state — which relies on the port of Baltimore and "strategic location" on the East Coast — is largely a "net-winner from trade."
Asked about the remark, the former governor's aides said that his essential approach to trade has not wavered.
An O'Malley aide attributed his recent aggressive opposition largely to the fact that the deal has been negotiated in private — and that "fast-tracking" the process could mean putting at risk potential safeguards for U.S. jobs and wages. Since the appearance two years ago more information about the deal has become available, in part through unauthorized disclosures on WikiLeaks.
"I'm for trade," O'Malley said in a video produced by his PAC. "I'm for good trade deals, but I'm against bad trade deals like the Trans-Pacific Partnership."
The criticism by the former governor, who signed several major foreign trade agreements as governor, is in line with Democrats' progressive wing.
The party's leading progressive voices — Elizabeth Warren, Sherrod Brown, Al Franken, and Bernie Sanders, among others — have sharply opposed the deal and the authority President Obama seeks in negotiating trade deals, sparking a tense and increasingly public dispute with the White House. Two weeks ago, the four senators rallied opposition against the "fast track" legislation outside the Capitol.
Union leadership has joined them in that opposition: The president of the AFL-CIO, the country's largest federation of unions, has suspended all contributions to Congress until after a vote — and said in a speech on Tuesday that on TPP, the "time for deliberations is drawing to a close."
Any presidential candidates who want labor support should "oppose 'fast track,'" said the AFL-CIO head, Richard Trumka. "There's no middle ground."