Top White House Aide Leaving Ahead Of Possible Clinton Campaign
Marlon Marshall, a field operative with ties to the person who could manage a Clinton campaign, is leaving his role as a key White House aide.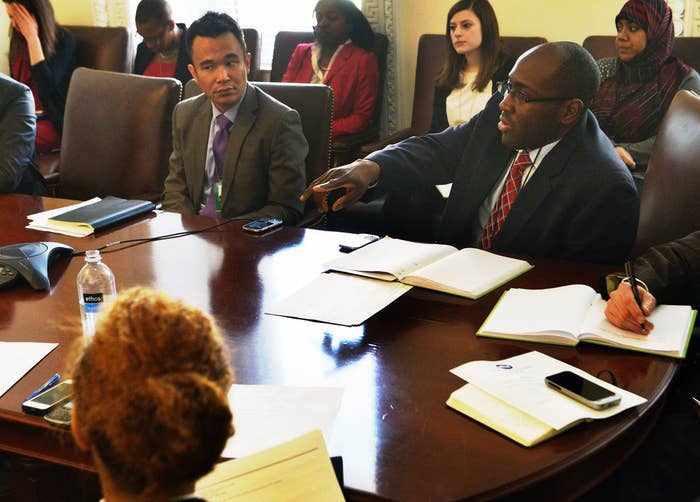 A veteran field organizer who is considered to be a contender for a senior position on Hillary Clinton's possible presidential campaign is leaving his job at the White House, according to three people familiar with the departure.
Marlon Marshall, 35, worked for Clinton during the 2008 primary election as the field director in three key states. There, he served as a right-hand to Robby Mook, the operative many name as their top pick to manage another Clinton campaign.
Marshall arrived at the White House last September.
His lengthy official title — special assistant to President Obama and principal deputy field director of public engagement — obscured a fairly direct mission: to apply his campaign experience as a field organizer to an effort to promote the president's health care law in cities where the most people are uninsured.
Marshall is now transitioning out of the White House, the three sources said. Administration aides declined to provide a comment for the record.
Two people close to Marshall said he will likely return to 270 Strategies, the consulting firm he helped found last year. Marshall took a leave of absence from the company to accept the White House position, but he is still a partner. Before forming the firm, he was the deputy field director on Obama's reelection campaign.
Marshall, who is on his honeymoon this week, could not be reached.
Lynda Tran, a 270 Strategies partner and spokesperson, said in an email that Marshall will "always be a part of the 270 Strategies family. While we have yet to finalize any next steps — and we hope he is enjoying his honeymoon — we would be thrilled to welcome this brilliant grassroots strategist back to our team any time."
Marshall, a key member of the White House's health care team, was well regarded by his colleagues inside the administration and on the president's 2012 bid. He is known for signing off emails with a rallying cry and personal slogan — "Please believe" — and for energizing other campaign staffers during the reelection.
On Election Day in 2012, Obama aides woke up to a recorded wake-up call at 4 a.m. from Marshall, pushed to their phones by the campaign's robo-call system.
"Yo, today, time to make history," rang Marshall's voice. "Each of you kids come out and reelect the leader of the free world. For real talk: You can't do it unless you get yourself outta bed right now. Welcome to your Election Day wake-up call."
Now, Democrats watching the next presidential election begin to take shape said Marshall could also be making himself available for the next big job: 2016.
Clinton has not announced whether she will run for president a second time. After the midterm elections this fall, some advisers and former aides suggested she should launch a campaign, in some form, before the end of the year.
Much of that talk has quieted in recent weeks. Clinton has scheduled three paid speaking gigs for early next year — the latest is slated for the middle of March — and she appears to be soliciting advice about a campaign at a slow pace.
She met last week with Guy Cecil, another possible manager, as reported first in Politico. Clinton has spoken with Mook, too. But people close to Clinton have described meetings and conversations she's had as informal and preliminary.
If Mook does manage her campaign, should she decide to run, Marshall would almost certainly be involved. The two operatives are longtime political partners.
During Clinton's last campaign, Marshall and Mook started their field work in Nevada, then went to Ohio, then Indiana. Most of their team moved from state to state together, forming a tight but large friend group known as the "Mook Mafia."
The two strategists also worked together at the Democratic Congressional Campaign Committee, along with Brynne Craig, who now works for Clinton as a scheduler and is said to have had a hand in coordinating the former secretary's of state's midterms events this year.
Last month, emails from "Mook Mafia" listserv were leaked to the press. ABC News published the messages, many written by Mook and Marshall.
The emails were innocuous — exchanges between a group of friends — but they provided a glimpse into the close-knit unit that could follow Mook, sometimes referred to on the listserv as "Deacon," into a Clinton campaign. (Marshall, meanwhile, was "Reverend.")
A person with access to the listserv said it has been dormant since the ABC story.