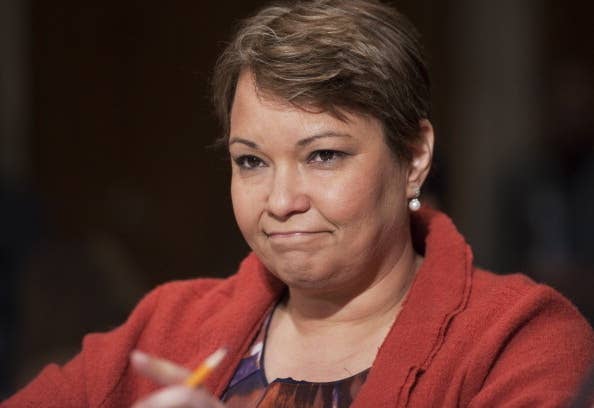 President Obama's chief environmental official departed in part over her opposition to a controversial plan to pipe oil from Canadian tar sands to Texas refineries, two sources familiar with the situation told BuzzFeed Thursday.
Environmental Protection Administration Administrator Lisa Jackson, who had served as New Jersey's top environmental official, had been handed a far less ambitious agenda on issues surrounding climate change after opposition from states reliant on burning coal for electricity proved a damaging political issue for Democrats in 2010. The pipeline project, bitterly opposed by environmental activists, was one of environmentalists' largest disappointments.
Jackson "left as a matter of conscience," said Jeff Tittel, the director of New Jersey's Sierra Club chapter and a longtime friend of Jackson's. The EPA Administrator "has too much principle to support [the pipeline], between the climate impacts of it and the water quality impacts of it."
President Obama initially delayed Keystone's progress, but this March authorized the construction of its Southern portion over howls from his former allies in the movement to stop carbon emissions.
"If the president comes out for it, she would be expected to support it," said Tittel. "Whether they told her or not, that's how it works. She was the person who pushed the hardest for the moratorium on the pipeline and now she's leaving."
"I know she was very frustrated by the White House on a lot of issues," he said, citing a "cap-and-trade" bill to limit carbon emissions that failed in the Senate in 2009.
A former senior administration official confirmed that disputes over Keystone were central to Jackson's alienation from the White House — though a third source close to Jackson said she also had personal reasons to move on from the Obama administration, a normal step for a cabinet official who has served four intense years.
"It was all about Keystone for the last 16 months," said the former senior Obama administration official, who said Jackson's opposition to the project — and her defeat in internal arguments — meant that her colleagues had assumed she would leave after the November election, before she would be forced to work on any element of the implementation of Keystone.
Jackson's statement of resignation praised the administration's progress on a series of issues other than climate change; an EPA aide insisted to BuzzFeed that the omission was not meant critically.
And spokespeople for both the White House and the EPA stressed to BuzzFeed Thursday evening that Jackson's departure was not influenced by the Keystone pipeline.
In the statement announcing her decision to step down, Jackson wrote that she leaves the EPA "confident the ship is sailing in the right direction, and ready in my own life for new challenges, time with my family and new opportunities to make a difference."
Other sources close to Jackson say the decision had less to do with the Obama administration's environmental record, and was more a personal choice.
"She had always planned to do one term," said one close Jackson friend. "She has two boys heading for college soon."
"It would not surprise me if she is just straight-up tired," said executive director of Environment America, Margie Alt, who often works with Jackson and the EPA. "The woman has a family and a life and has been on the job 24/7."
"We sure hope that they don't approve it, but the EPA's role in that is not as big as some of the other lifts they've got squarely on their shoulders," she said of Keystone XL.
But Keystone was not the only point of tension between Jackson and the White House.
Jackson reportedly weighed resignation last year after Obama backed away from EPA-proposed ozone pollution standards, but ultimately "abandoned the idea as a futile gesture," according to the New York Times.
But the controversial TransCanada pipeline project has become the rallying point of environmental dissatisfaction with Obama. The $7 billion endeavor would transport Canada's oil sands to U.S. refineries around the Gulf of Mexico. It was put on hold until the Obama administration further investigated concerns regarding the pipeline's environmental damage.
Although the pipeline decision was not Jackson's or the EPA's to approve — the State Department alone has the authority to issue presidential permits for cross-border pipelines — Jackson was an active member of talks on Keystone. In June of 2011, the EPA said a State Department analysis of the project was "insufficient," highlighting its concern over "potential environmental impacts."
This March, Obama put the project back on track, saying at a dramatic Oklahoma press conference that "we're making this new pipeline from Cushing to the Gulf a priority."
Jackson's future after her role as EPA administrator remains unclear, although she confirmed to the New Jersey Star-Ledger Thursday evening that she would not jump in the N.J. gubernatorial race, as speculated this fall by some in the state.
"I think she'll end up in politics at some point," said Tittel, "but for now you'll see her at either a university or think tank."