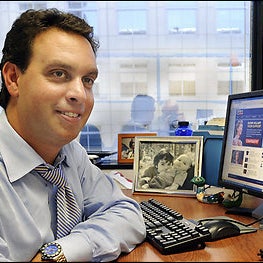 The top fundraiser behind Hillary Clinton's first presidential bid is currently in talks to take on a major fundraising role at Priorities USA — the leading super PAC that backed President Obama last year and is now positioning itself behind Clinton ahead of her possible White House run in 2016.
Jonathan Mantz, who served as Clinton's national finance director in 2008 and is one of the Democratic Party's biggest names in fundraising, is set to join Priorities USA as a senior adviser, while retaining his position as managing director of BGR Group, a D.C.-based lobbying firm, BuzzFeed has learned.
Four sources familiar with the Mantz discussions said he will fundraise for Priorities as the group transitions from the last presidential election into its next phase — a pro-Clinton paid media effort, likely led by Jim Messina and John Podesta, top former aides to Barack Obama and Bill Clinton respectively.
Mantz, according to one source familiar with Priorities USA, has already been making calls to other fundraisers and consultants in Washington to inform them of the new arrangement, the details of which are still being finalized.
A spokesman for Priorities USA confirmed the talks.
Mantz, who most recently worked on Terry McAuliffe's successful gubernatorial bid in Virginia, led the team that raised Clinton hundreds of millions in the 2008 primary contest against then-Sen. Obama.
The former finance chief has ties to the PAC. Mantz, along with three other fundraisers, was listed on tax forms last year as one of the group's unpaid directors, but was not involved in day-to-day operations. The move to the senior advisor role would put him at the helm of the group's fundraising efforts.
Sources said that Buffy Wicks, the former senior Obama aide who led his Operation Vote effort in 2012, is further along in formalizing her move to Priorities USA as the group's executive director, as first reported by Politico.
Sean Sweeney, the former Obama campaign official who co-founded the PAC in 2011 with Bill Burton, another former Obama aide, has been leading the transition, along with Paul Begala, a longtime advisor to both Bill and Hillary Clinton.
Messina and Podesta are still in talks of their own to co-chair the Clinton project — a partnership that would signal the extent to which loyalists from the once-divided Obama and Clinton camps have unified behind Clinton's possible candidacy in 2016.
The Messina and Podesta move has been somewhat stalled this month, sources said, because of considerations over Vice President Joe Biden. There is a worry that Biden — who was already spurned by a story in the new book, Double Down: Game Change 2012, which described how Obama aides floated the idea of replacing Biden on the ticket last year — could view Messina's jump to a Clinton effort so early as a slight to his own presidential ambitions.
The rejiggering of Priorities USA comes as an array of other outside groups — Ready for Hillary, American Bridge, and EMILY's List — align behind Clinton.
This articles has been updated to include reference to Mantz's initial ties to the PAC during the 2012 election. (12/3/13)