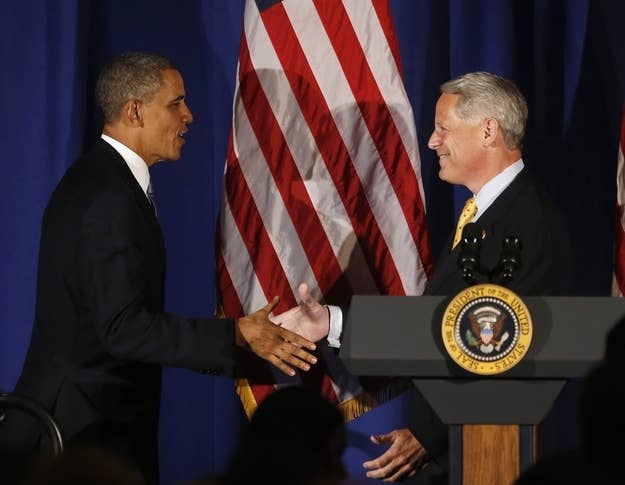 The head of the Democratic Congressional Campaign Committee told BuzzFeed that his candidates would win the battle over Obamacare implementation by "being problem-solvers" — and by leaving ideology out of it altogether.
"If you relitigate the ideology on the Affordable Care Act, it's a losing strategy," said Rep. Steve Israel, chair of the DCCC, which recruits and fundraises for Democratic House candidates. "Roll up your sleeves and solve people's problems — get them on the exchanges, or if a small business is having a hard time navigating, help them navigate."
Republicans, who took back control of the House of Representatives in the last midterm cycle, have already promised to make President Obama's universal health care act — and any potential glitches in its implementation next year — the major flashpoint in the 2014 elections.
But in an interview with BuzzFeed Friday afternoon, Israel argued his candidates could combat the attacks by "being problems-solvers," he said. "We've had many meetings on this, including at the White House. So I've said to our candidates, and to my colleagues in Congress, 'Just be a problem-solver.'"
"We have told them, 'Don't be ideologues on the Affordable Care Act — just make it work, be a navigator, be a solutionist,'" he added.
Republicans, Israel argued, would have a tougher problem if they continue to dismiss the law entirely, rather than helping voters adjust to it successfully.
"Republicans are gonna point their fingers and say it's all the fault of Obamacare. We'd rather just roll up our sleeves and get it solved," said Israel. "If I'm a Republican member of Congress, and a small business comes to me and says, 'Hey, I need some help navigating the Affordable Care Act,' and I say, 'I'm not gonna help you because I've been rooting for its defeat,' that becomes a huge problem."
Israel, who has chaired the DCCC since 2011, conceded that implantation of the Affordable Care Act is "a potential concern" for his candidates, but added, "We have to see what the impact is when the law is operationalized and then solve those problems and not worry about the politics."
Asked if he was conceding defeat on the issue by avoiding an ideological argument, Israel said no. He argued instead that voters are "sick and tired of Republicans' and Democrats' ideological war, and the screaming and the yelling and the blaming that is very much associated with the passing of the Affordable Care Act."
The 52 districts the DCCC has targeted in its plan to win back the House — which, many widely agree is an unlikely possibility — are what Israel called "by their nature very moderate, independent, solution-oriented districts."
"If you're living in those districts, you have ideology, you have opinions — but you're pretty much a moderate, independent voter — and that's where republican intolerance and extremism backfires," he said, in making the case for his strategy on Obamacare.
"Voters don't want it repealed, they just want it to work," Israel added.