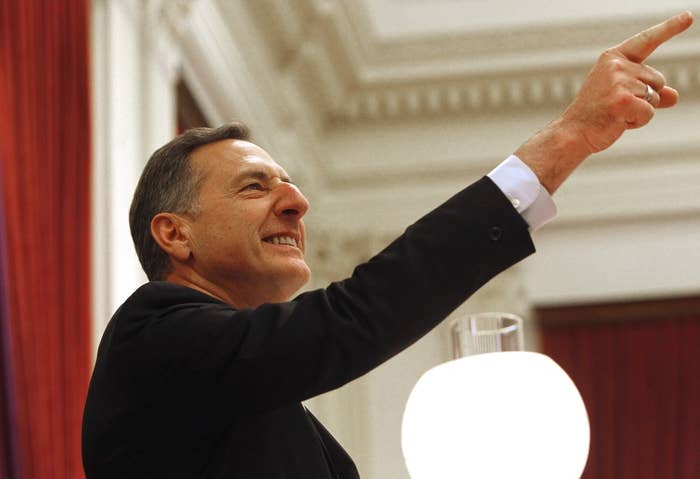 The chair of the Democratic Governors Association, Vermont Gov. Peter Shumlin, called Virginia's Republican gubernatorial candidate a Tea Party radical who makes "Mitt Romney and his '47 percent' comment look moderate."
Shumlin, whose role at the DGA has made him a player in this year's two governor's races in Virginia and New Jersey, singled out Cuccinelli in an interview with BuzzFeed as a candidate whose conservative policies would make more moderate Republicans weary.
"Look at moderate Republicans like the Virginia lieutenant governor Bill Bolling," Shumlin said. "He knows what Ken Cuccinelli is. Go to Virginia and ask him how comfortable he is with Ken Cuccinelli."
Asked if he would describe the candidate as more radical than the state's current Republican governor, Bob McDonnell, who has given Cuccinelli his endorsement, Shumlin said, "Oh god, yes."
"There is no more extreme example of a Tea Party candidate for governor than Cuccinelli," Shumlin said. "McDonnell will look like a balanced, middle-of-the-road governor in comparison. Have you read his book? He characterizes both social security and Medicare as 'goodies.'"
The DGA has already used Cuccinelli's book, The Last Line of Defense, to launch attacks against the candidate. The group, which is charged with helping recruit and elect Democratic gubernatorial candidates, held a Cuccinelli book give-away in February as a fundraiser.
"This guy is way out there," said Shumlin.
Shumlin had more fighting words for the current class of Republican governors, citing what he called large portions of the electorate "left behind" by conservative policies. "Whether its immigration, civil rights, or women's rights, you lose a whole ton of the electorate," he said. "Then you promosise jobs and instead implement policies that take care of one percent of the population."
Asked about this year's other gubernatorial race — where New Jersey's Democratic candidate, state Sen. Barbara Buono, is up against the popular Gov. Chris Christie — Shumlin was fiercely critical of the Republican incumbent, though he acknowledged that Democrats enjoy better odds in Virginia. A poll out last week has Buono trailing Christie by 35 points.
But Shumlin maintained that the DGA is splitting its time and effort evenly this year between New Jersey and Virginia.
"We're making equal efforts in New Jersey and Virginia. No question," said Shumlin. "You can read the polls as well as we can. We know right now, if the election were held today, we've got a better chance of winning Virginia than New Jersey, but we think that could change."