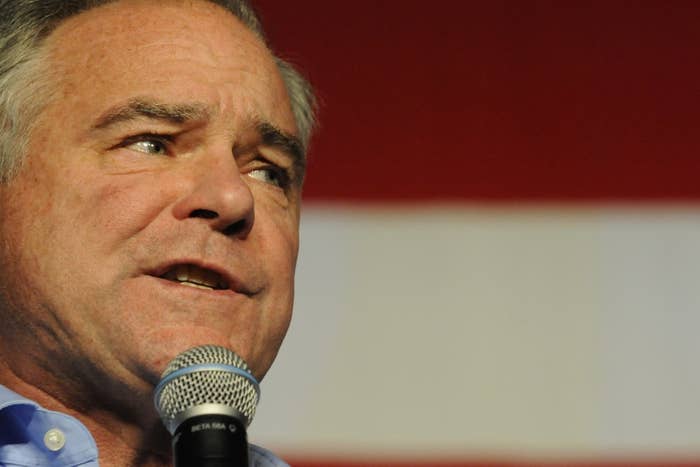 MIAMI — Why is Donald Trump telling supporters the election is rigged?
The answer, according to Hillary Clinton's running mate, is as simple as a word: He's realized that he is, as Tim Kaine put it here in plain terms on Saturday night, "a loser."
"Donald Trump realizes he's losing, and Hillary Clinton definitely made him realize in that first debate that he was a loser," Kaine told a crowd of 150 at Miami Dade College.
"He's blaming everybody. It's the media's fault, it's the GOP's fault — it's everybody's fault," Kaine went on. "Now that he thinks he's gonna lose, he's going around and saying, 'Oh, the whole thing's rigged. It's just rigged against me. Poor me!'"
The Virginia senator offered the Clinton campaign's first extended response to Trump's increasing claims that the election is "rigged," and that a corrupt system is attempting to sink his campaign with the sexual misconduct allegations in recent days.
It was Kaine's fifth trip to Florida, the crucial battleground state, where he addressed the small outdoor crowd in black Ray-Bans from the bed of a pickup truck, framed by a hand-painted Clinton-Kaine-themed graffiti backdrop. (The mural, bearing flowers and the phrases "Love Trumps Hate" and "Vote Florida," was completed overnight by artist Felipe Lagos, along with the help of a few Clinton aides.)
The elaborate setup was the stage for a forceful and blunt response from Kaine to Trump's new message to supporters.
"The guy's just a bully!" Kaine exclaimed.
"And you know what happens, right? If you don't stand up to a bully they get more like a bully. But if you stand up to them, they start to whine and they complain, and you find they're not near as tough as they say they are and that's what's Donald Trump is doing now. He's blaming everybody else. And he's trying to say that if he loses it's because it's rigged."
During the first debate, Trump said he would respect the election outcome should Clinton win. "The answer is, if she wins, I will absolutely support her." But his warnings this week about a conspiracy to undermine the election have sharpened, spreading to surrogates and supporters alike, and in the process, have sown more anxiety into the election's final weeks.
Kaine told voters here in Florida that Clinton must seek to win by as high a margin as possible.
"Here's what we gotta do," he said. "We gotta make sure that the margin that he loses by is so big and so clear and so powerful and so unmistakable, that when he stands up and says, 'Poor me, it was was rigged against me' — that nobody will believe him."
"That's what we need to do."