Three Possible Campaign Managers, One Pro-Clinton Meeting
The Ready for Hillary strategy session this month will feature officials from Priorities USA, EMILY's List, and longtime Clinton backers like James Carville.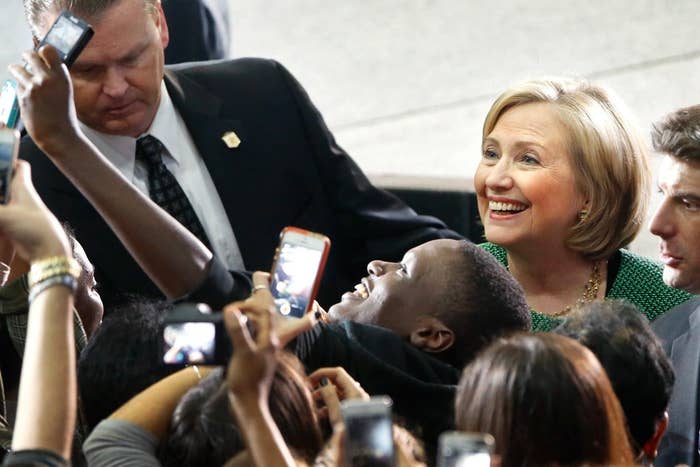 Members of the Clintonworld enclave laying the groundwork for Hillary Clinton's possible presidential campaign will convene at a hotel in Midtown Manhattan later this month for a day-long strategy session hosted by Ready for Hillary.
A few hundred Democrats plan to meet at the Sheraton on Nov. 21 for the group's second-annual National Finance Council meeting. Like last year, the confab will feature speeches, panel discussions, and undoubtedly no small amount of behind-closed-doors gossip, traded among the operatives and donors who make up a coordinated network of super PACs and nonprofits backing a Clinton run.
Among the featured speakers are three operatives who are often mentioned as a possible Clinton campaign manager: Guy Cecil, the executive director of the Democratic Senatorial Campaign Committee; Ace Smith, a prominent California strategist who worked for Clinton's last campaign; and Stephanie Schriock, the head of EMILY's List, a national group that supports pro-choice female candidates.
Another operative, Robby Mook, is mentioned as a leading contender for the top campaign job. In 2008, he ran three states for Clinton. And last year, he managed the race of her longtime friend, Terry McAuliffe, for Virginia governor.
Mook will not be attending the Ready for Hillary council meeting.
The outcome of the senate races next week may affect Cecil's fate in a campaign. But people close to Clinton have said midterms losses wouldn't dissuade the former secretary of state from selecting Cecil. Schriock is said to have less of a relationship with Clinton than the others. And Smith, who represents many of California's top Democrats, is seen by Clinton watchers as a dark horse choice.
The meeting will be Cecil and Schriock's first public event with Ready for Hillary.
Smith spoke at the same gathering last year. He has informally advised the PAC, serving as a "sounding board," according to one person familiar with the group.
Ready for Hillary, a super PAC based in northern Virginia, has worked since early last year to gather a long list of voters who would support Clinton if she decides to run for president a second time. That outcome seems increasingly likely.
Clinton has spent this month on the trail, stumping for other Democrats and sharpening a speech that could translate to her own campaign.
Other speakers at the council meeting include the following Clinton backers:
John Anzalone: pollster for Obama in 2008 and 2012

James Carville: top strategist on Bill Clinton's 1992 campaign and longtime adviser to the former president

David Brock: founder of Correct the Record, a group that aims to defend Clinton from Republican attacks

Mitch Stewart: senior Obama campaign operative who co-founded 270 Strategies, a consulting firm that counts Ready for Hillary as a client

Karen Finney: strategist who worked for Hillary Clinton in the White House

Buffy Wicks: Obama campaign aide who now serves as executive director of Priorities USA, the multimillion dollar super PAC that backed President Obama's reelection and is now positioned to support a Clinton bid

Jonathan Mantz: Clinton's finance director in 2008 and a senior adviser for finance to Priorities USA

Marc Morial: president of the National Urban League

Peter O'Keefe: former Clinton White House aide who worked under McAuliffe while he was head of the Democratic National Committee

Sen. Alex Padilla: state senator from California

Tracy Sefl: Ready for Hillary senior advisor

Joan Walsh: liberal pundit and editor at Salon