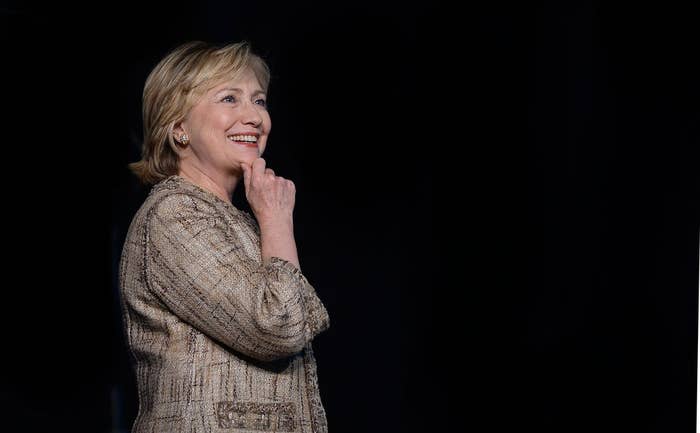 The four women — strangers before earlier this month — wandered the paths of Newark's nature conservancy, a lush plot of green in the city's Central Ward, talking about Hillary Clinton, and why they'd all very much like her to run for president.
The occasion was a national "Day of Action" organized by Ready for Hillary, a group that has spent the last year assembling a list of Clinton supporters. Leslye Lowen, a volunteer who held the Newark gathering, began as instructed by the "toolkit" given to hosts: "Encourage everyone to share why they support Hillary."
What the four attendees agreed on was this: that 2016 would be Clinton's year; that she was the "best candidate" out there; the "most experienced"; the woman who would "continue moving this country forward in the right direction."
But as Lowen led her guests around the garden, the focus shifted from Clinton to what her policies might be — and the conversation grew more fractured.
Near a patch of wild geranium, two of the Clinton supporters began arguing about immigration. "In my mind, she's definitely going to do something about immigration," said one of the guests, Maryam Mitchell-Sabir. "I'm not for putting people out, but I'm for stopping so many people from coming in." Judy Iturmendi, another volunteer, turned. "I hear what you're saying, but I'm gonna disagree."
The debate moved from deportations to labor gaps.
And what would Hillary say? They weren't quite sure yet.
"I don't really know what she'll run on," said Iturmendi.
Newark's small "Day of Action" offered a glimpse at one symptom of the early Clinton draft movement. Supporters, drawn as they are to the candidate, aren't yet clear on the particulars of what her message would be. For all the groups and super PACs that support Clinton's potential presidential campaign — there are at least eight so far — the policy specifics of that campaign remain obscure.
When Priorities USA, the largest Democratic super PAC, endorsed Clinton on the front page of the New York Times earlier this year, the group's chairman, Jim Messina, boasted of polling, not ideology. "I think the numbers clearly show that she's the strongest presidential candidate on the Democratic side," he said.
Clinton herself hasn't been especially forthcoming. Since stepping down as secretary of state last year, she has given dozens of speeches at venues ranging from the University of Miami to the Institute of Scrap Recycling Industries. The national press has covered each speech fastidiously.
But the headlines offer only faint outlines of her positions on issues like income inequality, immigration, and climate change.
What does Hillary Clinton really think about the Keystone XL pipeline, for instance? Or the record number of deportations by the Obama administration? Progressive groups in particular say they're anxious to hear the answers to questions like these.
"We're waiting with bated breath to see if she runs and, assuming she's going to run, what will these positions be," said Charles Chamberlain, executive director of Democracy For America, the group founded by former presidential candidate Howard Dean. "Right now, we have no sense of where she's going to be."
"I think there's a lot of concern in the progressive community about where she stands on income inequality," Chamberlain said. He noted Clinton's ties to Wall Street and her six years spent, decades ago, on the board of Wal-Mart.
Ilya Sheyman, executive director of MoveOn.org Political Action, one of the country's largest liberal groups, did not comment on Clinton specifically, but said progressives "expect to hear where every candidate stands on income inequality."
"We're all wondering, has Hillary evolved?" Chamberlain said.
Into the vacuum comes Clinton's new book, Hard Choices, which is scheduled for publication on June 10. The memoir, her second, is said to focus on her four years at the State Department, but the Clinton machine is eyeing the book, and subsequent publicity tour, as a kind of pre-campaign platform.
"Her book is going to come out, and that's going to lay out a number of issues and where she stands," said Seth Bringman, Ready for Hillary's communications director. The group has discussed the possibility of hosting Hard Choices book parties, to follow the "Day of Action" meetings held earlier this month.
"As she gets out there more, when the book comes out and as she campaigns for 2014 candidates, we're going to continue to amplify her message," he said.
Bill Burton, a former aide to President Obama who co-founded Priorities USA and now works as a consultant, said the book tour could provide the Clinton groups more material to work with. "When you run an outside group, it is very helpful to have some kind of organizing principle," said Burton. "In the absence of Clinton-as-candidate, Clinton-as-author is going to provide some basis for that."
Ready for Hillary is one of several groups preparing for the book's release.
Correct the Record, a research effort aimed at defending Clinton from Republican attacks, hosted two four-hour "media training" sessions last week for Democratic surrogates ahead of the midterm elections and "in anticipation of the book," with a focus on "making sure people are aware of her accomplishments [as secretary of state]," according to one person familiar with the Correct the Record trainings.
A Republican research firm, America Rising, is also preparing for the book's release, though Tim Miller, director for the group, declined to discuss details.
Clinton's publishing house, Simon & Schuster, will not be releasing advance copies of the book to reporters, according to Cary Goldstein, executive director of publicity. There is already talk of news organizations assigning interns, in shifts, to comb through sections on the morning it hits bookstores. The Amazon.com listing for Hard Choices says the book will be more than 650 pages long.
But still, there's the possibility her book tour won't look like the pre-campaign that Clinton groups, progressives, Republican researchers, and the media all seem to be banking on. Hard Choices is expected to be more retrospective — a defense of her tenure at the State Department — than a vision for the future.
And some say better for it. "It will become impossible to push off when she's on book tour, and someone at a college or a rotary club stands up and says, 'Hey, what do you think about this,'" said one veteran Democrat. "But don't jump the gun. Anything that looks too political begins the certain erosion of her brand."
"This is a punctuation mark on the end of one sentence, not a capital letter at the start of a new one," the operative added of the book tour.
"Right now, she's not a candidate," said Burton. "There's no reason that she would actively be out there giving people a sense of what her message will be."
"But," he added quickly, "even though there's no campaign message that's been fleshed out, that doesn't mean people don't have a reason to be excited for her."