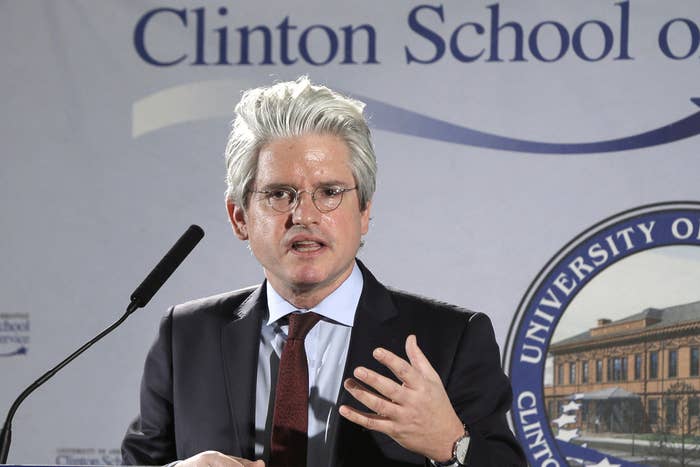 LITTLE ROCK, Ark. — Alone on the second-floor balcony, his whicker chair turned to face the podium below, Bruce Lindsey watched the strange homecoming of an old political adversary.
Lindsey, a close friend of Bill and Hillary Clinton and the chairman of their family foundation, was one of about 200 people who came to the Clinton School of Public Service on Tuesday afternoon to see David Brock's return to Little Rock.
Back in the state for the first time in 19 years, the 51-year-old Brock delivered a speech about his conversion from a fierce Clinton antagonist to a central player in the bid to put Hillary Clinton back in the White House.
As a former counsel to the Clinton administration, Lindsey lived through the scandals Brock helped ignite two decades ago in the pages of the conservative magazine, the American Spectator. Lindsey, whose office overlooks the main floor of the Clinton School where Brock delivered his speech, remembers those times as painful — a fact he acknowledged on Tuesday.
But like most friends of the Clintons today, Lindsey now sees Brock differently. "He said all the right things, I thought," he said in a brief interview after the speech. "Obviously, I share his enthusiasm for Secretary Clinton."
The night before, Brock met Lindsey and Skip Rutherford, the dean of the Clinton School, for the first time at the Capital Hotel, the bar where he once worked stories. With Brock this time were staffers from Correct the Record, a group he founded last year to respond to attacks on Clinton as she decides whether to run for president.
That a drink shared between Lindsey, Rutherford, and Brock seemed normal enough highlights just how much — how drastically — Brock's orientation to the Clintons has shifted since the '90s.
When Bill and Hillary were on the rise, Brock was at the Capital bar, "plotting a campaign of dirty tricks," as he put it in his speech. "All in the service of one goal: to make sure that Bill and Hillary Clinton would never make it to the White House."
On Tuesday, Brock returned to Arkansas as an even stronger advocate for them. In the last year, Brock has, oddly enough, become one of the most accessible figures in Hillary Clinton's orbit, emerging as a de facto spokesperson for her campaign-in-waiting through his many roles.
In the network of outside groups coalescing around Clinton's possible candidacy, Brock is the common link. While running his research-focused group, Brock sits on the board of Priorities USA Action, the super PAC planning to fund Clinton's campaign with high-dollar contributions, and he serves as an advisor to Ready for Hillary, another PAC set on building Clinton a vast list of supporters.
When a close Clinton confidante, Minyon Moore, was linked to a federal campaign finance violations case last week, it was Brock's group that defended Moore. For reporters looking for a comment on a political story about Clinton, better to go to Correct the Record than to Clinton's actual communications staff, who largely ignore requests from the press or respond with the great restraint.
Brock is also friends with a number of prominent donors these days, including Steve Bing and Susie Tompkins Buell, one of the people closest to Hillary Clinton.
And on Tuesday, he spoke to a room full of old Clinton associates. Marsha Scott, a former White House aide during the Clinton years, sat with Paul Berry, a Little Rock lobbyist and longtime Clinton supporters, in the front row. Don Ernst, who worked for Clinton in the governor's office, took notes as Brock spoke. David Pryor, the former senator and Arkansas governor, also made an appearance at the event.
Brock has also developed relationships with both Clintons. What remains unclear is how those friendships started and flourished, even after the public apologies Brock made, first in Esquire magazine and later in his book, Blinded by the Right. Brock is wary to discuss his personal relationship with Bill or Hillary Clinton.
"It's something that I never really get into with people," he said in an interview after his speech. "It's all private and it's going to stay that way."
A profile of Brock in the New York Times, which sat on the front page of newspaper's site the morning before the speech, seemed to make complete the transformation from political hit man to protector.
Still, a sign outside the Clinton School's double doors — "Welcome David Brock"— is probably not one he thought he'd ever see.
When Brock worked as an investigative reporter for the Spectator, his stories stoked the scandals that ended up dogging the Clintons for years. He was a central player in what the magazine called "The Arkansas Project," a dirt-digging operation funded by a Republican billionaire. It was Brock's job to hang around Arkansas looking for whatever he could dig up on the Clintons. He remembers following the widow of Vince Foster around town and spending hours with the state troopers who alleged they'd arranged sexual liaisons for Bill Clinton, then governor.
Later, while researching a biography of Hillary Clinton, published in 1996, Brock began one of the most famous transformations in recent political history, breaking ranks with the right-wing that helped make his name. He wrote about the "slow and tortuous" conversion in Blinded by the Right before founding the liberal groups Media Matters, a nonprofit that tracks conservative media, and American Bridge, a prominent research-focused political action committee.
The Arkansas Project was an era Brock now calls "the bad old days."
"I was part of what Hillary Clinton would later call 'the vast right-wing conspiracy,'" Brock said in his speech. One block away, in the William Jefferson Clinton Presidential Center, a display case on the second floor is dedicated to that right-wing conspiracy, outlining the projects Brock worked on for the Arkansas Project, which he said "eventually encompassed a whole kitchen sink full of preposterous allegations, from financial fraud, to drug running, and even murder."
The research project, Brock said, was "a rough model of things to come."
In the 20-minute address, Brock took aim at a number of current Republican figures and projects, including what he called "the right-wing noise machine," the Koch brothers, Rush Limbaugh, "Rupert Murdoch's Orwellian Fox News channel," and Sen. Rand Paul of Kentucky, whom he called a "poster boy" for the right.
Asked after his speech whether the visit had been a strange one, Brock said that for the most part, it wasn't. "It was a little spooky in the Capital bar last night," he said, after guests had filed out. "I didn't know whether Sheffield Nelson was going to walk in and ring my neck or something," he joked, referring to an old Clinton nemesis.
"It's just another step on the journey."