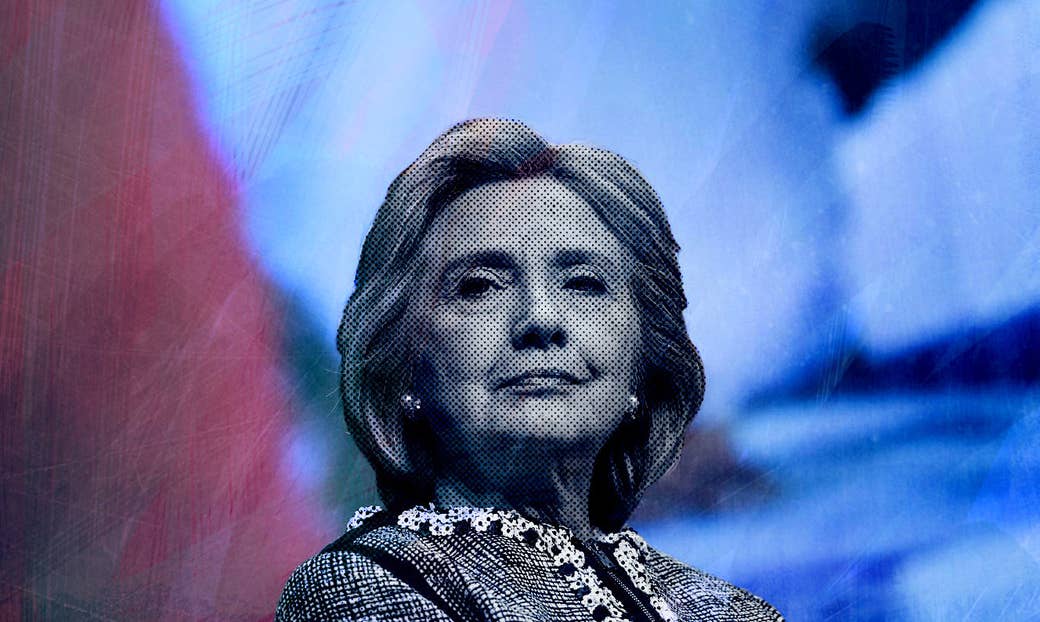 On a quiet day in 1995 — during her third year in the White House — Hillary Clinton visited a museum in Washington and paced the galleries, hoping to blend in.
She didn't.
A passerby approached. "You sure look like Hillary Clinton," she said.
"So I'm told," Clinton replied.
The former first lady, who related the incident a few months later in a newspaper column, said the moment explained the "odd duality" of her public life.
There are, in her telling of the story, two Hillary Clintons: the person she knows, consisting of "different, and sometimes paradoxical, parts" — and the person the public sees, as in a museum, the "most recognizable woman in America," but "reduced to a snapshot."
"The truth is that sometimes it is hard even for me to recognize the Hillary Clinton that other people see," she wrote.
Twenty years later, Clinton is perhaps better understood and better liked. But the distance between the person and the public figure remains.
As she prepares to run for president a second time — with plans to run a more open, humble, approachable operation — her campaign staff will spend the next 100 days trying to solve the same challenge Clinton herself alluded to in the 1995 column: how to make the "real" Hillary accessible.
Four years later, one summer morning in 1999, in upstate Elmira, New York, Carl and Cindy Hayden served their houseguest a light breakfast and a cup of Earl Grey tea — and asked if she'd mind participating in the family's "little ritual," marking her height on the kitchen wall just as the Haydens' children had done years ago.
Hillary Clinton, their overnight company, readily agreed.

When Cindy joked that Clinton was "cheating" by wearing heels, the couple couldn't believe it as they watched the first lady, in their kitchen, laugh and kick off her shoes. And when Cindy went on, asking if her guest's hair might also provide an extra inch or two, Clinton instantly patted it down flat.
"There were few of the trappings of royalty that one would assume would accompany a first lady," said Carl, 74, who still remembers every detail from the night that Clinton stayed as their guest while campaigning for U.S. Senate.
The overnight stay was one of about an estimated 15 or 20 such visits with local Democrats, most of them in upstate New York, according to a former aide. The idea was straightforward: introduce those counties to Clinton, in a setting that best suited to her — with word spreading by mouth of the visit from neighbor to neighbor.
Hosts would typically receive a visit two days early from the Secret Service, who would vet the house — and on the afternoon of the overnight, Clinton would arrive, with just one or two aides who would stay over, too. (The Haydens put Clinton up in their bedroom, while they slept in his son's twin bed.) Secret Service typically stayed in a hotel nearby, taking shifts outside the house and or in nearby parked cars.
When the campaign first pitched the idea of overnights, Clinton was resistant, two former staffers said. It sounded uncomfortable. Maybe awkward. She didn't know if people would want her there. But she eventually relented. And after eight years in the White House, she got to be a normal guest: She cleared the table, stripped the bed. "We were all on pins and needles about how it would go," said one of the aides.
"She loved it."
Fifteen years later, a larger series of voter-focused events from the same Senate race, called the "listening tour," has become mythologized as a stand-in model for the type of campaign people say Clinton needs this time.

Operatives who have been building her second presidential campaign — which is planned to begin Sunday with an online video — have conjured up words like "intimate" and "informal" to describe the "tone" of the "first 100 days." They talk about retail politicking, the hardworking, old-fashioned way. About "voters" — and about allowing them more accessibility to the candidate than in 2008.
During that unsuccessful campaign, there was talk of repeating the overnight stays in Iowa, the state where Clinton's campaign would falter. The idea was rejected.
The overnights in 2000, however, provide a glimpse at what has worked — on a voter-to-candidate level — and what challenges likely remain for a campaign staff now introducing the electorate to a person still described in twin parts: the Hillary people see, and the "real" Hillary.
The latter term can be found in the literature of nearly every campaign she's run.
In 2008, her team organized a series of video testimonials called "The Hillary I Know," in which Clinton's old friends and staff attest to her "softer side." And during her first campaign, her staff designed a seven-page biographical pamphlet, "Hillary: The Real Story." (The inside flap, in large block letters, reads, "We know everything — and nothing — about her.") The literature was seen as a larger effort to reintroduce Clinton and break with the "carpetbagger" image: Ahead of the 2000 race, when Clinton was still first lady, she and her husband purchased their post-presidential home in New York just six weeks before her campaign announcement there.
Even during the Clintons' first presidential election in 1992, campaign pollster Celinda Lake advised Clinton to schedule herself "more informal settings" to show her "humor."
"Voters need to see her relating to people."
The event in Dover, New Hampshire, was her last of the 2014 cycle.
Clinton had already headlined about 45 rallies and fundraisers in 20 states — in less than two months. And after a rally and another retail stop earlier that day, she seemed tired by the time she arrived at the Far Bar & Grille, where, in a small room upstairs, about 20 volunteers from Sen. Jeanne Shaheen's re-election bid were waiting, though for what was not immediately clear. Then Clinton suggested they take some photos.
"I thought maybe we could do either a group picture? Or several group pictures? How does that sound? Great?" asked Clinton.
"Maybe we could sorta organize…
"Organize in whatever natural way...
"And then Jeanne and I can go around," Clinton kept going, "and I can say thank you for everything you're doing for her.
"OK, so whatever groups you want to put yourself in…"
They were the last of many, many photos Clinton took on the campaign trail that fall, often at her own suggestion — during a pause in conversation or because there never was a conversation to begin with. Most of the rallies she headlined didn't allow for any — Clinton was either on stage or at the center of a swarm, like a celebrity, with people reaching over one another or against the ropeline for pictures or a quick handshake.
After an event for Rep. Sean Patrick Maloney at a Westchester country club, Clinton said she'd been having a "great time" back on the trail for fellow Democrats. "I used to do only campaigning for others. I did it for, gosh, 30 years before I ever ran for office."
Asked if she'd had much of a chance to talk to voters on the swing, Clinton said, "I've been pretty focused. But I talk to people at the events that I'm at."
Occasionally, for security reasons, attendees were even asked to stay in the venue until Clinton and her small cadre of aides had cleared the premises. Her ever-present detail, a function of her life as a former first lady, complicates her interactions with voters, as well as her travel. Since leaving the Department of State, she has flown mostly private — though she is known to occasionally take the shuttle between New York and Washington, as well as Amtrak.
The Secret Service is an unavoidable reality for Clinton. She often travels with as many as four officers. Even at her home in Chappaqua, everyday life is different. Police reports obtained through a public records request show that strangers periodically approach the Clinton home, most often with peculiar or unsettling claims and requests. "She stated that she needed to talk to Mr. Clinton about something very important," one 2007 report reads, "and that Mrs. Clinton stole her handbag and that she needed it back." The Secret Service identified the woman as a "person of interest."
The distance between Clinton and average life — however unavoidable — isn't lost on those around her. Before the midterms, when Clinton was preparing for her return to the campaign trail, some of her advisers were concerned she'd be too rusty. Clinton hadn't been back in a purely political role, like surrogate, since 2008.
A senior figure in Clinton's circle eventually raised a concern to others: that "she knows more about Libya than she does about Iowa," according to a person who heard the remark.
Still, aides on the upcoming campaign may capitalize on venues as small as the upstate New York visits. In Iowa and New Hampshire — the two states that kick off the nominating process, and where Clinton is expected to travel this week — Democrats will see Clinton up close and without the crush of press. It's likely the campaign will start with a pool reporter system to handle the snug events in living rooms and bars and diners.
"She's the best in a small group I've ever seen. That's her gift," said Paul Begala, a Democratic operative who worked on the 1992 presidential race. "Rather than fitting the candidate to a strategy, it looks like they're fitting a strategy to the candidate."
Carl Hayden, Clinton's host, had no doubt he saw the real Clinton that night in 1999.
"She was very down-home, very natural. You'd be surprised how comfortable the visit was — and how comfortable an individual she was," said Hayden, who is active in local politics and served at the time as chancellor of the New York State Board of Regents.
Clinton engaged him in a lengthy conversation on his porch about policy. "She let me prattle on when it was obvious that she knew about five, or 50, times more about educational policies than I did." Later, they went to a neighborhood bar for dinner. ("Nothing shi-shi.") And at the end of the night, Hayden recalled, an aide carried up some "zonky-looking" equipment to his and Cindy's bedroom — where Clinton was staying the night — so that before bed, she "was able to have confidential and coded" conversation with her husband, who happened to be in Bosnia at the time.
"When folks connect with her and she with them, it really has an impact," Begala said.
He recalled a line Clinton used to repeat during the 1992 race about the conversations she'd have with voters: "'I hear these people and their stories… It's like a movie that plays in my head.'"
Andrew Kaczynski contributed reporting.