The South Carolina Audition To Be Hillary Clinton's Most Serious Challenger
In Hillary's absence, her would-be challengers descend upon the South Carolina Democratic Party convention, hoping to draw enthusiasm over Clinton's infrastructure. They were all there: Martin O'Malley, Bernie Sanders, Lincoln Chafee, a Draft Biden group, an adviser to Jim Webb — and some saw more success than others.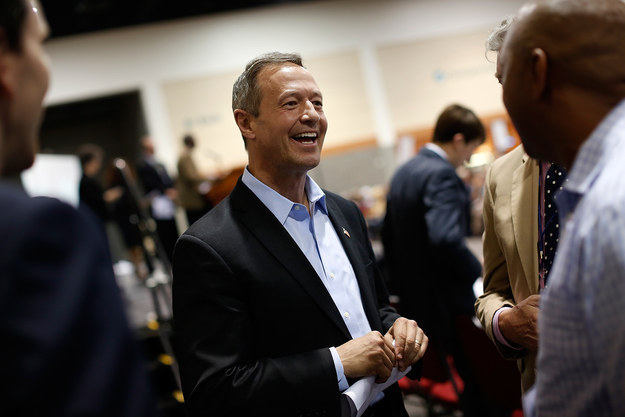 COLUMBIA, S.C. — Photocopies of a letter, addressed to the South Carolina Democratic delegates who gathered here this weekend, lay neatly stacked on a table in the convention center hallway. There, in grainy black-and-white, under the "H" logo of the campaign, was a promise to visit the state soon, "in person," followed by her customary ceremonial sign-off: "With best wishes, I am sincerely yours, Hillary Rodham Clinton."
The formal letter was followed by a recorded message from Clinton to the crowd of top Democrats at the annual party convention in this key presidential primary state.
But when officials played the clip, something stalled. The emcee apologized: audio-visual problems. Later, they tried again, and after a brief pause, there was sound — though in the harshly lit exhibit hall, in the basement of the Columbia Metropolitan Convention Center, the audience could barely make out Clinton's face on the large, projected screen.
"Lights!" one person yelled, interrupting the start of the video.
"Hello, South Carolina Democrats!" sounded Clinton's voice. She asked attendees to sign up for her campaign by logging onto her website. "Hillary Clinton Dot Com Slash South Carolina." She recited the URL slowly. "I look forward to seeing you soon in person."
The clip, which played around 10:30 a.m., ended with Clinton wishing the convention hall a "great evening."
These were the signs of Clinton's distant, somewhat discordant presence this weekend in South Carolina — the state that holds the first Southern primary — and at a convention where attendees are considered among the area's truly devotional Democrats. Some at the event said they believed that Clinton erred in not making an appearance.
"It would have helped her to be here," said one delegate, John Cusack.
"But if she comes to the state in May…"
He trailed off, then shrugged.
Clinton does have plans to visit the state next month, and her advisers are intensely focused on the first four states in the primary, including South Carolina.
But in her absence this weekend, Clinton's Democratic rivals descended on Columbia for an audition of sorts for the role of her most credible potential primary challenger. The activists and delegates on site were a serious bunch: They spent Saturday in an animated floor debate over the Trans-Pacific Partnership, before deciding an even more pressing item on the agenda — a nail-biter of an election for the party officer position of third vice chair. Adding to the scene was each possible presidential candidate's notably different approach and style — some frenzied, some flat, others energizing and animated.
Though none brought with them any signs of a organization in the state quite like the Clinton campaign — which, in spite of her absence, had a strong showing at the event. One of her senior aides, Marlon Marshall, held court in the back of the auditorium, chatting up old contacts; volunteers gave away leftover "Ready for Hillary" stickers; and Gov. Terry McAuliffe, a speaker at the convention and old friend of the Clintons, played campaign surrogate. (McAuliffe, who flew in around 7:30 a.m. and left a few hours later for lunch back in Virginia, told reporters he won't go on the road, or on TV, for Clinton too often: "The most important thing I can do for Hillary is be a good governor.")
Clinton's South Carolina state director and state communications director also attended the event, as well as field organizers. The state operation here enlisted more than 600 volunteers "within the first few days" of the campaign, according to a senior official.
Still, despite the campaign infrastructure in place, a question remains about whether Clinton can rally the enthusiasm some of her possible rivals brought to the convention — beginning with Bernie Sanders, the Vermont senator who has said he will get in the race if he feels he can sufficiently "build a political revolution all over the country."
Sanders, who was first to speak among the Clinton challengers, arrived just minutes before his speech, speeding down the escalator to the exhibit hall, where he passed Lincoln Chafee, another possible presidential candidate, without so much as a nod.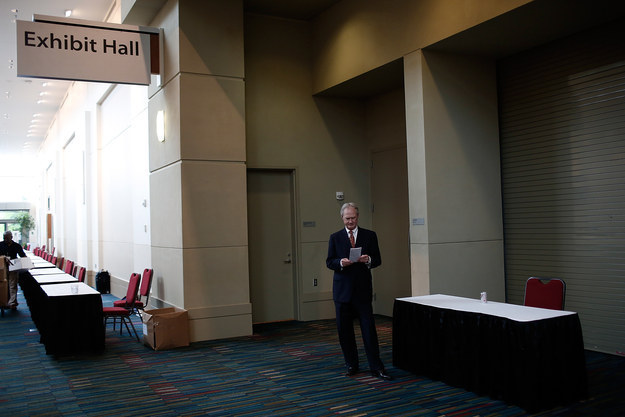 Chafee, tall and wispy, stood in the hallway with an aide, looking unsure of where to go. The former Rhode Island governor and senator — who is also a former registered Republican and independent — made it known earlier this month that he would like to be a voice in the party's larger debate, and opened an exploratory committee.
Sanders is already familiar on the Democratic speaking circuit.
At the podium, with his hunched frame and deep Brooklyn accent, he drew the crowd in Columbia up for a series of standing ovations within minutes. He spoke loudly into the mic. "You know why workers are angry?" Sanders said. "They should be angry!"
His liberal, self-identified "socialist" view of the economy is dour: Wages are down, family income is stalled, and the wealthiest people and largest corporations, he said on Saturday, "have never had it so good." Every line brought a more pessimistic diagnosis than the last. ("But let me tell you what is even worse!") By the end of his speech, Sanders warned the delegates of what he described, with post-apocalyptic shades, as an "oligarchical rule" wherein "life will be controlled by a handful of billionaire families."
It was at this point that the organizers were able to get the Clinton video rolling. But a small cluster of Democrats weren't even watching: Off to the side, they formed a circle around Sanders, waiting for a picture and a handshake with the senator.
Outside the hall, convention-goers were treated to an audition from a 26-year-old political operative named Will Pierce. He is leading an effort to get Vice President Joe Biden in the race, financed in large part, he said on Saturday, by the sale of "I'm Ridin' With Biden" bumper stickers. Pierce, who was an advance staffer on Obama's campaigns and is based in Chicago, said the "Draft Biden" initiative is picking up steam — with eight full-time staffers and plans to open a field office in Iowa next month.
Chafee was by now back in the exhibit hall, watching from the side. He ducked back into the hallway to study his notes as the next speaker took the podium: a longtime political operative, there to speak on behalf of former senator Jim Webb — his adviser David Saunders, a.k.a "Mudcat" Saunders, a.k.a., simply, "Mud." (Webb's supposed attendance at the conference, reported weeks ago by several outlets, was actually never confirmed, his exploratory committee spokesman said. Team Webb sent Saunders instead.)
Saunders gave a wide-ranging speech. He briefly outlined Webb's idiosyncratic personal biography (his book; his broadcast Emmy; his famous screenplay, "Rules of Engagement") — and then touched on an array of topics, including a Merle Haggard song lyric ("I paid the debt I owed them, but they're still not satisfied, now I'm a branded man out in the cold") and the racism that persists in the "blended culture" of the South.
"All right, let's talk about Jim's politics a little bit," said Saunders, bent over the mic.
"I'm supposedly an adviser. I don't advise. I tell him what's going on. There's no whisperin' in the ear. There's no, you know, design, strategy. Jim Webb is Jim Webb."
Chafee followed. What will make his candidacy different, he said, is his focus on foreign policy, specifically the wars in the Middle East. He was also willing to hit on the scandal dogging the Clinton campaign: a new book alleging that foreign entities gave to the Clinton Foundation, or paid Bill Clinton for speeches — and, in exchange, received favorable treatment from the State Department during Hillary Clinton's tenure.
"We want to see someone who hasn't had scandal after scandal after scandal," Chafee told the crowd. "I've never had an ethical blemish."
After his speech, Chafee said he was enjoying life on the presidential campaign trail. He tried to pick up new supporters along the way. When a former South Carolina mayor approached for a handshake, Chafee lingered. "Former mayor myself… stay in touch… if you want to help me… down the road… appreciate," he said, in one long string.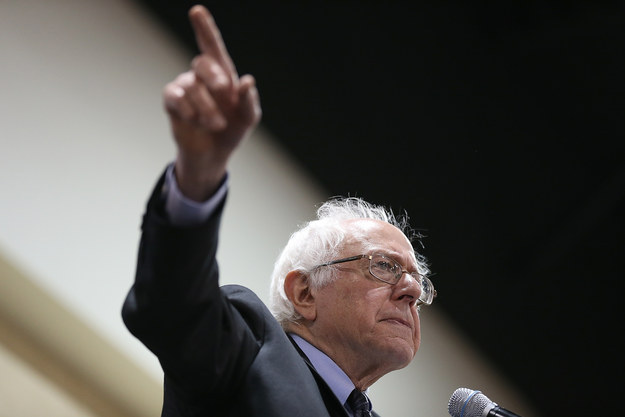 By chance, the last to go was Martin O'Malley, the former governor of Maryland — who, among the parade of candidates that came through the hall on Saturday, has done the most to build a campaign organization, name recognition, and goodwill in early states.
In recent months, O'Malley has honed a stump speech and more aggressively staked out more progressive positions. He has advocated for the expansion of Social Security, and he has been one of the most vocal opponents of the Trans-Pacific Partnership.
The rhetoric hasn't translated to polling success yet — Sanders often outperforms O'Malley, and Clinton polls far better than the pair combined. But, after spending a large share of the last year on the road — campaigning for other Democrats in states like South Carolina — O'Malley has developed a following that was visible here on the ground.
"I made a lot of good friends here in South Carolina," he told reporters, then paused with a smile. "I made a lot of friends across the country, actually."
Because of weather delays that grounded his plane to South Carolina on Saturday morning, O'Malley was badly delayed. But most of the attendees at the convention stayed around for his speech — a populist call for breaking up the big banks, raising the minimum wage, and access to education at the pre-K and college levels.
Afterward, a couple dozen Democrats gathered around O'Malley.
Bakari Sellers, a well-known state representative who was an early and active part of Obama's campaign against Clinton in the 2008 primary, slapped him on the back.
"You rocked it out," Sellers said. "You rocked it out."
One woman, Amie Jordan, held up her cell phone — the background was a photo she'd taken with O'Malley one of his South Carolina events last year. And another voter, Kimberlyn Carter, said she'd driven all the way from Macon, Ga., to see him speak. She showed him the sign she'd made: "Turn Georgia Blue: Martin O'Malley."
"It's coming together," said Phil Noble, a longtime South Carolina Democrat who supports O'Malley. "He's been coming around enough to where he is becoming a known quantity. People are starting to have a real sense of who he is as a person, as opposed to some guy on television. That's the core of the campaign. That sense of connectedness."
Of all the candidates, O'Malley draws the sharpest contrasts with Clinton.
The former governor, even late last year, shied from language that could be perceived as negative about the former secretary of state. In 2008, O'Malley was one of her most active, aggressive surrogates, campaigning for her often. One element of that remains: Despite his clear criticisms of Clinton, O'Malley is often unwilling to say her name.
Asked about the recent shift, he said: "I think that contrasts are important."
"A good campaign is one that talks about ideas and talks about policy, and is unafraid to speak with candor and truthfully about where a candidate stands," said O'Malley.
And when one reporter wondered if the former governor's speech had a "different message than Hillary Clinton," O'Malley was ready with a tart reply.
"Was she here?" he asked.
"No," the reporter said.
"I guess it was different in every way then."