The Rise And Fall Of Brian Schweitzer
The former Montana governor loves an audience, and for a while, he had one. How Schweitzer for President was built and broken.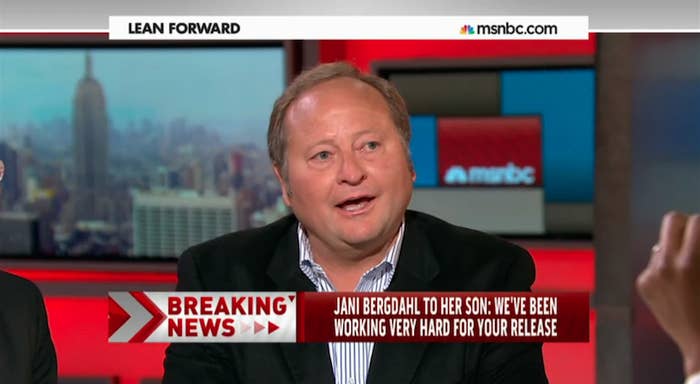 The sun was setting on Memorial Day when Brian Schweitzer called.
From his three-acre ranch — 2,000 miles away from New York, 25 miles northwest of Anaconda, Mt., and one mile up the dirt road that leads to his house on Georgetown Lake — Schweitzer returned an interview request sent earlier that week to one of his old staffers. The call came from his personal cell phone. This isn't normal politician behavior. But for Schweitzer it was standard.
He always got back to reporters himself. And he had plenty calling. Most asked to come see the ranch. They wanted "to see me in my natural habitat," he said.
"I make for an interesting read apparently."
On the phone, he ticked off the other news outlets that made the trek to northwestern Montana. Time magazine, he said, did a "10-mile trail ride on horseback with me." A National Journal photographer got to "watch me bulldoze snow banks." And the reporter who wrote an A1 Wall Street Journal piece — she did lots of "fun things" that didn't even make it into the story, like the trip they took to an abandoned 19th-century Chinese casino.
There was still more material to work with.
"Can you herd cattle?" he asked.
"Can you wrestle a calf?"
"Can you make it in an off-the-grid house?"
"Can you castrate a cow?"
The questions kept coming.
Run a chainsaw? Brand a calf? Break a bull? Ride a so-and-so?
He was also coming to New York, his new natural habitat, in about a week to commentate on a few MSNBC shows. His "dance card" would be full on Monday and Tuesday, he said, but he had enough time on Sunday for an interview.
And did he mention, by the way, that he has a live-hit TV studio in his basement?
"The only one in Montana," he said before hanging up.

Brian Schweitzer likes an audience about as much as he likes to talk.
Late last year, the 58-year-old former governor of Montana made himself known as a Person to Interview. After finishing his second term as governor, Schweitzer emerged as one of the only prominent Democrats willing to speak critically about Hillary Clinton. The status earned him bookings on just about every cable news show. He went on Crossfire, on Hardball, on Up With Steve Kornacki and NOW With Alex Wagner. He wore his bolo tie on Morning Joe.
Reporters listened as he talked about running for president, about visiting all 99 counties in Iowa, about the way Clinton doesn't represent "the future." Schweitzer did make for an interesting read. And he knew how to work the press.
By February, he signed on as a paid contributor with MSNBC. The network sent five technicians to Schweitzer's ranch to build a studio off his wine cellar. Installation took three days. The set is powered by cell towers, brand-new technology from Israel. Schweitzer will be happy to tell you about it.
By May, a Wall Street Journal profile cemented Schweitzer as the anti-Hillary Democrat. The article captures a pensive Schweitzer, gazing out his window at the Rockies, contemplating the ways in which a 2016 bid might tear him from "his currently comfortable life." The piece ran on the front page under the headline "Ex-Governor Auditions as Populist Clinton Challenger."
Schweitzer was on the rise. Not in poll numbers. In cable hits. In tip sheets and in stories and on Twitter. Reporters kept calling. Everyone wanted their tour of the ranch for an article about a Democrat who wasn't named Clinton.
But in the end, Schweitzer's rise amounted to the thing people in Washington call a media narrative. And his burned hot and fast and then just went away.
Schweitzer talked and talked and talked until finally he said something stupid. Now he can still talk, but there's no one left to listen.

In Rockefeller Center on Sunday afternoon, a producer fussed with Schweitzer's lavaliere microphone. He clipped the transmitter to the back of Schweitzer's blue jeans. "You havin' fun back there?" Schweitzer said, turning his head.
Schweitzer is like that — jokey and blunt and often given to excess. It is almost always charming. And it is always fun. Schweitzer does and says things most politicians don't often do and say. Most don't use cell phone ringback tones. Schweitzer's was "Free and Easy," a country song by Dierks Bentley.
Got the sun shining on me like a big spotlight,
So I know everything is gonna be all right.
Schweitzer turned the corner and headed for the makeup room.
"Who wants to make a sow's ear into a purse?" he said.
The MSNBC makeup artist didn't show signs of recognition. Neither did her two colleagues standing nearby. The makeup room was quiet on Sunday afternoon. But Schweitzer was gauging a captive audience.
The woman powdered his nose. "This will be painless," she said.
"I like a little pain, I like a little pain," Schweitzer said.
The woman laughed. He went on, calling up one his favorite conversation points. "You know, I do this at home. I have a home studio for MSNBC," he said.
"So before I do a hit, I look in the mirror and say, 'Jeez, I gotta get the shine out.' I don't make myself any prettier, but I get the shine out. There's a point to all this: You have to do better than I can do myself. We're watching, girl."
More laughs. Silence fell, and Schweitzer started up again, talking about his makeup artist's dream-catcher necklace and this one time he said "dumbass" on TV.
Craig Melvin, one of the network's anchors, walked in, putting on his tie. "Good for you," Melvin told Schweitzer. "You're actually being honest on television."
"Yeah, it's probably not contagious."
Schweitzer, television-ready, said good-bye to Melvin and the makeup artists and bounded back to the green room. "So that's the way we roll," he said.
His wife, Nancy, was waiting inside, making conversation with a reporter. "You know," Schweitzer told the reporter, "I do this three or four days a week because I have a studio in my house." The reporter nodded. "I have the only HD uplink studio in Montana. I live on the end of a dirt road on a mountaintop."
"And it's all done with cell towers."

Schweitzer's résumé makes him an odd fit for public office. Before age 44, the closest he got to politics was in college at Colorado State University, when he won a race for president of the American Society of Agronomy Students.
His parents never went to high school, but they put Schweitzer and his five siblings through college. In 1980, out of school, he went to Libya for a year to build farms in the desert. Next, Saudi Arabia. He helped the royal family develop a dairy farm and turned 26,000 acres of desert into soil. His second year abroad, he married Nancy, his college sweetheart. Together they missed the American '80s. After eight years overseas, he came back to Montana and started raising cattle and farming peppermint and wheat and dill.
Then he ran for the U.S. Senate and all of this started. It was 1999, and a two-term Republican, Conrad Burns, was up for re-election. Schweitzer was the first Democrat to get in the race. Almost immediately, he managed to command an audience. During the first week of his campaign, he learned that Burns had used the term "raghead" and called a press conference to talk about it. The slur, Schweitzer suggested, may have caused Pakistan to cancel a 300,000-metric-ton U.S. wheat order. ("Some of our best customers!") Never mind that Pakistan called off the order three days before reports of the "raghead" comment had even surfaced.
Schweitzer had other tricks. When he found out Burns had received $47,000 in contributions from the tobacco industry, he got $47,000 in cash — paper bills and coins — and hauled it to the state capitol. There, behind an area roped off with yellow crime tape, Schweitzer dumped the money on a table. Four security guards armed the event. Reporters watched as coins spilled onto the floor.
Another morning before dawn, Schweitzer put 10 senior citizens on a bus and headed for Canada to purchase prescription drugs at cheaper prices. Along Route 93, he picked up more people, stumping to the group over the bus loudspeaker as they drove north. The idea, he said at the time, was to "embarrass Congress" about the high cost of medicine. He took four more trips and started carrying around a pocket-size Physicians' Desk Reference wherever he went.
By the fall of 2000, his name ID was up and he'd earned a three-minute slot at the Democratic National Convention. Schweitzer lost the race — by only 4 percentage points — but when he ran for governor three years later, he won handily and helped Democrats take control of the state legislature for the first time in 12 years. People called it the "Montana Miracle." To Washington Democrats, he looked like new hope — a way to turn voters in the interior West. Schweitzer appealed to conservatives and progressives. He opposed gun control. He advocated for a coal-to-fuel energy model. The Democratic Governors Association identified him as a star. "We're highlighting him wherever we can," the chair of the group, Gov. Bill Richardson, said in 2006.
Democrats started talking about him for president. Schweitzer called the idea "silly" and "kooky."
"I'm just a rancher who ended up governor of Montana," he'd say.

At his hotel bar in midtown Manhattan, Schweitzer and Nancy ordered drinks. They were used to talking to reporters — though usually in Montana.
"They just ride in the back of my pickup while I do my work," he said. "Sawin' wood, buildin' fence. The last guy that came, he was a photographer for something called the National Journal. I'm pretty sure no one reads that."
Schweitzer was convinced this setting wouldn't be as promising. "So, I'll give you something worthwhile here," he said, then paused.
"You've got the recorder on?"
Schweitzer wouldn't want you to miss anything.
He will tell you that his strengths lie in this area — communication, retail politics, back-slapping, hand-shaking, and a method he calls speaking "visually."
After one year as governor, Schweitzer talked openly about his "god-given" political talents. "You know, if John Kerry could do what I do, he'd be president," he said in a 2005 interview. "Be likable, be self-deprecating."
In the bar, he talked proudly about a segment he taped on Reverend Al Sharpton's show after news broke about racist comments made by Cliven Bundy, a Nevada rancher who had become a rallying cause for some politicians in the Republican Party. Not long into the show, he reached for a full-body skunk pelt and held it to the camera. "I get a kick out of all these Fox guys," he said. "You know, they — they invited this skunk right into their tea party, and now they can't get the smell off fast enough."
"It's visual," he said. "If you want to reach people, you can reach them with words, or you can reach them with visuals."
"What do they say a picture's worth? How long is this story gonna be?"
"You paint the skunk. That's 1,000 words."
But Schweitzer said the media gig is just a small part of his new life as a former politician. He spends most of his time working the ranch and running a palladium-mining company. "It's about half mining, half fishing and ranching and fooling around." And TV? "That's part of the fooling around part."
The other thing he said he was toying with is whether to run for president.
Nobody would be asking Schweitzer about 2016, or at least not so much, if he hadn't been on television floating the idea of it himself.
While other Democrats have been quick to line up behind Hillary Clinton as the party nominee, Schweitzer has repeatedly raised concerns about her ties to Wall Street and recalled her vote to authorize military force in Iraq — a decision that became the flashpoint in her long 2008 primary against Barack Obama.
"We still don't know," Schweitzer said. "Is Hillary running or not? Or is she selling a book? Think about it. They say seven digits for the book… So maybe what she's doing is selling a book. Maybe she's running, maybe she's not."
"It doesn't matter to me."
Schweitzer turned and looked at Nancy. "The greatest impediment for me deciding to run for president is seated at this table," he said. "And then there are my children, and all of my brothers, my sister, all of their children. And all the people that know and love me as a person, not as a politician."
Nancy cut in. "The people that love him would be behind him. If he did, all his friends, they'd be there. But we're hoping…" she paused, "he doesn't."
Schweitzer has met Clinton, spent time with her. "I like her," he said. But there's no great relationship there. "She knows who I am. I know who she is."
When the interview came to a close, Schweitzer offered his assessment. "Well, you haven't got anything," he said. "We just had a conversation."
"You're gonna make a story out of this?"
He leaned in. "You didn't get to ride a horse… You didn't get to drive a bulldozer… You didn't get to run a chainsaw!"

The sun was still up in Montana when National Journal published the story.
The piece appeared online with images taken by the photographer from the magazine Schweitzer said no one reads. In one picture, Schweitzer smiles and props his foot on a fence; in another, he grits his teeth and rips through a log with a chainsaw; in another, he drives a tractor as smoke rises into the Montana air. The story was a deft reported piece about whether Schweitzer's unorthodox approach and platform make him a great candidate or just a great story.
The piece also included a quote from Schweitzer — detailed late in the story, in a parenthetical — that instantly lit up the internet.
Schweitzer told the reporter that Eric Cantor, the Republican House majority leader who lost his primary election that month, set off his "gaydar."
"If you were just a regular person, you turned on the TV, and you saw Eric Cantor talking, I would say — and I'm fine with gay people, that's all right — but my gaydar is 60-70 percent," Schweitzer says in the story. "But he's not, I think, so I don't know. Again, I couldn't care less. I'm accepting."
The next morning, MSNBC was talking about it. Everyone was talking about it. Pundits said his 2016 prospects were dead, if he ever had them to begin with.
Two days later, Schweitzer posted a status update on Facebook: "I recently made a number of stupid and insensitive remarks to a reporter from the National Journal. I am deeply sorry and sincerely apologize for my carelessness and disregard."
Another day later, Hillary Clinton was quoted in a newspaper saying she and her husband are not among the "truly well off," and the political world rushed to wonder aloud how she could have ever said such a thing. Washington moved on. Schweitzer was suddenly laughable to the people who propped him up most — he had no place to show his skunk hide; no makeup artists to charm; no use, not at the moment, for the HD uplink, cell tower-powered, Israel-innovated, one-of-its-kind live-hit in-home studio at the end of his dirt road. No reporters would be calling to ask for a visit at his ranch in Montana. No reporters would be riding horses or bulldozing snow banks or doing anything involving cattle.

Schweitzer went away after the apology. He wasn't on MSNBC or quoted in any articles. But about a week later, he returned a call with his same cheerful tone.
"No," he wasn't lying low, he said. "You ought to read my Facebook page! I've been putting up a barn out at my ranch, and I don't have cell phone coverage."
"It's off the grid. I don't even have electricity."
There on his Facebook page, one post above the apology, were four photos. Three show the skeleton of a barn. The roof is slated with logs. It's sunny out. Schweitzer appears in one picture wearing blue jeans and gloves, working on the barn wall. The last picture was a close-up of Schweitzer's black-and-white border collie, Jag, splayed out on the grass with a bone. This is probably what Schweitzer means when he talks about his "quality of life" at home in Montana.

"That got to be her mark on the wall. You get to make your own mark."
On the phone, a few days later on a Monday afternoon, Schweitzer didn't answer many questions about the other reporter's story. No, he had not called to apologize to Cantor. And no, his MSNBC contract hadn't been canceled, though Schweitzer still hasn't appeared on TV since the story broke.
An MSNBC spokesperson, Lauren Skowronski, said in a statement that he's on an informal break: "Following his remarks to National Journal and subsequent apology, we felt his on-air contributions would be overshadowed so we haven't used him recently. We'll make the call to have him back on MSNBC when his insights will add value to a story."
Schweitzer said he "didn't accuse anybody of anything."
He brought up something Sen. Chuck Schumer, the New York Democrat, said recently about John Boehner, Republican speaker of the House.
"I was listening to the senator from New York. And he had a metaphor, which is… I've used metaphors. And that's what these are. He was talking about Boehner. He said Boehner is like the child who kills his parents and then throws himself on the courts as an orphan. Now, that is a metaphor," said Schweitzer. "And I don't think it was misspoken. It was a metaphor. But I didn't see the Washington press accuse Schumer of attacking Boehner as a parent-killer."
Either way, he said he hadn't been paying attention. "I never look in the rearview mirror," he said. "I'm back in Montana. You're in a zone back there."
Which meant he hadn't changed his mind about the 2016 campaign he's been considering. "I haven't told you or anybody else that I'm running for any office. That's point number one," he said. "Point number two, I've got plenty of things that I'm working on right now." He said he was infuriated by the debate in Washington over military intervention in Iraq. Achieving energy independence would extricate the U.S. from conflicts in the Middle East, he said. "For the better part of 10 years, my passion has been energy independence."
The bottom line, he said, is that nothing has changed.
And it's possible that he's right. Maybe he will get his audience back as quickly as he lost it. Maybe reporters will start calling again. Maybe they will visit.
When they do, he will be ready, with that same, familiar refrain he used to begin the call that Monday afternoon:
"I have some things to say. Are you ready?"