News Coverage on Climate Change in Reference to Obama or Romney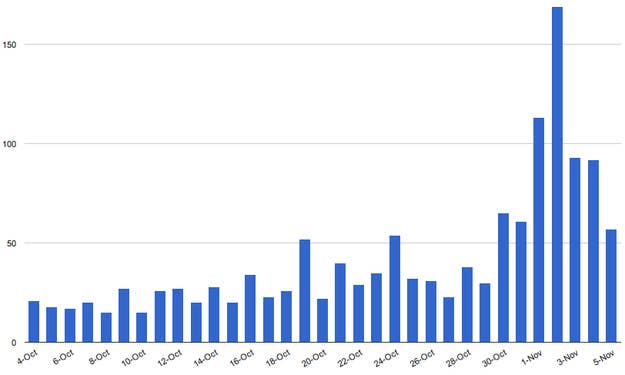 When Hurricane Sandy swept up the east coast last week, the storm — and a high-profile endorsement from Mayor Michael Bloomberg — finally pushed climate change into the political conversation.
A search of Nexis's news database — including newspaper articles, online articles, and TV news transcripts — shows that before Sandy hit, climate change was rarely mentioned in reference to either President Obama or Mitt Romney. It received an average of 27 mentions before Oct. 29.
When Chuck Todd, anchor of MSNBC's "The Daily Rundown," said on his show on Oct. 31 that Sandy was caused in part by climate change — "It's called climate change, folks," he said — reporters and pundits quickly picked up on the environmental issue as an election story.
By the time Mayor Bloomberg endorsed Obama on Nov. 1 as a "vote for a president to lead on climate change," climate change reached 113 mentions in the news. The next day, it hit its peak — 169 mentions across print, web, and television.
The issue has slid away from election news coverage just as rapidly as it made its entrance. In articles and television news segments Monday, climate change received just 57 mentions.
But the sense that climate change could be used as a political attack made its way into web videos from environmental groups, who attacked Romney for joking about the rising oceans — and those ads, Bloomberg's endorsement, and the eleventh-hour focus on the issue could point a way to a new politics of climate in 2013.